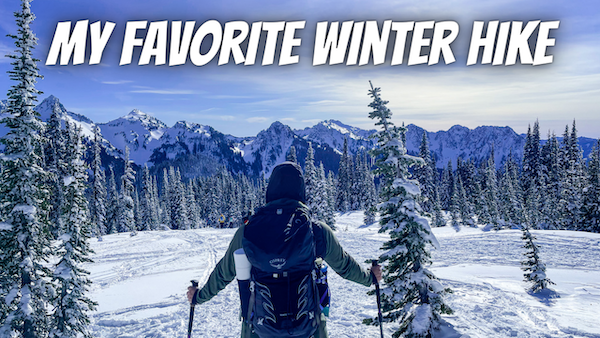 A couple of weeks ago, I headed to Mount Rainier National Park and took a group of my students from my online backpacking program for women, The Confident Solo Female Backpacker System up to snowshoe my favorite winter hike in Washington, Panorama Point out of Paradise in Mount Rainier National Park, which is a 5-mile roundtrip hike with 1,900 feet of elevation gain.
Mount Rainier National Park is only 60 miles outside of Seattle here in Washington and is an iconic part of Washington's landscape. The park offers over 260 miles of maintained trails, including the 93-mile long Wonderland Trail, which loops around the entire base of Mount Rainier, gaining and losing about 22,000 cumulative feet along the way.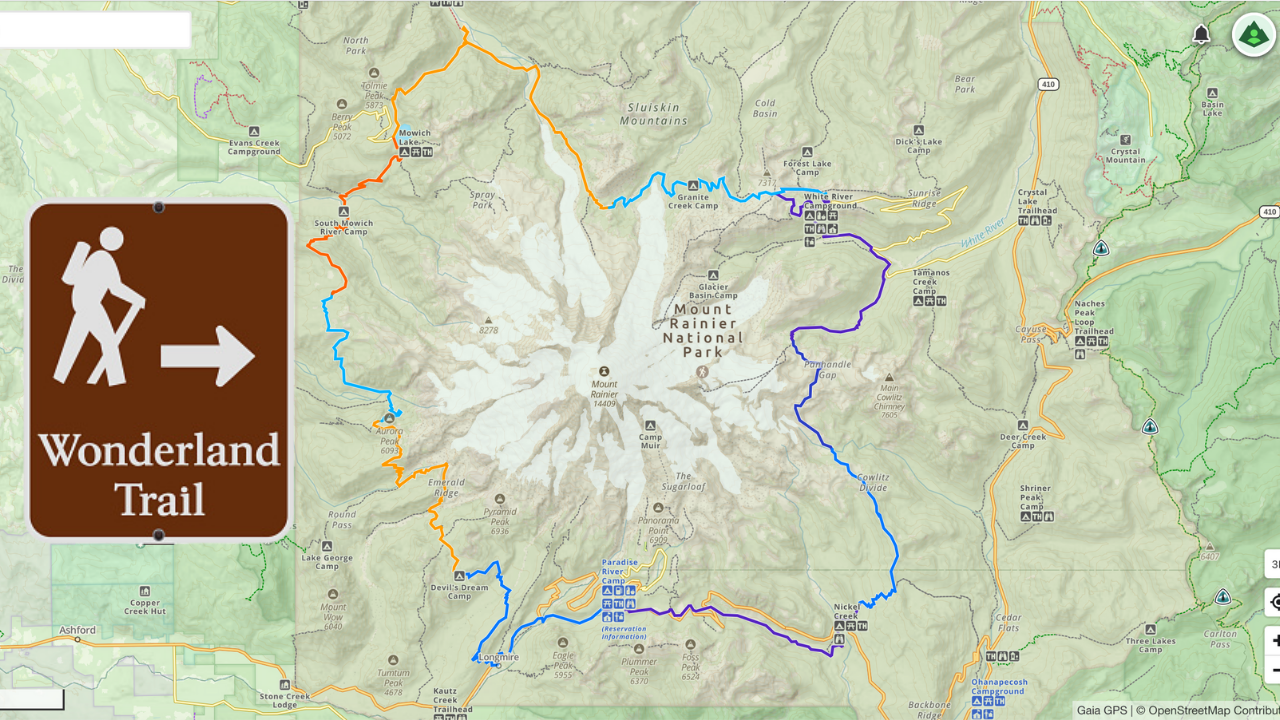 I thru-hiked The Wonderland Trail with a group of friends back in 2021 and it was an amazing experience. CLICK HERE to check out the video series I created featuring our hike along the Wonderland Trail and see how I prepared for this trip.
How I Backpacked The Wonderland Trail
Paradise is located in the southwest corner of the park. It sits at 5,400 feet and is an 11 mile drive up from Longmire. Paradise is the park's busiest visitor center. Once you get up there, especially on a beautiful, clear sunny day, you can see why.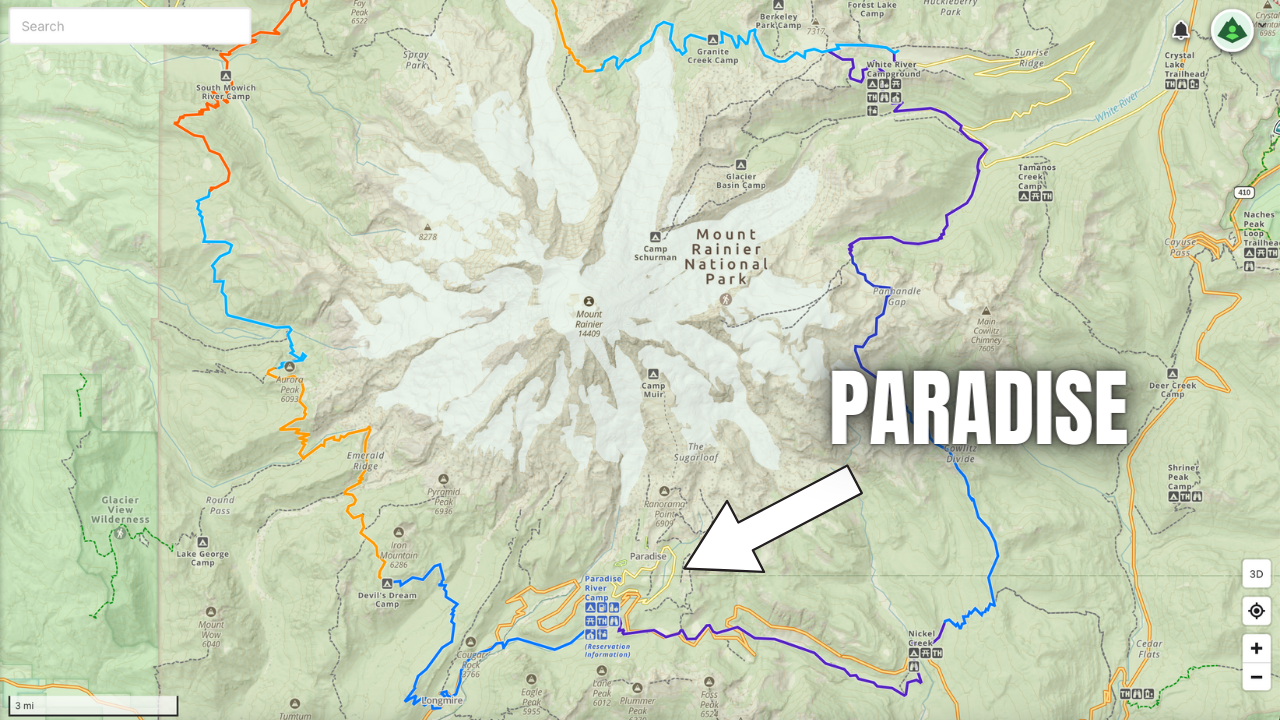 The National Park Service has stated that Paradise is the snowiest place on Earth where snowfall is measured regularly. During the wintertime, Paradise can average nearly 700 inches of snowfall each year, making this a winter wonderland for winter enthusiasts like backcountry skiers, snowshoers and winter campers.
The road to Longmire in the park is open year-round, but all drivers traveling anywhere in the park from November 1st through May 1st are required to carry chains in their car.
WINTER TRAVEL in Mount Rainier National Park
Typically, during winter, the road to Paradise is gated nightly at dusk and reopens in the morning after the road's been plowed. But this year, due to park staffing shortages, public access to Paradise has been limited to just Saturdays and Sundays. The park's staffing shortages have made it so that the park just doesn't have the capacity to maintain public access up to Paradise 7/days a week this year.
PARADISE WINTER ACCESS FAQS in Mount Rainier National Park
For this trip, we decided to stay the night before our snowshoe hike in Longmire at the National Park Inn so we wouldn't have to make the drive up early in the morning.
At the National Park Inn, they really encourage you to unplug and enjoy the surrounding natural beauty. This means no WiFi. Some of us walked up to the Longmore Wilderness Information Center to borrow enough service to check emails, send a few texts and make a couple phone calls. Having to unplug also made it easy to get to bed early because there were no distractions.
In the morning, once the gate for the road up to Paradise opened, all of us headed up to snowshoe my most favorite winter hike in all of Washington. Lucky for us, the weather forecast was looking really good for today, which means we'd really get to experience Paradise at its winter finest.
For some of the women in my program, The Confident Solo Female Backpacker System, this winter is their first time ever winter hiking. For some on our hike today, this was their first time snowshoeing and some, even their first-time visiting Mount Rainier National Park.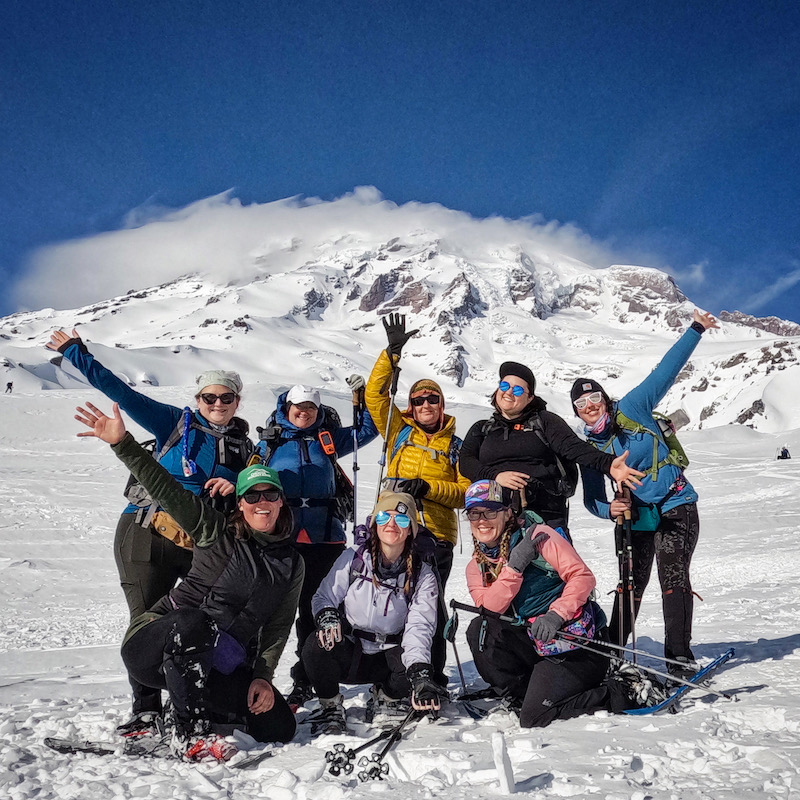 It's group trips like these that help encourage the women in my program to want to try something totally new to them, in a safe, group setting, which ultimately helps build up their confidence to plan and go on their own solo backpacking trips in the backcountry.
THIS is why I do what I do and especially on a day like today, this is why THIS is my favorite winter hike here in Washington.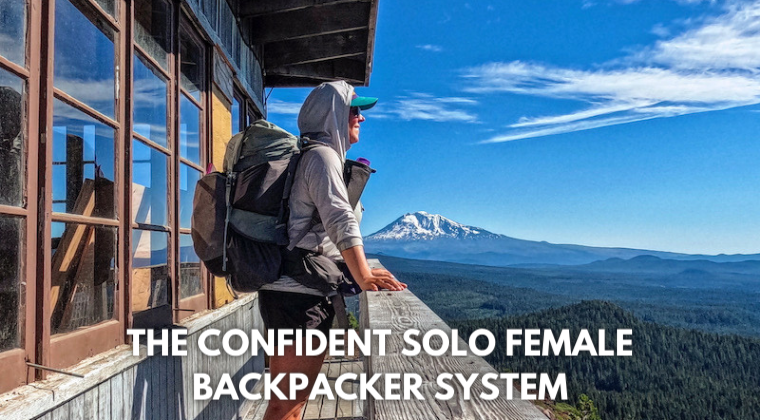 Ladies, have you been thinking about wanting to go on a solo day hike or overnight backpacking trip this year?
Do you want to feel more comfortable, confident and self-reliant for your solo adventures in the backcountry?
Whether you're a beginner or a well-seasoned female backpacker, The Confident Solo Female Backpacker System is a comprehensive, self-paced online backpacking program specifically for women will walk you through, step by step, everything you need to know in order to plan, prepare and build up your confidence to comfortably go on either your FIRST or NEXT solo backpacking trip.
Interested in learning more about the program I've put together and how I can help you achieve your hiking and backpacking goals this year?
Sign up for a free, one-on-one Zoom call to chat with me and see if this program would be a good fit for you.
CLICK HERE for more details.
---
Disclaimer: The-Hungry-Hiker.com is a participant in the Amazon Affiliate Links and AvantlInks Program, affiliate advertising programs designed to provide a means for sites to earn advertising fees by advertising and linking to Amazon.com and other affiliated sites at no cost to you. Please note, I only link to products and services I personally use and trust.
---
Loved This Post? Pin It!