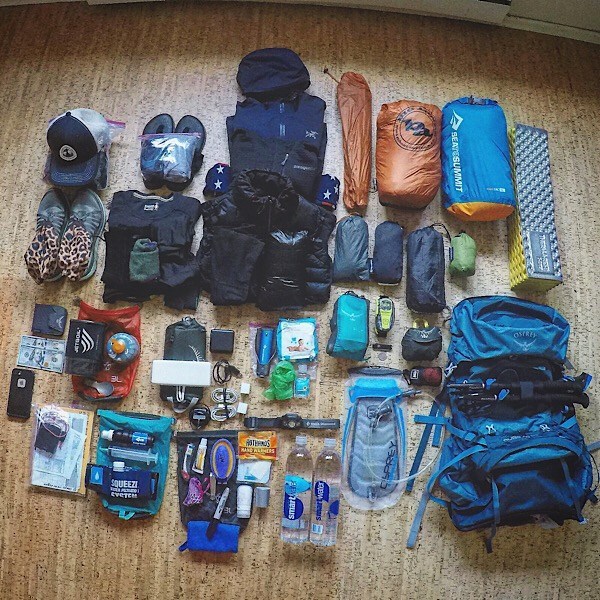 It's now less than two days before I start my thru-hike on the PCT. All of my emotions have been bubbling up to the surface over the last week – excitement, fear, nerves and anticipation. It's crazy to think all of the planning, preparation, research, gear purchases and numerous training hikes has finally come to this. These final moments with my family, my last few warm showers, one last load of laundry, easy access to running water and my final meal at In-N-Out Burger will be savored over the next 48 hours.
Over the last year of planning this thru-hike, I've spent countless hours thinking about and finally deciding what I will be bringing with me on the PCT. Making the choice of what to put in and what not to put in my pack have been some of the hardest decisions I've had to make during this whole planning process. Is it possible to know everything I'd need to have with me while hiking over 2,650 miles, in three states, over the span of five months? What would I absolutely need? What could I do without? What would be deadweight in my pack? Anything I put in my pack has to be carried by me on my back. Obviously, the less stuff I bring, the lighter my pack, ultimately making it easier to hike 20+ miles a day along the PCT.
My overall base weight, minus food and water, is 23 lbs. This is a little high according to PCT hiking standards. Most PCT hikers aim to have a base weight in the range of 15-18 lbs. I'd like to get there, but after countless pack shakedowns and endless hours going through my gear, I couldn't decide what else I could live without. At this point, I really won't know what else I can shed from my pack until I get on the trail and start hiking.
For now, every single piece of gear has been weighed, added to my lighterpack.com profile and has a value attached to it, meaning I have a strong reason as to why each piece of gear is in my pack.
Here is my official gear list I'll be starting my PCT thru-hike with:
Pack
Osprey Aura 50 AG + pack cover
This pack is a bit on the heavy side, weighing in at 4 lbs, but the comfort factor has me sold making it well worth it's weight. I'm recovering from a shoulder injury and even with the pack fully weighted down, it's still comfortable enough to wear without aggravating my shoulder. I love the fit, pack design, how it feels on my body and the hip pockets. I refuse to hike without hip pockets.
Shelter System
Big Agnes Copper Spur HV UL 2 + matching footprint
I opted for a two-person tent even though I'm solo hiking because I like having the extra space to keep all my gear inside. I don't feel claustrophobic in this tent and have plenty of room to spread out should I need to. Since the weight difference between the one and two person tent wasn't all that much, I opted to have a bit more space.
Sleeping System
Sierra Designs Zissou 12 sleeping bag + dry sack for storage (to keep bag dry)
Cocoon Mummy Silk Liner
Cocoon Camp Inflatable Pillow
Therm-a-Rest NeoAir XLite Inflatable Sleeping Pad
Therma-A-Rest Z Lite Sol Sleeping Pad
Montbell Breeze Dry-Tech UL Bivy (sleeping bag cover)
I originally had a heavier inflatable sleeping pad that weighed 2 lbs. I discovered the NeoAir XLite through the recommendation of another hiker, tested it out and happily made the switch. My new pad is comfortable and only weighs 12 ounces! I could use bunched up clothes as a pillow, but I opted for an inflatable pillow. It weighs and folds down next to nothing. Again, truly a comfort thing. All of the other items in my sleeping system were chosen because they will either help keep my sleeping bag clean and dry or make it warmer should I run into some super cold nights out on the trail.
Sleeping Clothes
Smartwool base layer top and bottom
Sports bra
Pair of socks to sleep in
Pair of underwear
Hiking Clothes
Pair of running shorts
Tank top
Pair of Darn Tough knee-high socks
Long-sleeved white desert shirt
Sports bra
Pair of underwear
Salomon Odyssey Pro trail runners
Pair of Dirty Girl gaiters
Liner gloves
PCT trucker hat
Black Diamond Carbon trekking poles
*Whatever I wear while hiking will not count towards the weight of my pack
Town Clothes
Lightweight Salomon tank top
Lightweight Salomon running shorts
Lightweight Salomon pants
Sanuk sandals to wear at camp/in town
Two extra pairs of Darn Tough knee-high socks
Town clothes are used to wear while in town, while washing hiking clothes at a laundromat. Some people opt to wear their rain gear while running errands in town and doing laundry. I opted for a lightweight outfit. Thanks Salomon!
Warm Clothing Layers
Mountain Hardwear Ghost Whisper puffy
Patagonia R1 Fleece hoodie
Arc'teryx Norvan ultralight raincoat
Yoga leggings
Since I'm used to hiking in the PNW in all of my cold weather warm layers, it makes it really hard to let any of these items leave my pack. I'll be starting in the desert where it's forecasted to be hot and sunny, but I want to make sure I'm prepared for the cold nights and early mornings. I'll be saving the rest of my rain gear for Washington. My microspikes will be in my box sent ahead to me in Kennedy Meadows for the Sierra portion of my PCT hike.
Navigation System
Suunto MC-2G Compass
Printed maps of the current section of the trail I'll be hiking
Paper trail notes
Letters from friends and family from the latest town stop
Plain and simple, I don't want to get lost.
Misc
Homemade first aid kit
Sea to Summit Pocket Trowel
Toiletries bag
Emergency Beacon (registered)
These are all VERY necessary items needed for my hike. In my toiletries bag, I only have enough supplies/vitamins needed to hold me over until I hit my first zero day in Big Bear Lake. In Big Bear Lake, I'll be reunited with my bounce box and resupply these items.
Cooking System
Jetboil Cooking System
Stove fuel
Titanium Folding Spoon
Waterproof matches (just in case the starter button on my stove goes out)
Some hikers shed weight by going stove less. Not me! Having a warm meal for breakfast and dinner will be a huge morale booster out there. I know thru-hiking will be a suffer fest, but there's no sense in making my life downright miserable by denying myself a warm meal.
Electronics
Anker Quick Charge charging adapter
GoPro Hero 5 + selfie stick
iPhone 7
Black Diamond headlamp
Misc cords for electronics
RavPower Battery Pack Charger
This whole section is technically considered luxury items. As a P3 Hiker for the PCT Association this year, I will be documenting my hike along the way through the images I take and the blog posts I write. In order to do this, I'll need a camera and phone for documentation and the means to be able to keep all of my electronics charged while on trail until I get into town and am able to recharge everything again.
 Water System
Sawyer Squeeze Filter + 64 oz and 32 oz bag
Osprey 3 Liter Hydraulics Reservoir
Two Smart Water bottles
This system will be my means to filtering water and storing it in my pack. I was going to go with the Platypus Gravity System for a water filter, but once I realized it was almost double the weight of my Sawyer Squeeze, I quickly put the Sawyer back into my pack.
Please note, this above gear list is subject to change once I start my hike. In fact, it most likely will change in some shape or form. As I mentioned before, I have no idea what I can live/live without on trail at this point. As I come across items in my pack that aren't being used, I won't hesitate to send them back home. It will be super interesting to compare my start pack list to my finish pack list. I can't wait to see what stayed in my pack and how my base weight shifted throughout my hike.
*Some of the links provided in this post are Amazon Affiliate links. Shopping through my Amazon Affiliate links is an easy way to help support my blog. To shop through any of my Amazon Affiliate links, click on any of the links within this post. When you place an order through Amazon for any of the products linked within this post, a small portion from your order will go towards my blog. It's simple and there's no extra cost to you.