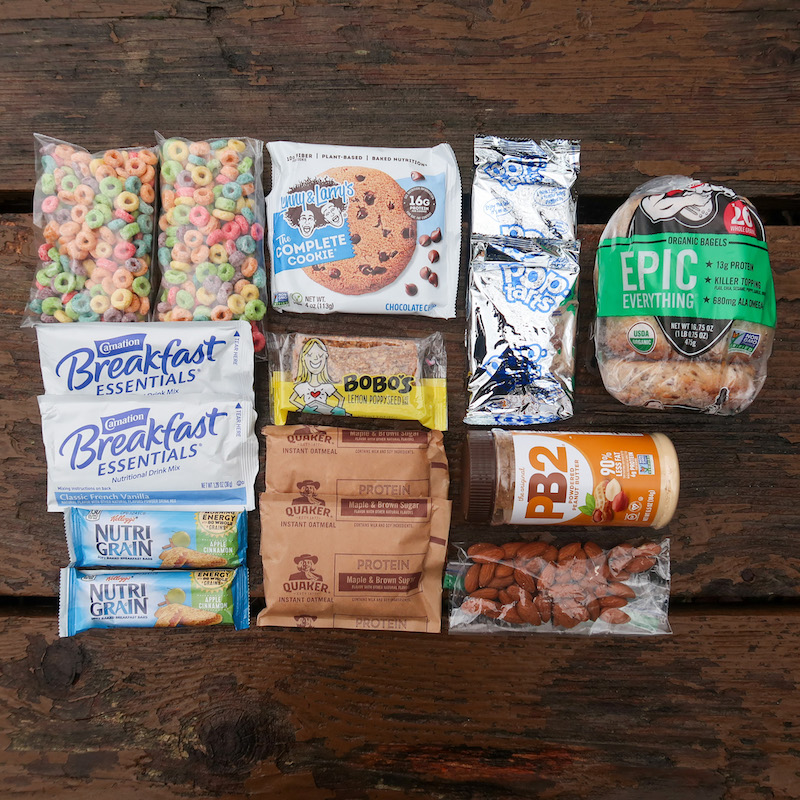 Hey Backpackers! Did you know that your local grocer is loaded with grocery store backpacking meals that are cheap and easy? We all know breakfast is the most important meal of the day. It's also my most favorite meal to eat in town, off-trail. When I'm on trail though, I refuse to cook breakfast in the morning. Honestly, I'd rather sleep in then get out of my tent to cook breakfast. I'm one of those eat something easy and on-the-go-in-the-morning-kind-of hikers instead of a cook-breakfast-at-camp-kind-of hiker.
Looking for easy and cheap breakfast food options for your next backpacking trip? I'm going to let you in on a little secret: There are PLENTY of cheap and easy backpacking meals that can be found at the grocery store. Out of the eight options I feature below, only one of them requires cooking and even with this option, you can choose to cold soak instead if you want to skip the cooking all together.
Option #1: Oatmeal With Peanut Butter and Almonds
One of the first food items I got sick of while thru-hiking the Pacific Crest Trail in 2018 was oatmeal, Instant oatmeal is pretty easy to come by on trail. Everyone seems to have it and it was in almost every single Hiker Box I came across on trail for the first 500 miles in Southern California. Instant oatmeal is cheap, lightweight and fairly convenient.
I started my hike by boiling a cup of water for my oatmeal every morning for the first week before realizing how much of a pain it was for me to "cook" breakfast every day. I ended up throwing my own oatmeal packets in a nearby hiker box and started eating Rice Krispy Treats for breakfast instead for the next 200 miles.
It took me a bit after finishing my hike in 2018 before I was able to stomach oatmeal again. Probably because I'm no longer forced to eat it every day. What I like about oatmeal, besides it being cheap and lightweight is that it's versatile. You can put anything in oatmeal and change its flavor profile and texture. I like putting peanut butter (powdered peanut butter is super convenient to use on trail) and almonds in my oatmeal to spruce it up a bit.
To skip the cooking option for oatmeal, let it cold soak overnight in a closed container instead.
Total Cost Per Serving: $2.19
110 Calories Per Serving
Option #2: Cereal With "Milk"
I'm a big fan having cereal for breakfast in the morning, but having cereal on trail can be tough. Packing out dry cereal is easy. It's the packing out milk in your food bag that's the challenge. Recently, I found a super easy milk alternative for trail – Breakfast Essentials and I love it!
Breakfast Essentials is considered a nutritional drink mix that comes in a powdered form, available in two flavors – chocolate or vanilla. The instructions call for mixing the powder with milk, but one cup of water works just as well. Mix up the Breakfast Essentials with a cup of water and then add a cup of your favorite cereal of choice and BOOM! You have yourself a quick and easy breakfast that requires zero cooking. Pro Tip: You can easily double the serving size and still keep this option under $3.00.
Total Cost Per Serving: $1.25
120 Calories Per Serving
Option #3: The Complete Cookie
Here's a great breakfast option for vegans and vegetarians. The Complete Cookie is a plant-based cookie with 16 grams of protein and 10 grams of fiber and are free from dairy, egg, soy, high fructose corn syrup and artificial sweeteners. They're firm, chewy and delicious. Each cookie is considered two servings.
Total Cost Per 2 Servings (1 Cookie): $2.49
420 Calories Per Cookie
Option #4: Bagels or Croissants
Bagels, croissants or any type of baked good from the bakery are tasty and convenient breakfast options on trail. These are one of my all-time favorite grab-and-go kind of trail breakfasts. You might not have the ability to toast the bagels and add cream cheese, but they're cheap option, available at any grocery store, can easily be packed away in your food bag, and bear canister and still quite tasty even if they get squished.
Total Cost Per Serving: $1.00 to $1.30
230 to 260 Calories Per Serving
Option #5: Bars
The nice thing about bars is that there are a lot to choose from. You've got everything from the soft, fruit filled Nutri Grain bars to the crunchy granola bars, Kind bars and Cliff Bars. Bars are relatively inexpensive, can be found pretty much everywhere, make an excellent second breakfast option and don't require any cooking. The ultimate meal option to enjoy on-the-go.
Total Cost Per Serving: $0.50 to $1.70 (Per Bar)
130 to 250 Calories Per Bar
Option #6: Pop Tarts
Pop Tarts are another super convenient, no-cook breakfast option are readily available in most grocery stores. There's usually a wide variety of flavors to choose from. I prefer the unfrosted strawberry flavor because it's not as overly sugary as the frosted versions. Even though the directions for Pop Tarts require that you toast them, they're still just as delicious right out of the bag. Each packet comes with two pastries. There are two pastries per serving.
Total Cost Per Serving: $0.87
370 Calories Per Serving
Option #7: Holy Molé Breakfast Bars
This is the only breakfast item on the list that requires preparation ahead of time before going out on trail. Holy Molé Breakfast Bars are super easy to make and all of the ingredients can be found easily at any grocery store. These homemade bars were my breakfast item of choice during my section hike on the Pacific Crest Trail this summer along Section L in Washington. They're heathy and extremely filling. Click here for the recipe.
Total Cost Per Serving: $2.50
406 Calories Per Serving
Option #8: Bobo's Oat Bars
Another healthy, grab-and-go breakfast option, the Bobo's Oat Bars are gluten-free, soy-free, vegan and extremely filling. They come in a few different flavors and can be found in the same aisle as where all of the other granola, protein and breakfast bars are located. One bar equals two servings.
Total Cost Per Bar: $2.99
360 Calories Per Bar
Pro Tip: If you want to get in more calories in the morning, introduce the second breakfast concept to your hiking meal plan. Start off the day with one of the above breakfast options. Then in a couple hours when you stop to refill your water or take your first break of the day, eat a second breakfast like one of the bar options mentioned above.
By choosing any one of or a combination of these grocery store backpacking meal options, a breakfast resupply with these food items could cost anywhere from $3 to $15 for five days. Not too shabby for being the most important meal of the day.
Grocery Store Backpacking Meals: Cheap & Easy Breakfast Ideas For Under $3.00 Per Serving
---
Inspired? Pin It!