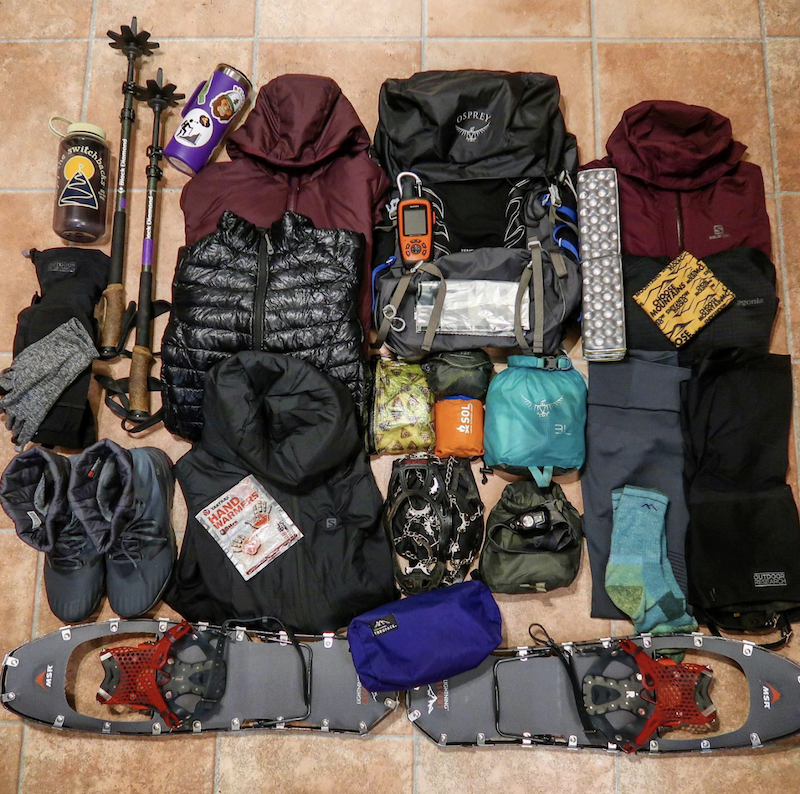 Looking to get out for some winter hiking or snowshoeing this winter and have no idea what kind of gear you'd need or how to pack your pack? With the right gear and a little preparation, you can safely and comfortably hike through the cold winter months, making your hiking season year-round.
In this post, I'll share with you all of my favorite winter hiking gear for 2021 including:
The Pack I Use
Water Storage For Winter Hiking
How To Store Snowshoes On Your Pack
How I Pack My Pack For A Winter Hike

THE PACK I USE
Osprey Tempest 40: The pack I use for all of my winter hikes and snowshoe hikes is the Osprey Tempest 40. I prefer a slightly larger pack for winter hiking because I carry more gear with me during the colder months – more clothing layers, extra gear and snowshoes.
The reasons why I love this pack for winter hiking are:
The breathable back panel because even in the dead of winter, I still sweat whenever I hike.
Stow-on-the-Go trekking pole carry system for when I don't want to use or carry my trekking poles.
Side stretch mesh pockets are perfect for storing a bottle of water on one side and a thermos with a hot drink in the other. Hot chocolate is the 11th essential for me on my winter hikes.
Zippered hip belt pockets are perfect for storing small things that need easy access like gloves and snacks.
Large stretch mesh front panel pocket is great for storing items I need quick access to, but don't want to dig through my pack for like my poop kit, a garbage bag so I can be a good trail steward and pick up trash whenever I see any on trail, a rain cover for my pack, which is super useful up here in the rainy Pacific Northwest and microspikes for when the trail has compact snow or ice on it.
Top-lid storage or what I like to call "the brain" of the pack to use for extra storage and organization. Normally I like to take the brain off of my packs, but for winter hiking, I like to keep the brain on because it gives the pack more protection from rain and snow so my gear and clothing inside stays dry AND this is where I like to stash my snacks for winter hiking. In the winter months since it's much colder outside, I opt to eat more snacks while on the go and take shorter breaks then stopping for a long lunch break at the top and risk getting too cold. When hiking in the winter, you tend to burn more calories, which means you need to fuel the furnace. I do this by snacking on something at least once every hour or so.

WATER STORAGE FOR WINTER HIKING
In warm weather hiking, I prefer to use a hydration reservoir to carry my water in on trail, but with winter hiking, I use a Nalgene bottle instead, mainly because the cold temperatures can easily freeze the water in the reservoir and the tube, making drinking water from the tube impossible.
PRO TIP: Store the Nalgene bottle upside down in your pack. This way if the water freezes, it freezes from the bottom, making the water at the top of the bottle still drinkable.

HOW TO STORE SNOWSHOES ON YOUR PACK
For all of you snowshoers out there, the Osprey Tempest 40 doesn't have an official way to attach your snowshoes to your pack, BUT there are two different ways you can attach your snowshoes to this particular pack:
Front Carry – Start by putting your snowshoes together, crampons facing inwards towards each other. I use the thick rubber bands that came with my snowshoes to keep them together. In the large stretch mesh front panel pocket of the pack, place the snowshoes inside with the bottom of the snowshoes facing down.
PROS FOR STORING YOUR SNOWSHOES THIS WAY: It's fast, easy and simple. The snowshoes stay secure and there's no extra gear needed.
CONS FOR STORING YOUR SNOWSHOES THIS WAY: Depending on the height of your snowshoes, they may poke you in the head and could tear the mesh if you're not careful.
Top Carry – Underneath the pack's top lid or brain, use the strap to secure them in place, threading them through the snowshoes. Once snowshoes are in place and the strap has been cinched down, close the brain on top of the snowshoes and cinch down both straps of the brain.
PROS FOR STORING YOUR SNOWSHOES THIS WAY: It's fast, easy and simple. The snowshoes stay secure and there's no extra gear needed.
CONS FOR STORING YOUR SNOWSHOES THIS WAY: They can slide out if not securely fastened.

HOW I PACK MY PACK FOR A WINTER HIKE
Large Stretch Mesh Front Panel: Staring with the large stretch mesh front panel, if I don't have my snowshoes in here then I keep in this section:
My poop kit which contains a Kula cloth, a lightweight trowel, my Pixie Cup, baby wipes, hand sanitizer and doggy bags to pack out the baby wipes and/or if I need to use a wag bag when hiking in an area where I can't dig a cat hole.
A garbage bag
A pair of microspikes
Side Stretch Mesh Pockets: Moving to both of the side stretch mesh pockets, on one side I have my:
Main Compartment: Moving into the main compartment of my pack, I carry:
Top-Lid Storage Aka The Brain: Normally, I like to remove the brain on my packs, but for winter hiking, I like to keep the brain on my pack for a couple of reasons. One, it provides extra protection from the rain, helping to keep the contents of the inside of my pack as dry as possible and two, it's where I store most of my hiking snacks.
Zippered Hip Belt Pockets: In one side I have:
A pair of thin waterproof mittens to put over my liner gloves for when it's raining or snowing out and I want to keep my liner gloves dry. I can even wear these with a hand warmer inside.
Small, on-the-go, easily accessible snacks
In the other zippered hip belt pocket I have:
Pack Strap: On the pack strap, I have my Garmin inReach Explorer+ attached, near my shoulder. A lot of people have asked me what this is.
The Garmin inReach Explorer+ is a 2-way messaging, SOS device that runs by satellite. It can:
Send out and receive text messages without cell service or Wi-Fi
Pull up real-time, local, mountain weather
Pull up topo maps of the area I'm hiking in
Set waypoints and live track all of my hikes and backpacking trips
Gives me the option to set up a special URL for friends and family at home who can follow me on an online map that live tracks all of my waypoints sent out by my Garmin or set by me throughout my trip in the backcountry
Provide peace of mind for me knowing I can reach out to someone off trail if I need to
Provides a two-way messaging option with first responders in case of an emergency
Gives my friends and family peace of mind when I'm in the backcountry and can't be reached by phone or text while out on trail
For the Garmin inReach to be effective, it needs to be in clear view of the open sky, which is why I wear this on the outside of my pack, near my chest and shoulder, on the pack strap.
Fanny Pack: Last but not least, I have my ThruPack Summit Bum fanny pack that I wear around my waist. Inside I keep:
A pair of sunglasses
My phone, which also acts as my navigation with the Gaia app and can navigate my Garmin inReach through the Earthmate app on my phone
My camera and extra batteries
Most importantly, there's a clip on the inside of my fanny pack where I can clip my car key onto, making it nearly impossible to misplace my car keys on a hike
Video: My Favorite Winter Hiking Gear 2021 | What I Bring For A Winter Hike + How I Pack My Pack
---
Disclaimer: The-Hungry-Hiker.com is a participant in the Amazon Affiliate Links and AvantLinks Program, affiliate advertising programs designed to provide a means for sites to earn advertising fees by advertising and linking to Amazon.com and other affiliated sites at no cost to you. Please note, I only link to products and services I personally use and trust.
---