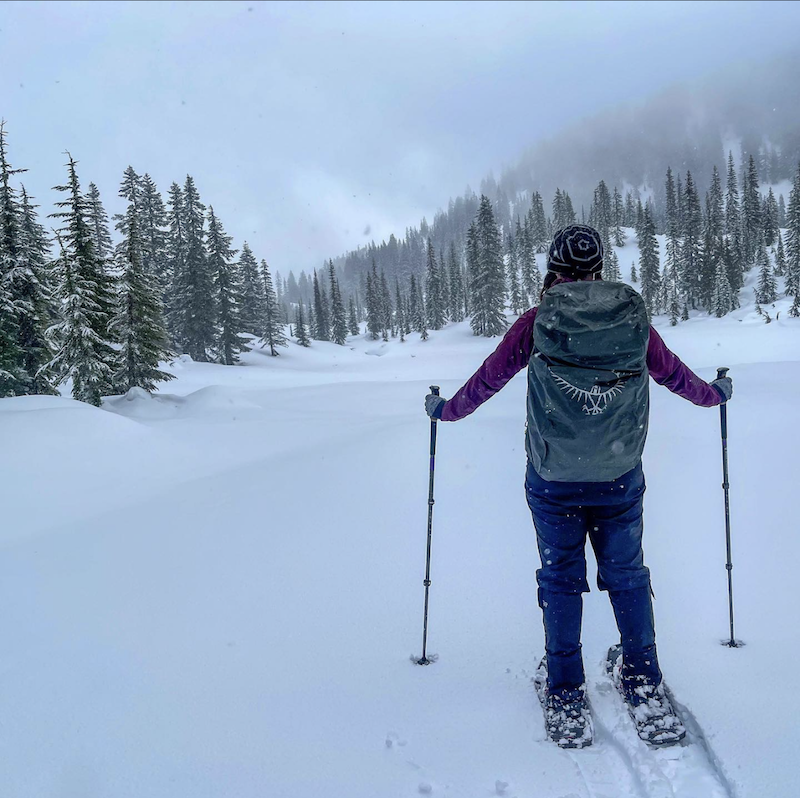 Winter hiking can be fun and comfortable when you have the right gear. Let's talk about winter hiking gear, more importantly what to wear for a winter hike or for snowshoeing.
In this post, I'll share with you:
My Entire Winter Hiking Clothing Layering System
My Favorite Winter Hiking Footwear
Other Layer Must Haves For Winter Hiking
Tips On How To Stay Warm When Winter Hiking
Weather can change rapidly in the mountains, especially during the winter. The goal for hiking during the winter months is to always stay as dry as possible by preventing yourself from getting sweaty. When starting a hike, be bold and start cold. That means not wearing all of your layers to start with BUT have enough layers with you to add or remove clothing throughout your hike so you can stay warm and comfortable without overheating and getting sweaty. Because getting sweaty means getting cold, which can lead to hypothermia if you're not properly regulating your body temperature.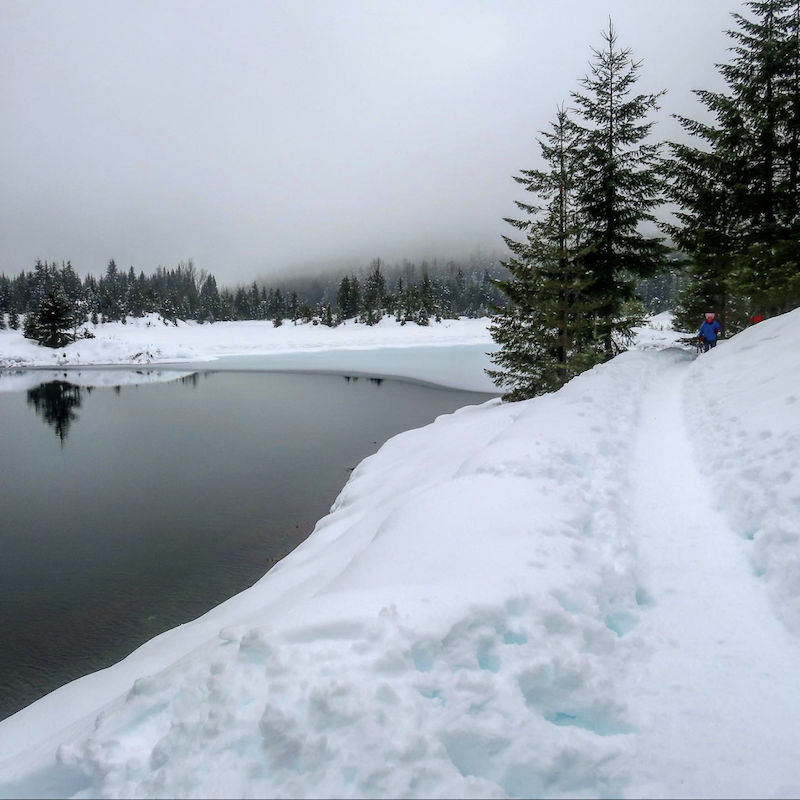 UPPER BODY LAYERS
Upper body layers include a base layer, a mid-layer, an insulation layer and an outer layer.
Base Layer: A base layer is the layer of clothing you'll wear closest to your skin. Try to keep this layer lightweight, moisture wicking, breathable and something that dries sweat quickly. Choose something made of synthetic material or a lightweight to mid-weight wool. I like wearing my Salomon Agile Short Sleeve Tee because it's a breathable tee made of a quick drying polyester that's soft, stretchy and lightweight. It's made with an AdvancedSkin Active Dry technology that helps wick away the sweat on my skin to the fabric of the shirt, helping me to stay dry and comfortable.
Mid-Layer: A mid layer provides insulation between your base layer and outer layer. Your mid layer should be warm enough to keep your body warm and still breathable to hike in. Materials for a mid-layer could be synthetic or fleece. Just no cotton. Cotton is rotten. Once cotton gets wet, like getting covered in sweat, it will take a long time to dry.
For my mid layer, I like wearing both my Patagonia R1 fleece AND my Salomon Drifter Mid Vest. I like that my R1 fleece has long sleeves to help keep my arms warm, but it's also breathable enough to hike in and insulating enough to keep me warm. For winter hiking, a vest is best for me because I tend to sweat no matter what the temperature is outside. I love that my vest is lightweight and helps keep my core warm and insulated. I also love that I have a bit of air conditioning and have more mobility with my arms not being covered by the vest.
Insulation Layer: The insulation layer can be a thicker, insulated jacket like a down puffy. This layer can be used on its own when you need a little extra insulation when stopping for a snack break or if you need more warmth on your body underneath your outer layer, when coming down the mountain when heading back towards the trailhead.
When winter hiking, I carry two different jackets to use for my insulation layer. I like my Mountain Hardwear Ghost Whisperer Puffy because it's super lightweight, super warm and fits comfortably underneath my outer layer. I also love my Salomon Outrack Insulated Jacket when I want to wear an insulating layer on its own without wearing an outer layer on top. Both are super warm and comfortable.
Outer Layer: The Outer Layer is a shell that helps keep the wind, rain and snow out. This should be a waterproof layer like a rain jacket. This winter, I've been rocking my Salomon Lightning Waterproof Rain Jacket. It's lightweight and folds down to nothing, yet the AdvancedDry Skin technology with a 10K rating on both the waterproofness and breathability keep me super dry in the wettest of conditions without feeling like I'm stuffed in a garbage bag.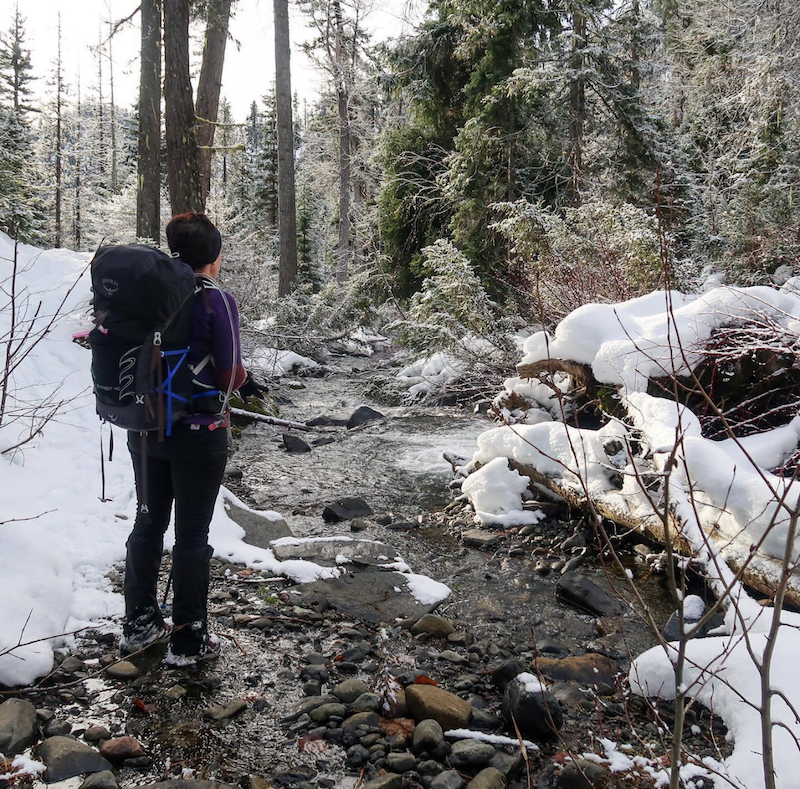 LOWER BODY LAYERS
Lower body layers include a base layer and an outer layer.
Base Layer: Just like an upper body base layer, a lower body base layer is a layer of clothing you'll wear closest to your skin. You'll want to keep this layer lightweight, moisture wicking, breathable and make sure it can dry sweat or rain quickly. Good materials to choose from for a base layer could be a light to midweight wool or synthetic fibers.
For cold weather hiking, I love wearing a pair of thick tights or leggings like the Salomon Elevate Move On Tights. They're insulated, made from synthetic fibers and the higher and wide waist band make for a comfortable and controlling fit. Pair these with a pair of tall, waterproof gaiters like the Outdoor Research Crocodile Gaiters and my legs stay warm and dry on most of my winter and snowshoe hikes.
Outer Layer: Just like with an upper body outer layer, the outer lower for the lower body is a shell that helps keep the wind, rain and snow out. When it's raining or snowing out and I need a little extra protection on my legs from the elements, I like wearing my REI Talusphere Rain Pants. They're light, stretchy, waterproof and breathable. Combine these with a pair of tall, waterproof gaiters like the Outdoor Research Crocodile Gaiters and my legs are completely protected from rain fall and snow flurries, keeping them dry and warm throughout my hike.
FOOTWEAR
For winter hiking footwear, I have two different types of hiking boots.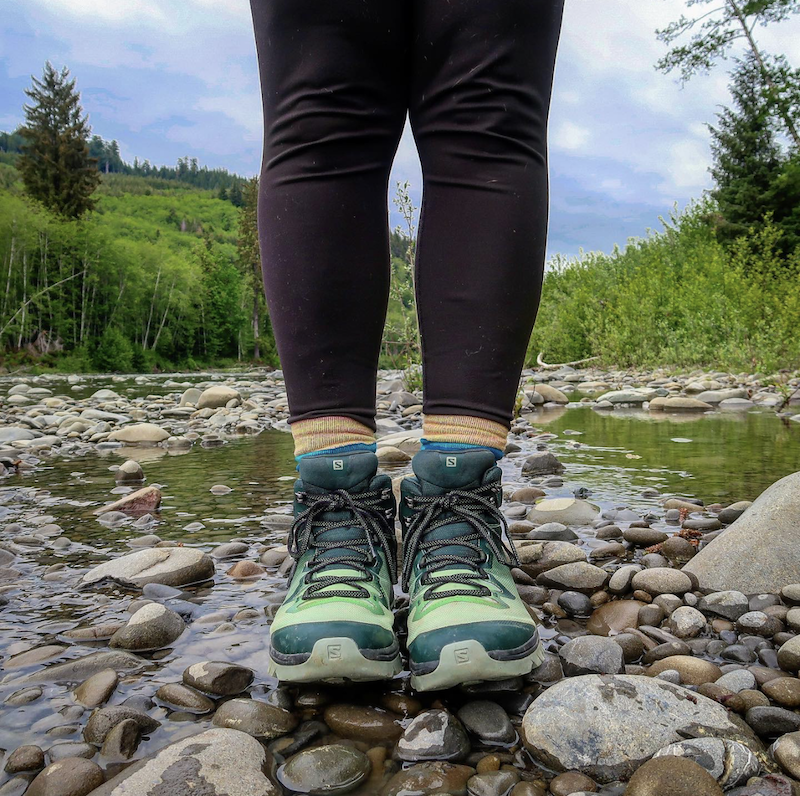 For when it's wet and muddy out on trail, I like to hike in my Salomon Women's Gore-Tex Vaya Hiking Boots. Not only do I love the comfortable fit, roomy toe box, beefy bottoms and sturdy ankle support, but they do an impeccable job of keeping my feet dry in the wettest of trail conditions.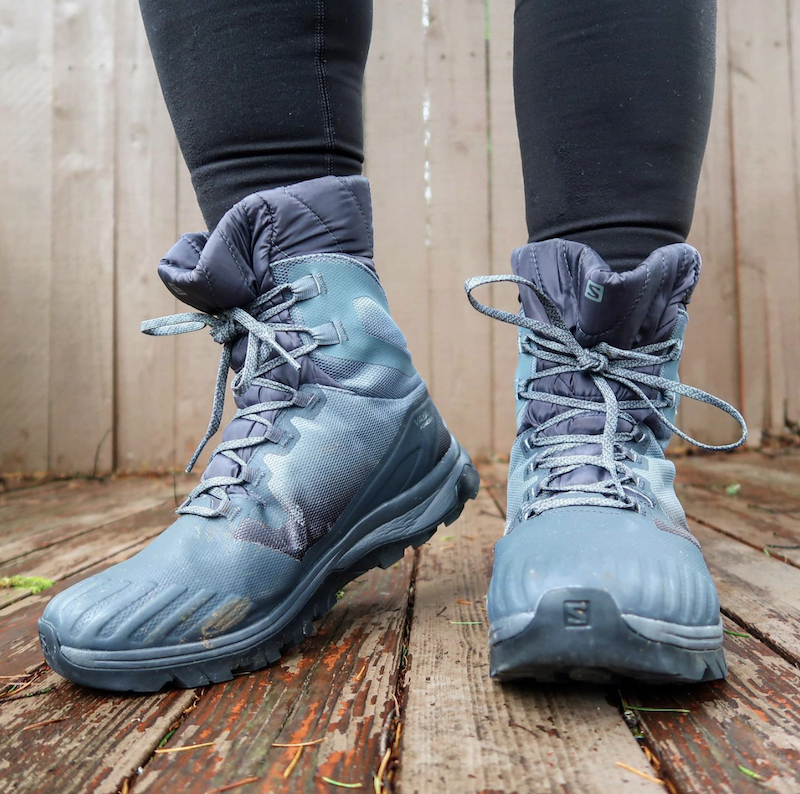 For my snowy snowshoe hikes, I love wearing my Salomon Vaya Powder Hiking Boots. They're warm, insulated, do a great job of keeping the snow out and are durable for winter conditions like snow and ice. I also love the protective toecap, roomy toe box and the soft down collar that helps keep the cold air and snow out. My favorite part about these boots is that they're super lightweight and incredibly comfortable. Whether I'm on snowshoeing on the mountain, walking through an icy ski resort parking lot or shopping at the grocery store, the Salomon Vaya Powder Hiking Boots are warm, durable and comfortable in any condition.
 Socks: For winter hikes, I always pack an extra pair of socks, get in case the socks I'm wearing get wet while hiking. I tend to go with a slightly thicker sock during the winter than I do in the spring, summer and fall like the Darn Tough Micro Crew Cushion socks.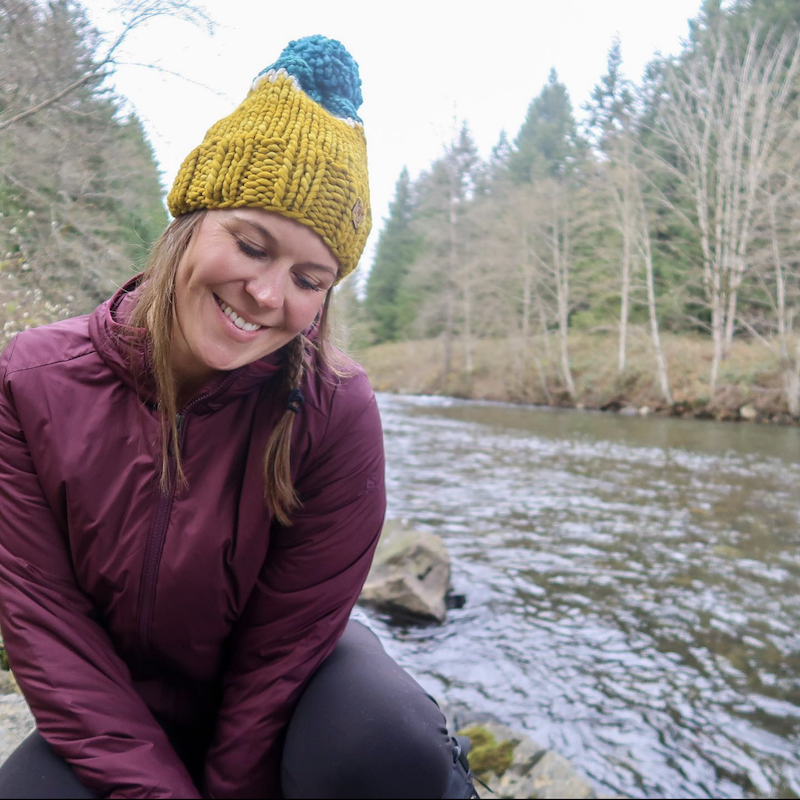 OTHER LAYER MUST HAVES FOR WINTER HIKING
When hiking in the winter, not only is it important to have a solid winter clothing layering system, but it's also important to cover your skin when out in the cold weather. Here are some other layer must-haves for winter hiking:
Beanie/Hat: Wearing a beanie or a hat will help keep your head and ears warm.
Buff: Use a buff to help cover your face to help keep it warm. I also like to use my buff as a way to secure my hat when it's really windy out and in a pinch, can be used as a mask out on trail.
Fleece Neck Gaiter: I also pack out a fleece neck gaiter just in case it's really cold outside and I want some extra warmth around my neck area.
Liner Gloves: I always pack two pairs of liner gloves with me. Liner gloves are a great way to warm up hands quickly when hiking on trail. I keep two pairs with me in case one of them gets wet. I also love the Salomon Bonatti Waterproof mittens to wear over my liner gloves for when it's raining or snowing out so my liner gloves have a better chance of staying dry while out on trail.
Snow Mittens: I like to carry a thicker pair of snow mittens with me on my winter hikes because my hands tend to get the coldest first. Sometimes the wind factor or snow can really make my hands cold when out on trail, so it's nice to know I have a thick more of mittens I can use to warm my hands up quickly with.
Sunglasses: I always carry a pair of sunglasses with me on my winter hikes, even if the sun isn't out. Sometimes the reflection from the snow is so bright, it helps protect my eyes. Sunglasses are also nice to use when it's really wind out too.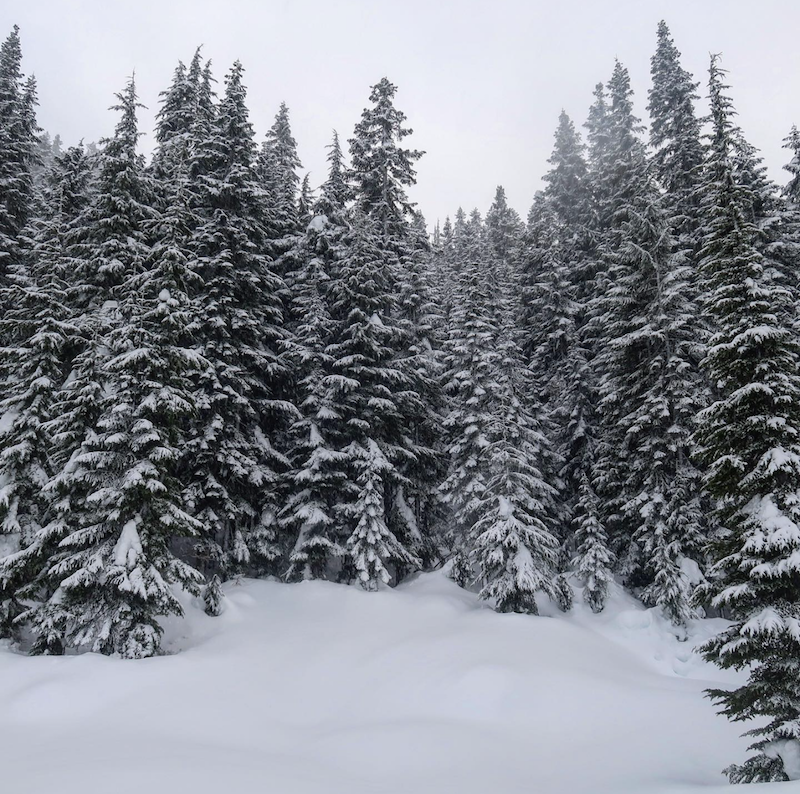 TIPS ON HOW TO STAY WARM WHEN WINTER HIKING
Here are some of my most favorite tips on how to stay warm while out winter hiking.
Pack Out A Warm Drink in a lightweight travel mug or thermos for your next winter hike. During the winter, I consider carrying hot cocoa with me as an 11th essential.
Be Bold, Start Cold: Avoid sweating while out on a winter hike. One way to do this is to be bold and start cold. Pack all of your layers, but don't wear them all at once as you're starting out your hike, going uphill. If you're wearing your layers, remove them as soon as you start to sweat.
Pack Hand Warmers and use them whenever you need help warming up your hands on trail. You can also stick a pair of hand warmers in your gloves or mittens for extra warmth.
Hike With The Sun & Take Shorter Breaks: Not every winter hike will be blue skies and sunny, but if you want to stay as warm as possible, hike when the sun is out and take shorter breaks. The longer you stop for a break, the quicker your body will get cold and the harder it will be to warm back up.
Fuel The Furnace: Believe it or not, it's harder for me to eat on the trail when it's cold outside. Ideally, you'll want to hike a snack at least once every hour to help fuel the furnace and stay warm. Choose easy snacks you can eat on the go. Keep the snacks simple and to help prevent any unnecessary freezing, try to keep your snacks close to your body so your body heat will prevent them from freezing.
Stay Hydrated: Drink plenty of water during your winter hike. Opt for a Nalgene bottle instead of a water reservoir with a tube, just in case the tube freezes. Store your Nalgene bottle upside down, inside a side mesh pocket or on the inside of your pack.
Use A Butt Pad for whenever you stop for a break and your only option is to sit on the snow. The extra insulation between the snow and your butt pad will help keep you warm and dry.
Video: My Favorite Winter Hiking Gear| What To Wear Winter Hiking + Snowshoeing
---
Disclaimer: The-Hungry-Hiker.com is a participant in the Amazon Affiliate Links and AvantLinks Program, affiliate advertising programs designed to provide a means for sites to earn advertising fees by advertising and linking to Amazon.com and other affiliated sites at no cost to you. Please note, I only link to products and services I personally use and trust.
---