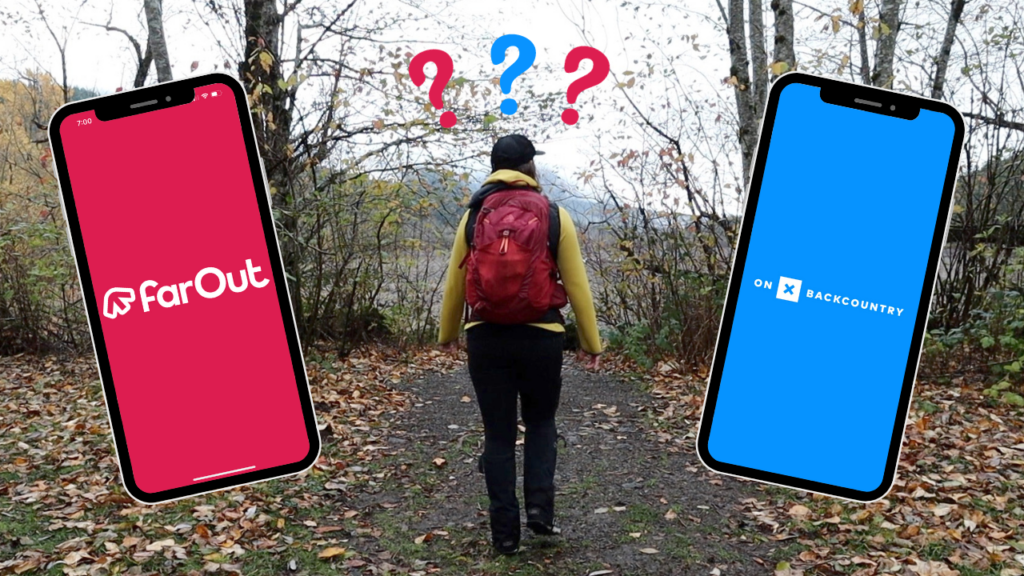 Are you afraid of getting lost when you're out hiking and backpacking? Want to know how you can help yourself stay found while out on trail? Here are five ways to NOT get lost when hiking and backpacking, along with two of my favorite navigation tools I use whenever I'm out on trail.
1. Always Carry the 10 Essentials
The key to not getting lost in the backcountry starts with prevention. One of the ways you can prevent yourself from getting lost is by ALWAYS carrying the 10 Essentials with you whenever you're out on trail.
The 10 Essentials include:
Navigation
Illumination
Shelter
Extra Clothing
Extra Water
Extra Food
Sun Protection
Fire
Knife and Gear Repair
First Aid Kit
This way, if you ever find yourself stuck out on the trail longer than you planned for, you'll always be prepared to deal with any worse case scenario Mother Nature might throw your way while you're out there.
If you have questions about the 10 essentials, Check out THIS POST that goes into detail about what each of the 10 Essentials are and why you should always carry them whenever you're out on trail.
2. Choose A Navigation System & Know How To Use It
Not only is it important to have a navigation system like a map, but you'll also need to know how to use it. The BEST navigation tool to use in the backcountry is the one you're going to use AND KNOW HOW TO USE.
My favorite navigation tools to use when hiking and backpacking are the FarOut Guide app and onX Backcountry.
The FarOut Guide app is a navigation tool that's designed to be used specifically on certain, long-distance trails that are in the FarOut Guide system, both here in the United States like the Pacific Crest Trail and even long-distance trails throughout the world.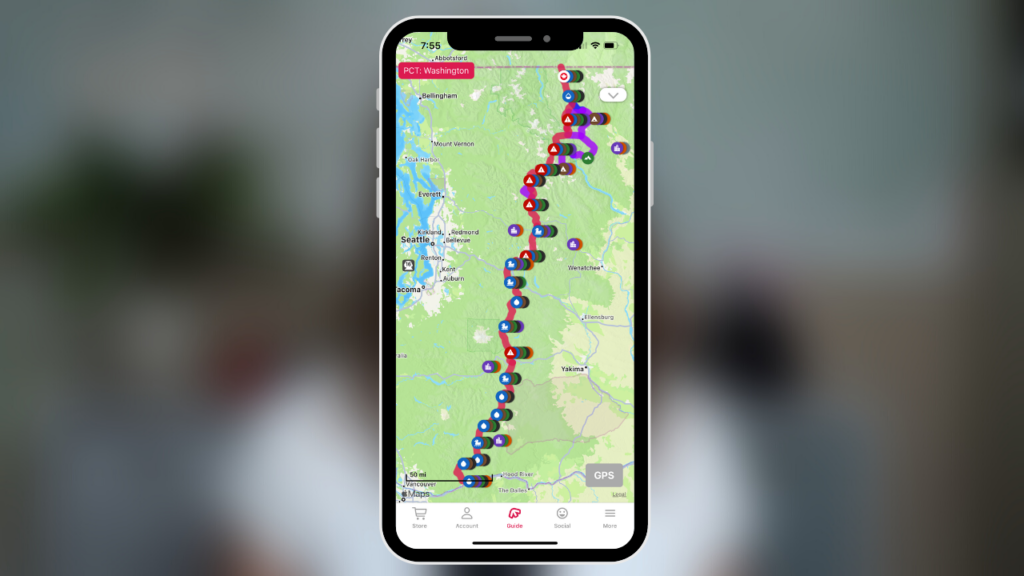 I used the FarOut Guide app exclusively when I was hiking the PCT this year.
If I'm not on a long-distance trail like the PCT, I love using onX Backcountry. onX Backcountry can be used on all other trails throughout the United States and Canada.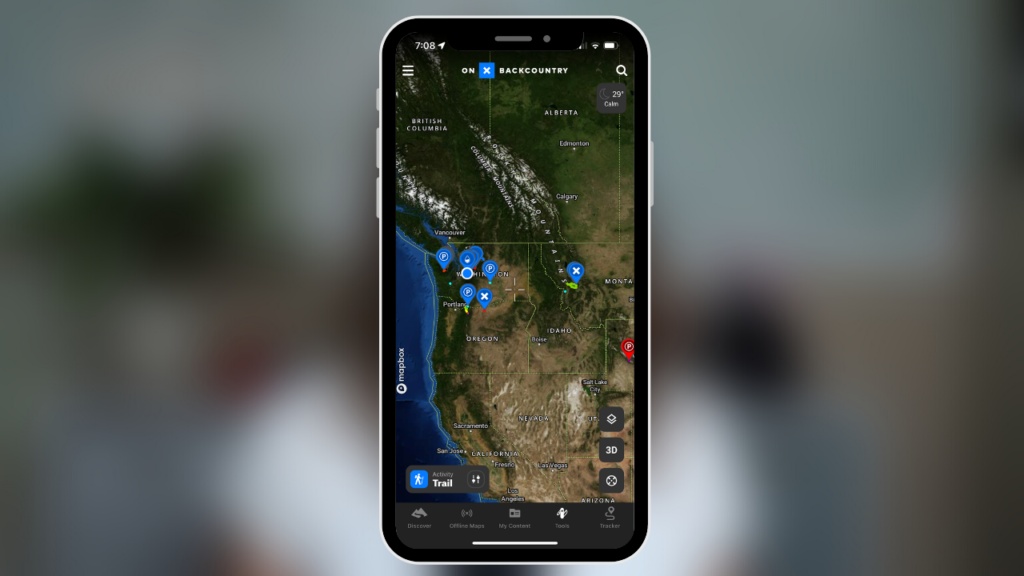 And even along my PCT hike this year, I still used onX backcountry whenever I opted to take an alternate trail off of the PCT.
It's always a good idea to carry a backup navigation system like a paper map and compass, but if you don't know how to use them, they'll only be deadweight in your pack. If you decide to use an electronic navigation system like an app, make sure to always pack an extra power source, just in case your electronic device loses power while you're out on trail.
Both the FarOut Guide app and onX Backcountry have a GPS feature which shows you exactly where you're at on trail (and even when you aren't). If you're out on trail and not sure where you're at, you can use the GPS feature to help guide you back to the trail before you really get lost.
You can also use both of these navigation tools to get important trail information like finding nearby water sources and potential tentsites, locating water crossings, checking the elevation profile for any given trail, and locating landmarks, viewpoints and trail junctions.
On the FarOut Guide app, you can look up waypoints to see nearby water sources, tentsites and landmarks. Where this app really shines though is with the user generated comments for each of the waypoints. The waypoint comments really come in handy whenever you're trying to figure out if the next water source has a good flow or if the tentsite you're thinking about heading to for the night is worth stopping at.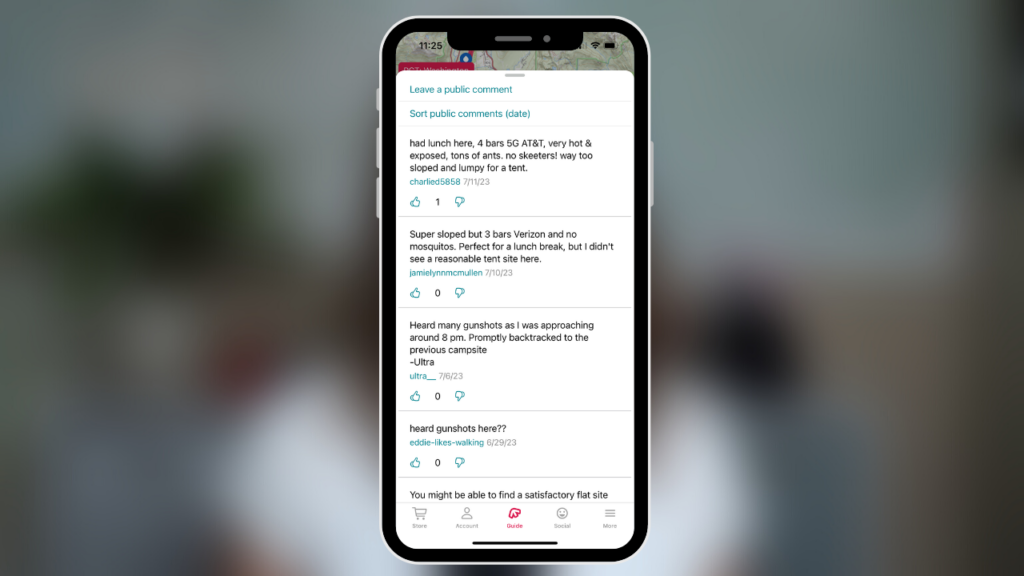 The FarOut Guide app is a great navigation tool, but only while you're on a specific long-distance trail, like the PCT. Once you get off the PCT, the navigation app pretty much becomes useless.
With onX Backcountry, you can find information about trails all over the United States and Canada.
One of my favorite features on this app is using the Hybrid basemap option. It features satellite imagery and topo lines that give you a closer look at the area which is really helpful when you're trying to decide where to camp, want to figure out what the trail terrain might be like and even want to know how big a parking lot is at the trailhead and what facilities might be there.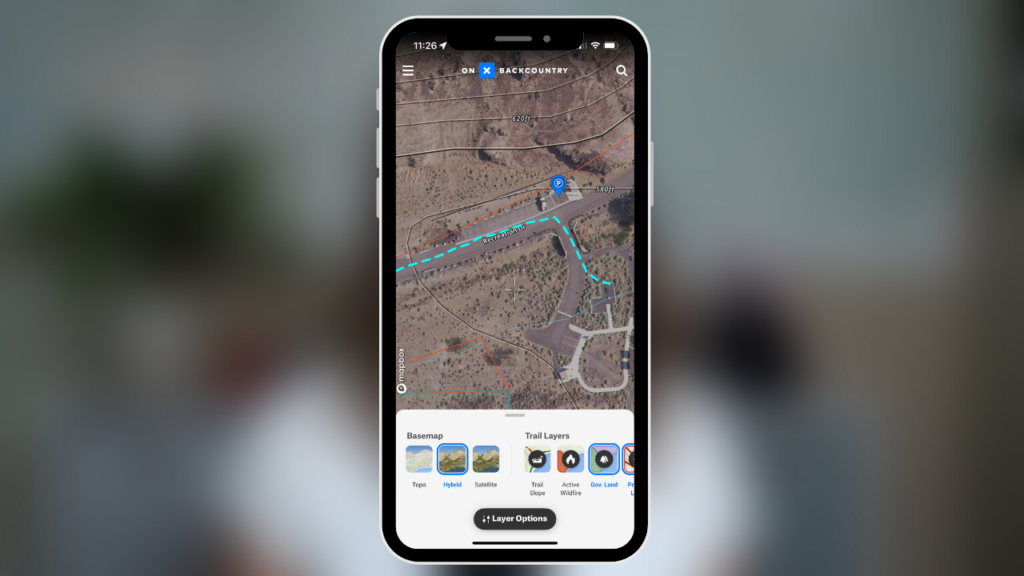 With onX Backcountry's Elite membership, you can also see land management information which is helpful when trying to figure out if the land you're hiking and backpacking on is either public or private property.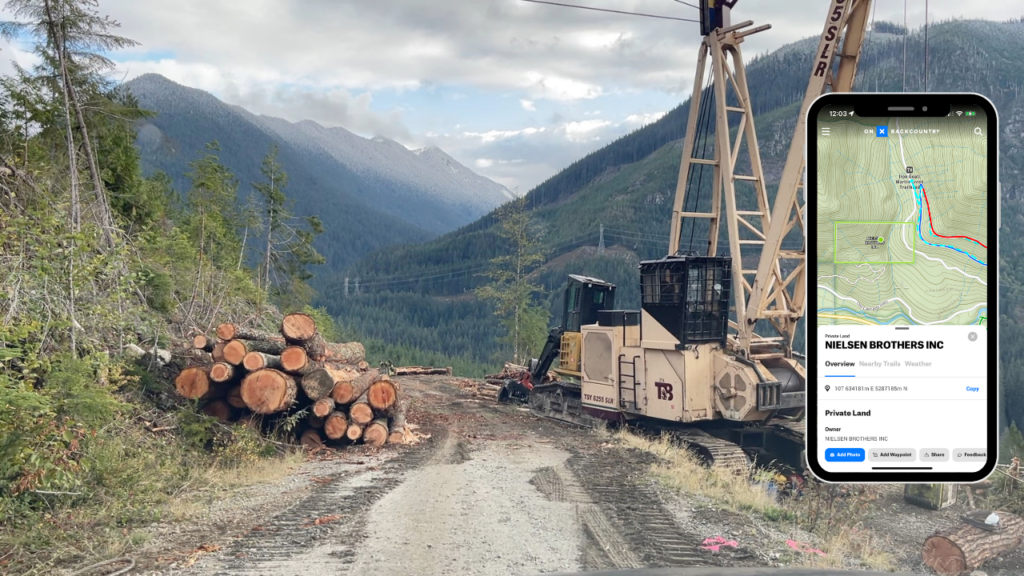 For example, on my way to the trailhead, there was some active logging going on. A quick glance at the map of the area on onX Backcountry and I saw that this small portion of the road was actually on private property. Hence the active logging.
3. Check the Weather
Hiking in bad weather can make conditions out on trail hazardous and therefore potentially increase your chances of getting lost while you're out hiking and backpacking. It's really easy to get disoriented in thick fog and bad weather. Trust me, I've been lost in bad weather before and it's NOT fun.
Always check the weather before you head out for the day. onX Backcountry makes checking the weather forecast for any given area really easy just by clicking on the map of the area you plan on hiking in. Instead of getting "town" weather, you actually get a weather forecast for the area you've tapped on, on the map.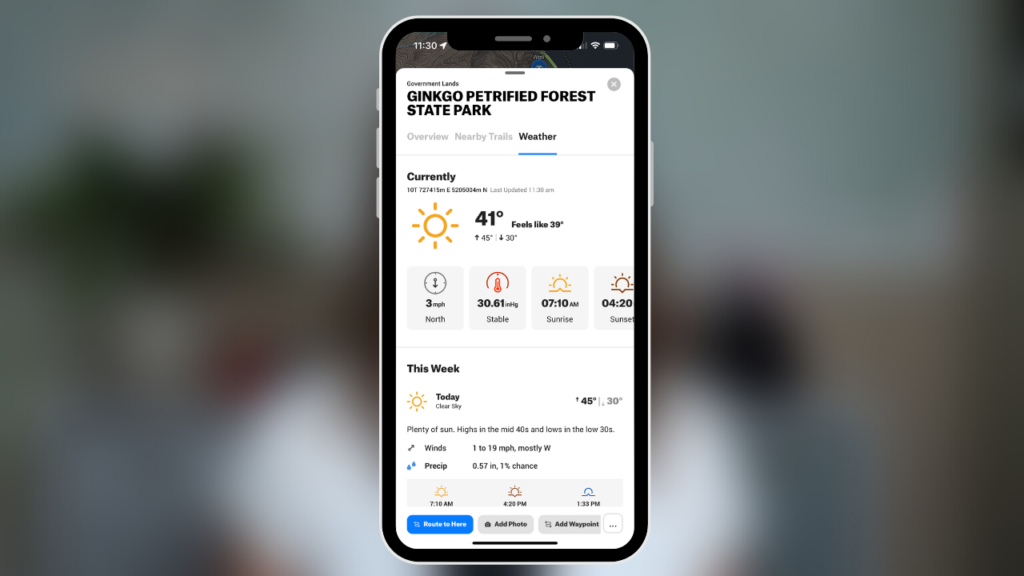 Using this feature should be included as part of your trip planning process BEFORE getting to the trailhead because weather forecasts aren't available when the app is offline, out of cell or WiFi service.
With the FarOut Guide app, there isn't a weather forecast option built into the app.
4. Trip Planning
Before you head to the trailhead, make sure you've planned and prepared for your trip appropriately. Be aware of possible trail conditions. Check the weather forecast. Pack your 10 essentials and any other gear you'll need. Bring plenty of food. Also, know where you're going by creating a route for your intended trip and take note of the elevation profile of your planned route.
While hiking the PCT this summer, I created a route for each day. I used the FarOut Guide app to figure out how many miles I wanted to hike each day and get information about upcoming water sources and potential tentsites. I'd also take note of the elevation profile to see how much uphill and downhill I'd have for the day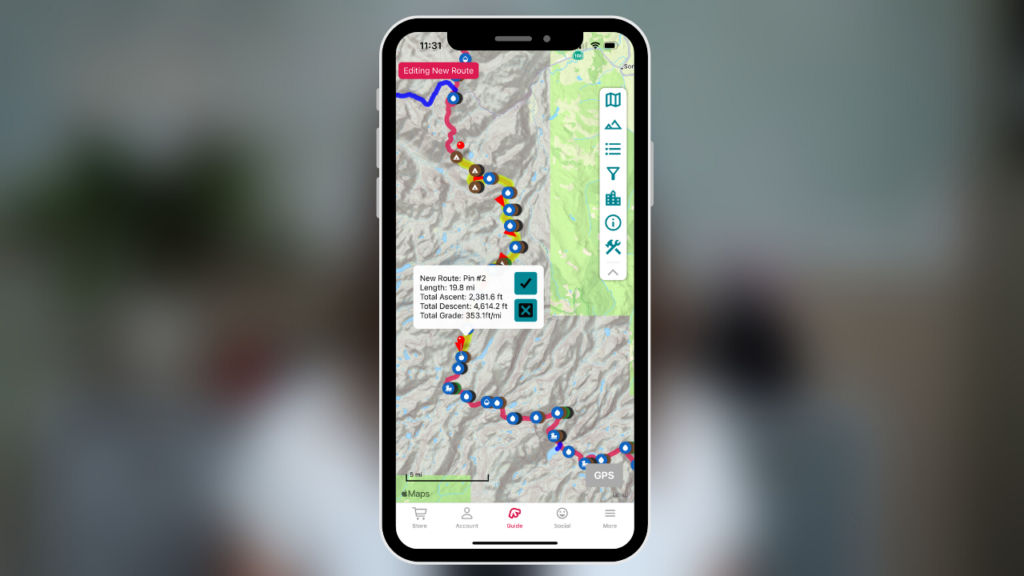 When planning my day hikes, overnight backpacking trips and any alternate trips off of the PCT this summer, I used onX Backcountry to not only create a route for the day, but also create waypoints to mark possible water sources, tentsites, lunch spots, landmarks, viewpoints, trail junctions and potential exit points.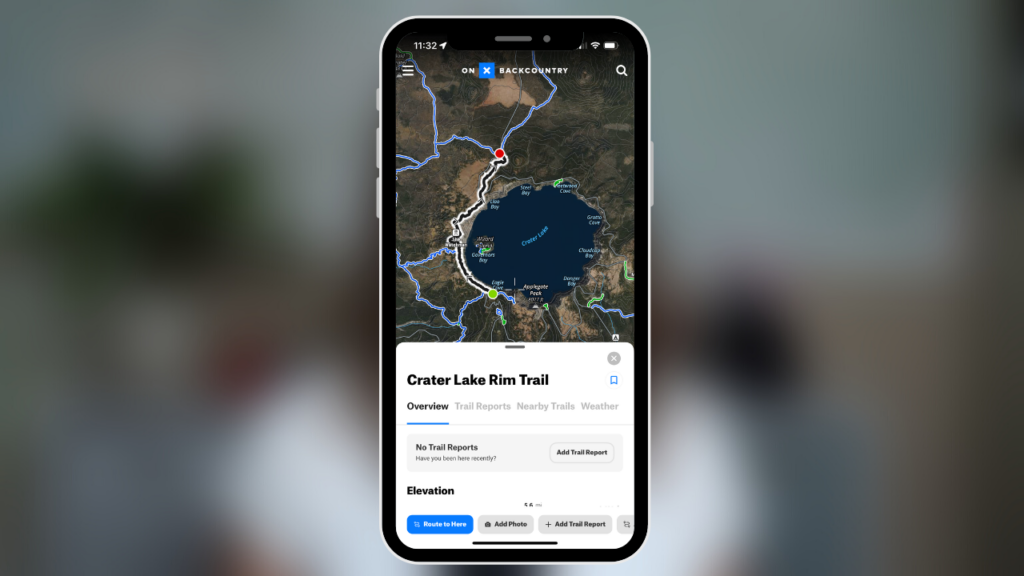 And whether I'm using FarOut or onX Backcountry, before I leave cell or WiFi service, I ALWAYS make sure to download the map of the area onto my phone so I can access my map and all of the waypoints I've created once I'm offline.
~~~
If you're interested in checking out onX Backcountry to help plan your next hiking or backpacking trip, CLICK HERE to get either 20% off of your onX Backcountry Premium or Elite subscription OR start a 14 day trial of onX Backcountry Elite for FREE.
~~~
5. Situational Awareness
Another way to prevent yourself from getting lost when out in the backcountry is to always be aware of your surroundings. Take note of potential landmarks and natural features in the area. Try locating landmarks, features and trail junctions both with your eyes and with whatever navigation system you're using when out on trail.
This way if you get turned around while out on trail, you can locate one of these features using both your eyes and your navigation system, to help you to get you back on trail and head in the right direction again.
So before heading out on trail for your next day hike or overnight backpacking trip, remember to:
Pack the 10 essentials
Choose a navigation system and know how to use it
Check the weather
Plan and prepare for your trip appropriately
And once you're out on trail, be aware of your surroundings and be situationally aware
---
Disclaimer: The-Hungry-Hiker.com is a participant in the Amazon Affiliate Links and AvantlInks Program, affiliate advertising programs designed to provide a means for sites to earn advertising fees by advertising and linking to Amazon.com and other affiliated sites at no cost to you. Please note, I only link to products and services I personally use and trust.
---