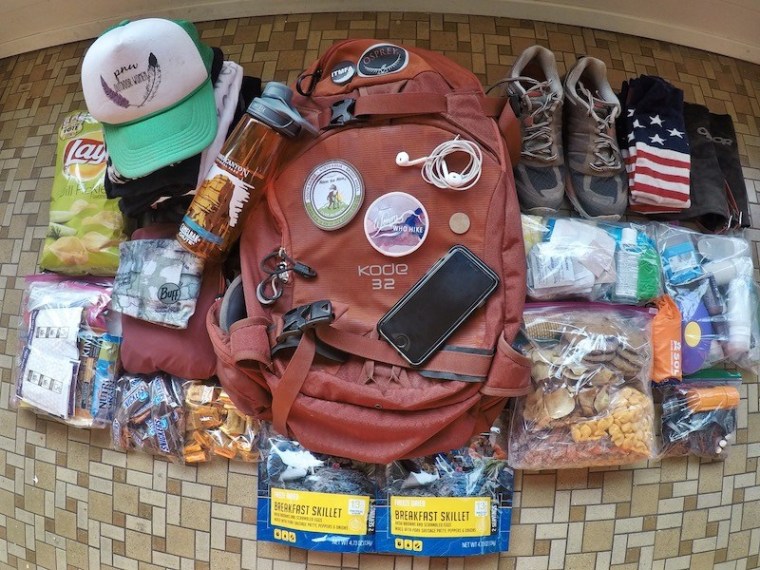 In a few days, I'll be on the plane heading to Vegas where I'll hop into a rental car and drive to the Grand Canyon's North Rim with 11 other ladies. From here, we'll be hiking the Grand Canyon Rim to Rim to Rim hike in two days. That's about 25 miles each day with about a 10,000+ feet elevation change. We'll be travelling by way of North Kaibab to Bright Angel Trail and then back the same way we came. This trip has been in the works over the last year and I couldn't be more excited.
The first time I visited the Grand Canyon was in 2015 when five of us ladies hiked the Rim-To-Rim hike together. It was on this trip when we started to entertain the idea of coming back to do the Rim-To-Rim-To Rim hike. At the time, I had just started hiking only four months before our trip. Fast forward to this year's trip, I have quite a bit more hiking under my belt now. Not only did I have a pretty decent summer season hiking all over the PNW in 2016, but I've spent a majority of my spring/summer this year hiking. Since April 24th, I've gone on 37 hikes and have logged over 1,200+ miles on various trails. I'm so ready to do this hike!
I've also gotten quite a bit more efficient with my packing since I started going on backpacking trips earlier this summer. Now instead of just throwing random stuff in my bag that I'd think I'd need, I carefully bundle items together by system in Ziploc bags. This way I know exactly why I'm bringing any given item. It also makes it so much easier to pack and find things in my bag.
In preparation for my trip, I put together a packing list of everything I'll need. Here's my packing list (in order by system):
Clothing
Brooks Cascadia trail runners
Ankle gaiters
Sanuk Yoga Sling sandals
4 pairs of hiking socks (I ALWAYS pack extra socks)
2 tank tops (1 for each day of the hike)
2 pairs of running shorts (1 for each day of the hike)
1 pair of travel shorts (To travel to and from the canyon in)
1 travel shirt (To travel to and from the canyon in)
*On the way home I plan to wear the souvenir shirt I buy from the gift shop
1 pair of leggings (Hiking down into the canyon in the morning will be cold)
1 sundress (To wear at dinner on both nights)
1 mid-layer top (Hiking down into the canyon in the morning will be cold)
1 sweatshirt (Hiking down into the canyon in the morning will be cold)
1 thin rain jacket (Just incase)
6 pairs of underwear (I ALWAYS pack extra underwear)
4 sport bras
2 Buffs (I wear these on my wrists to wipe sweat and snot away while hiking)
Laundry bag
Toiletries (All packed in a 1-quart Ziploc bag for TSA)
2 oz shampoo
2 oz conditioner
2 oz face soap
2 oz Wilderness Wash (For showers on each night of the rims)
2 oz sunscreen
1 oz travel leave-in hair conditioner (I have long hair that tangles easily)
Travel toothbrush
Travel toothpaste
Travel floss
Travel hair brush
Travel deodorant
Chapstick with sunscreen
Q-tips
Hair ties
Sleep Ease pills (From my acupuncturist for a good night's sleep)
Daily vitamins
Electronics
GoPro camera and charging cable
iPhone and charging cable
Headphones
10 Essentials
Headlamp with extra batteries (We'll start the hike on both days in the dark)
3L water reservoir
1 small reusable water bottle (Reserved for mixing NUUN electrolyte tablets on the trail)
First aid kit with ointments, Aleve, duct tape, moleskin, Band-Aids, Body Glide, tampons and pre-cut Chinese herb patches for my tender hip flexor)
Space blanket
Wide brimmed hat
Sunglasses
Knife
Poop bag kit (Contains doggie bags, baby wipes and travel-size hand sanitizer)
My lucky Grand Canyon quarter
Wallet, ID, credit card, ATM card and cash
Snacks (All proportioned out in individual Ziplock bags for easy packing)
Pink Lemonade NUUN electrolyte tablets
Honey roasted almonds
Roasted and salted sunflower seeds
Apple chips
Goldfish crackers
Gummi bears
Chocolate chip cookies
Dill pickle chips
Mini Snickers
2 Mountain House Breakfast Skillets (Just add hot water for a hearty breakfast before each hiking day)
4 hot coco packets
Various Kind Bars, energy bars, goos, gels and energy Jelly Bellies
*A bag to carry snacks in on the plane
As far as I can tell, I think I've got everything accounted for that I'll need for this trip, on this list. My plan is to bring everything in my Osprey Kode 32 hiking day pack and have one carry-on bag to stash my snacks and liquid toiletries in, hopefully making going through security a breeze. I can't believe I leave for the canyon in only a few days! I'm so ready. I'm so excited!