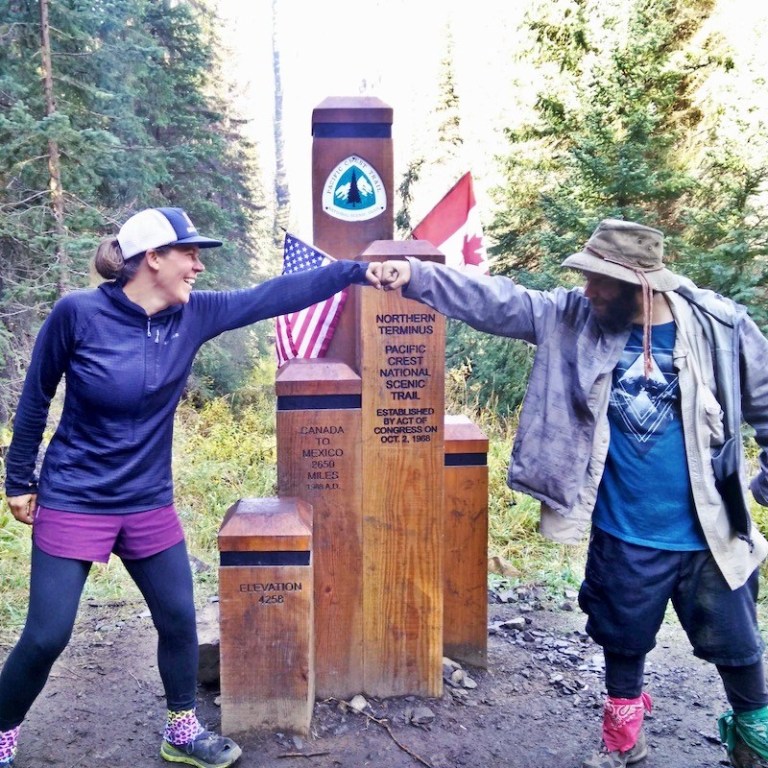 Many of you know Grit as the guy who finished thru-hiking the Pacific Crest Trail with me at the Canadian border on Thursday, September 27th. Did you know Grit and I travelled over 1,700 miles together over the last few months along the PCT? Did you also know Grit and I had made a vow with each other back in a biker/karaoke bar in Big Bear Lake, Mile 266.1 to hike to Canada, together? I've mentioned Grit multiple times through my Instagram posts over the last few months. For those of you not following me on Instagram or not on Instagram at all, Grit played a HUGE role in me hiking all the way to Canada. I honestly could not have done it without him. To truly understand the significance Grit played in my successful thru-hike, I want to introduce you to him officially. Grit is going to start swearing in French when he reads this.
Meeting Grit
I met Grit on my first day on trail. It was his second day. There were 10-15 of us setting up camp at Hauser Creek for the night. Everyone was minding their own business until Grit showed up out of breath, overweight, sunburnt, dazed and clearly out of water. Soon after Grit's arrival, a local on a moped by the name of Charlie came by the tentsite offering free water (and weed for purchase) to anyone who might be interested. Grit took him up on his offer for the water and proceeded to chug it back immediately. Thank goodness for Charlie because he probably saved Grit's life that day. After Charlie left, Grit was clearly struggling with setting his tent up. Amish, one of the male hikers at the tentsite asked if Grit wanted help with his tent. Grit happily accepted his help and they became quick friends as the rest of us watched from our own tents.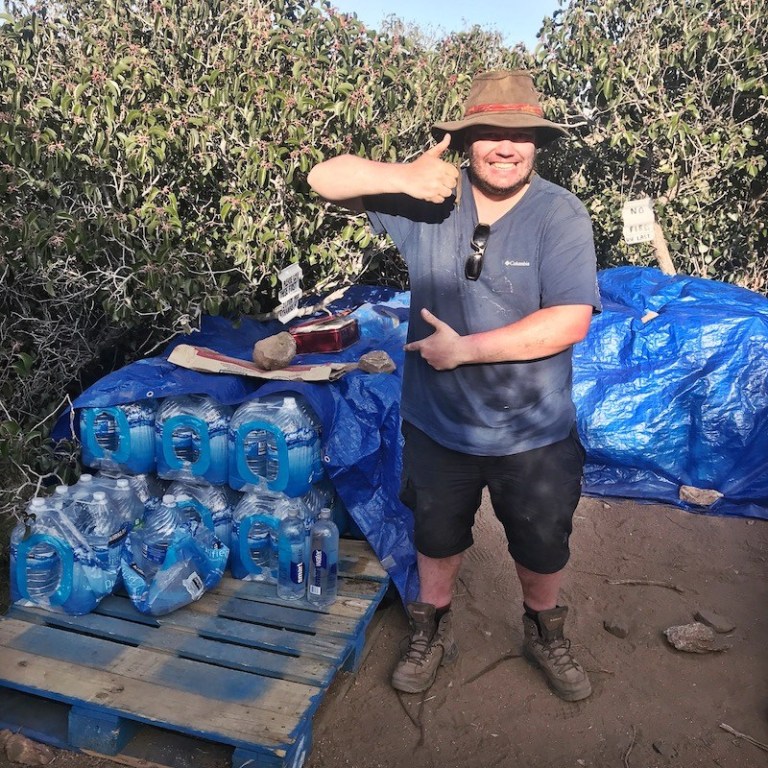 Once Grit's tent was up and he had a chance to catch his breath, we all went around in an informal circle and introduced ourselves to one another. There was Mr. Ed and Lightweight, the New Zealand couple who would give me my trail name, Token the next morning before leaving camp. There was Amish and KitKat, the married Canadian couple from Vancouver. There was Punchline, the hilarious, constant-joke-telling, muscular and tattooed Australian. There was me, Kathleen/Token from Seattle. There were a couple of other hikers whom I don't remember. And then there was Grit, the French Canadian from Quebec with his sad little tent.
Upon his introduction to the group, Grit informed us that this would be his first hike EVER. He had heard about the PCT from his brother after watching themovie. He had seen one, maybe two videos on YouTube about hiking the PCT and thought, "I could do this." So, he asked for a leave of absence from work, went on an online shopping spree for all of his hiking gear on Ali Baba Express, bought a one-way plane ticket to San Diego and now here he was, thru-hiking the PCT. He had no idea how far up the trail he'd get, but he figured if he didn't like it, he could always quit and take himself on a proper vacation until he had to go back to work in October.
As Grit told us about his adventure on trail over the last couple of days and everything leading up to him getting to Hauser Creek (15 miles up the trail from Campo, California), we realized he was 100% serious. This guy was thru-hiking the PCT as his FIRST HIKE EVER and he clearly hadn't done the research or preparation like most of us had done. We didn't know whether to laugh or be worried so we did both.
One of the awesome things about Grit is the man can tell a good story. He doesn't try to be funny either. He just is. He's absolutely hilarious naturally, which makes his stories all that more entertaining to listen to. After Grit filled us in on his experience on the trail so far, he had us all in stitches and he proceeded to tell us about the gear he bought for his hike. Most hikers will spend months researching and testing out gear before bringing it with them on the trail. They'll read gear reviews, other hiker blogs, watch a series of YouTube videos and talk amongst other hikers. Not Grit. Grit bought all of his hiking gear, or as he called it, his "Chinese knockoff crappy gear" from Ali Baba Express, an online retail service based in China. There was the ultralight, 40L pack, the sleeping bag stuffed with Chinese newspaper, an inflatable mattress, a spork, a cooking pot, headlamp, battery charger and his sad, little tent that he'd soon become known for having all along the PCT, from Mexico to Canada. Out of everyone at the tentsite that night, he was, by far, the least prepared to hike this trail. We were all worried about him.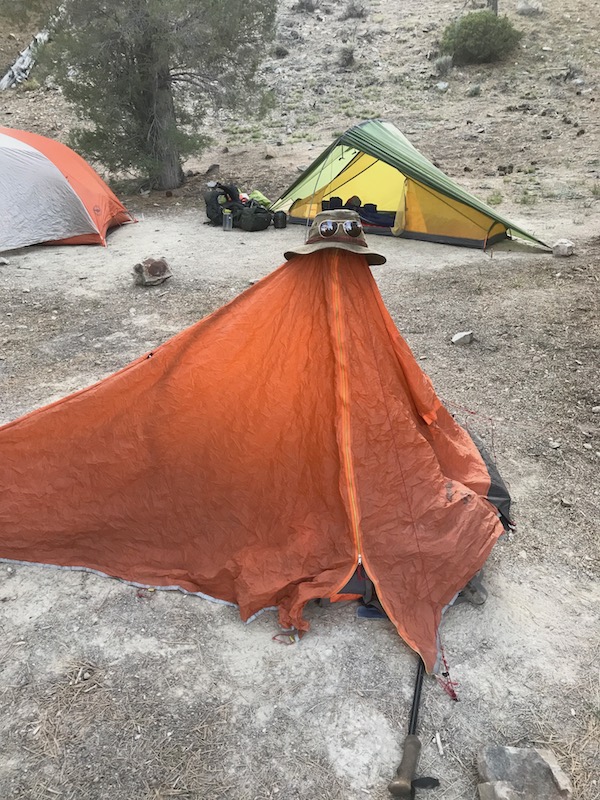 The next morning, Grit was the first one out of camp. He was an early riser, getting up at 3am and hiking on the trail by 4am, just so he could beat the heat and get in the miles he wanted to hike for the day. The rest of us got up between 6 or 7am and made it out of camp by 8am. We quickly labelled ourselves as "laggers", the last ones out of camp in the morning and the last ones into camp for the evening. There was no sense of urgency amongst the four of us. By the end of the next day, KitKat and Amish, Punchline, myself and Grit had made it to Lake Morena and camped together for another night. This time, Grit called Amish over to his tent, proudly showing him that he could now set up his "sad, little tent" properly, without it collapsing on himself. The day after Lake Morena, we stole Bleeder from Freebird and adopted him into the Team Lagger trail family. And with this, Team Lagger was officially formed.
Since Grit got up much earlier than the rest of us, we didn't get to hike with him in the desert as much as we would have liked. We would randomly run into him at various town stops – Paradise Valley Café, Idyllwild, Cabazon, Big Bear Lake and Cajon Pass. Each time we'd see him in town, he'd always exclaim, "I'm still alive!" We'd all scream, clap, hoot and holler because we were always so excited to see him still on trail with us. The man had "grit" and truly lived up to his trail name. "I'm still alive!" became Grit's tagline as he wrote it after signing his name in every trail register along the PCT, all the way to Canada.
The Vow
During a night of drinking on a zero day in Big Bear Lake, Mile 266.1, Grit and I found ourselves sitting together at a table in a biker/karaoke bar. We both knew a majority of Team Lagger would be leaving the trail early to go home. Bleeder would be going back home the third week of June. Punchline would be flying back to Australia after the fourth of July. We figured we'd at least have KitKat and Amish to hike with us all the way to Canada because they're Canadians and would essentially be walking home. I don't know if it was the beers we had at the previous bar, the stiff drinks we had at the biker bar, the singing performance of Dancing Queen by the men of Team Lagger (minus Amish), the natural high we all had from being thru-hikers on the PCT or a combination of all four factors, but Grit and I sat at that table and in our drunken stupor, made a vow to one another and shook hands on that vow, telling each other we'd make it to Canada together. Spoiler Alert: KitKat and Amish dropped the bomb on us in Hiker Town, Mile 517.6 saying they would only have until the last week of June to hike the PCT with us before they had to go home for family stuff.
Two nights out of Big Bear Lake, we got separated from Grit again. Little did I know, I wouldn't see him again until Red's Meadow, Mile 906.6. Over the next 389 miles, I had quite the painful, growing experience on trail. I suffered major heartbreak from losing all of my Team Lagger family. Everyone went home except for Grit and I. I had to do my first, solo hitchhike. I had to hike the High Sierra by myself, entering through Kearsarge Pass. I had to face my biggest fear I had of hiking the PCT – camping alone. I faced fears I never knew I had like fording rivers and creeks by myself. I was eaten alive by bugs. I'd cry multiple times a day because I missed my trail family and was absolutely terrified of being on my own, in the middle of the Sierra without any cell service. I learned a lot about myself over those 389 miles. For the first time in my life, I realized I was strong and could do anything I put my mind to, no matter how sad or scared I might be. I also realized I didn't want to hike the rest of the PCT alone.
The Unlikely Hiking Duo Reunited Once Again
As soon as I got wind that Grit was in Red's Meadow, healing from a toe infection, I was antsy to catch up to him. After taking the afternoon ferry from VVR, I put in a quick six miles before it got dark. The next day, I hiked as fast as I could for 24 miles, all the way to Red's Meadow, without stopping for lunch. As I walked off trail into Red's Meadow, I could see Grit sitting at a picnic table on his phone. I stood there and screamed, "I'm Still Alive!" He quickly looked up in my direction and had the biggest smile on his face. I ran towards him with tears in my eyes and hugged him immediately. Once again, we were reunited, only this time, we wouldn't' be separated until we made it to Canada.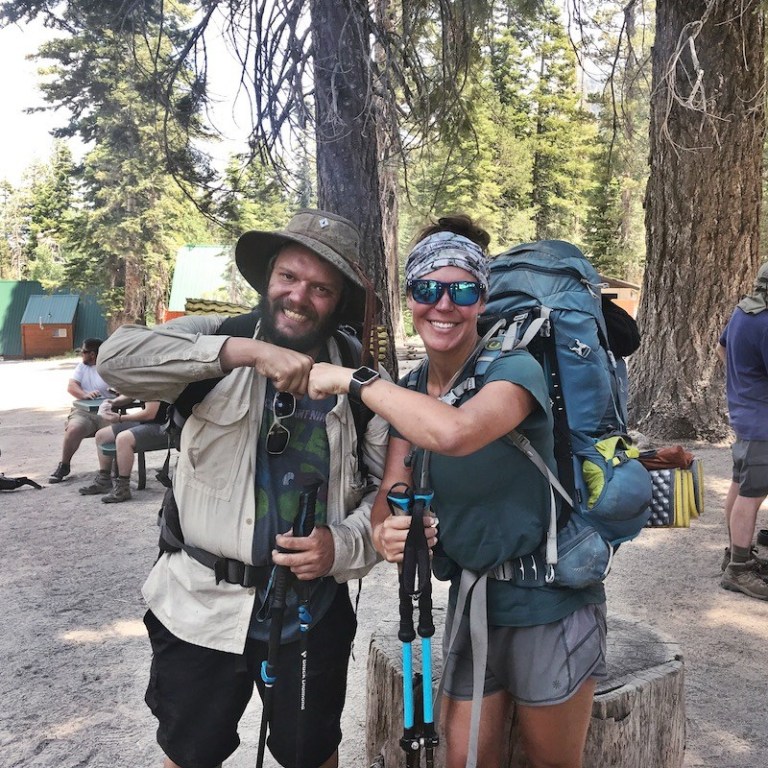 Grit and I travelled over 1,700 miles together along the PCT. From an outsider looking in, we were the oddest hiking duo on trail. When people first met us, they were confused on how the two of us could hike together. We were two different types of hikers – I had a bit more hiking experience. I had been training to hike the PCT a whole year before. I'd invested in my gear – my Osprey Aura 50L pack, Big Agnes Copper Spur HV UL 2 tent, Jetboil stove and Black Diamond headlamp. I was a faster hiker than Grit. In town, I enjoyed cold, root beers and warm Epsom salt foot baths.
Grit was an inexperienced hiker. After all, hiking the PCT was his first hike EVER. He had bought cheap hiking gear that had fallen apart on him along the trail. He went through two packs until we were able to get him into an Osprey Atmos AG 50L bag in Sierra City. In addition to using his sleeping bag stuffed with Chinese newspaper, he had also added a Finding Dory fleece blanket he'd found in the hiker box at Kennedy Meadows South, to his sleeping system. He ended up carrying his bear canister all the way to Cascade Locks before he was able to send it home. Grit was also a slower hiker than I was. In town, he enjoyed an obscene amount of cold beer and cigars.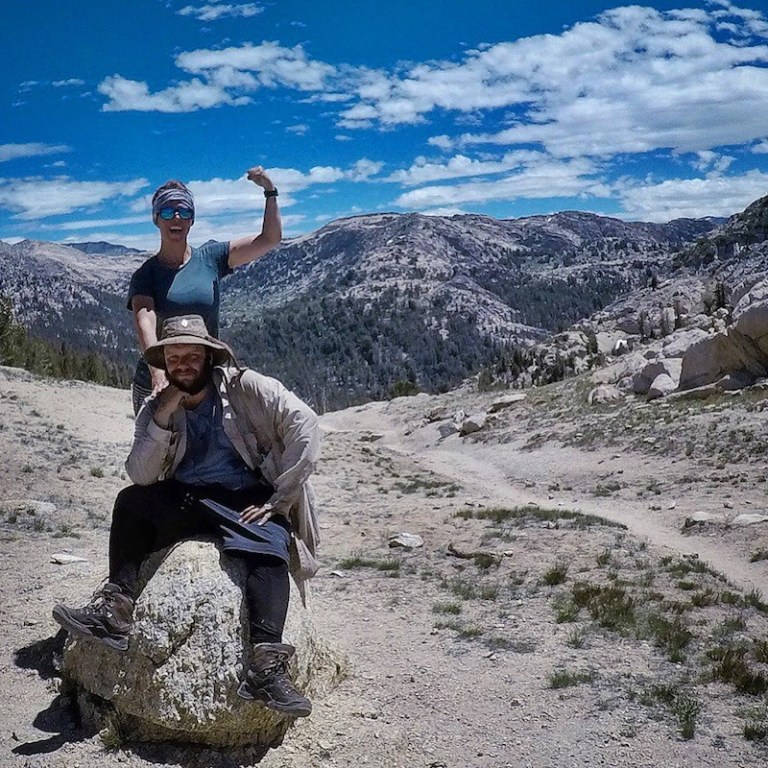 Even with our major differences, Grit and I were excited to be reunited with one another again and ready to hike to Canada together. We quickly found a system that worked for us. The night before, I'd take a look at the terrain ahead on trail. We'd decide how many miles we'd want to hike, where we'd want to stop to filter water, eat lunch, have supper and set up camp for the evening. On the day of, Grit would wake up at some ungodly early hour to break down camp and start hiking. I'd get up between 6 and 7am and leave camp by 8am. By break time or lunchtime, I'd catch up with Grit. We'd eat together, re-evaluate our plan for the day if we needed to and then both make it to the tentsite for the evening within an hour of each other. It was a solid system that worked for us.
Our Hike Together Wasn't Perfect
Grit and I ran into plenty of hiccups along our way to Canada. Our first hiccup was coming into Belden, Mile 1286.8. He decided to take a zero day in Belden drinking beers, smoking cigars and watching half naked ladies walk by at the rave that was going on in town while I decided to hike out that afternoon and head to Burney Mountain Guest Ranch, Mile 1409.7 where I would spend my zero day. I was on zero-day number two at the ranch when Grit arrived. He had some bad news. On his hike from Belden to Burney, one of his fillings had fallen out. He wouldn't be able to get back on trail until he saw a dentist. I decided to hike out to Mount Shasta while he stayed in town until he could see a dentist. Six days later, Grit took a local bus from Burney to Redding where he caught a Greyhound bus. Over those same six days, I hiked into Mount Shasta and caught a local bus to the Greyhound station where I was able to get on the same Greyhound bus Grit had gotten on that morning in Redding. Once again, we were reunited.
Originally, we both wanted to hike the rest of Northern California together, but there were too many curveballs thrown our way. First, the smoke in Northern California was getting really bad. There were no views to see and the air was hard to breathe. Second, Grit had to spend a few extra days in Burney to see a dentist. And finally, I had to be at Cascade Locks (at the Oregon/Washington border) during the third weekend of September for PCT Trail Days because I was asked to speak on the panel for Osprey Packs, an opportunity I didn't want to say no to. We both made the decision to take a Greyhound bus to Medford, Oregon. Once in Medford, we rented a car for three days and did trail magic two days in a row in Oregon.
Our second hiccup was in Trout Lake, Mile 2228.9. Two days before Trout Lake, the zipper on my tent stopped working. It also happened to be the first real, cold night in Washington, which sucked. As soon as I got into Trout Lake and had service, I called REI who was amazing enough to send me a brand-new tent as quickly as possible. The problem was the soonest they could get a new tent to me would be on Tuesday. I had called on a Friday. This meant I'd have to stay in Trout Lake for three days, waiting for my new tent to arrive.
Grit and I were both bummed about having to take so many days off from the trail, but it actually ended up working out in our favor. We got to sit out the rainy weather while in town. Grit met up with some hiker friends he hadn't seen in miles. We caught up to our beloved French couple we'd met in Cascade Locks, Gourmet and Pinenut. My friend Carlee aka White Shorts, who'd section hiked with us from Cascade Locks to Trout Lake, took me into Hood River to do a decent (and less expensive) resupply for the upcoming section. I got caught up on some blog post writing. Grit drank himself silly and smoked a bunch of cigars. Grit and I had an epic night of picnic table karaoke at our campsite by the stream. By the time we got back on trail, I had a new tent that zipped and we were both well-rested and ready to go hiking again. Trout Lake ended up being a win-win for both of us.
There were a few more, extra zero days we took in Washington like at Snoqualmie Pass when my friends, Kim and Cory were our trail angels and spoiled us with a party, lots of food, lots of rest, laundry, showers, ice cream and warm beds. Then there was the extra zero day at Stevens Pass when my dad and his girlfriend picked us up and took us into Leavenworth so we could do a proper load of laundry, eat lots of food and even fulfilled one of Grit's dreams of going into an American gun store in Wenatchee where he got to hold several, large, unloaded guns. There was also the unplanned zero day we took at Holden Village where we were treated to all-you-can-eat meals, warm beds, free showers and laundry and a shuttle to Lucerne Landing where we'd catch the boat to Stehekin. Somehow, we had timed this zero day perfectly because the day we left Holden Valley, we were treated to blue skies and sunshine for the next five days, all the way to Canada.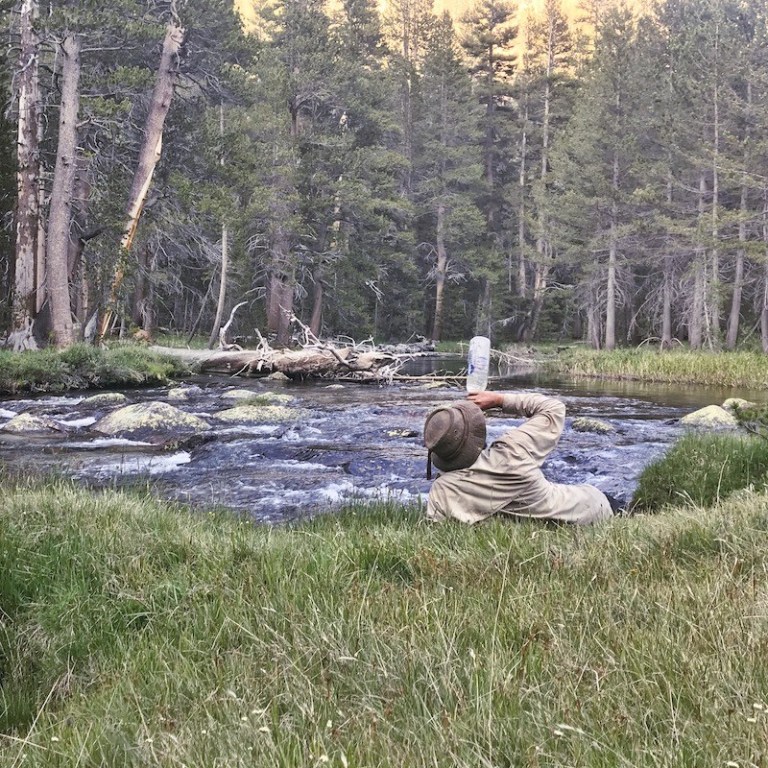 Hiccups and a few unplanned zero days aside, Grit and I made the most of our experiences together. We were both pretty good about going with the flow and adapting to whatever situation we'd find ourselves in. I think it's safe to say we both believed in the "Smiles Not Miles" philosophy out on trail.
When you've travelled over 1,700 miles with someone over the course of three months, you learn a lot about them. You learn what you like about them and what about them drives you crazy. And even though you might get on each other's nerves, you learn to always look out for one another and take care of each other.
I loved hearing Grit tell a story. Anytime we'd meet someone new, either on or off trail, I'd ask him to share his Lake Isabella and Invisible Touch story. From there, he'd go into a tirade about his "Chinese knockoff crappy gear" and depending on how many beers he'd had, he'd share funny stories of the family farm with his dad. If you haven't heard Grit tell one of his stories, you haven't lived life.
I loved hearing Grit's pep talks. Yes, I learned that underneath Grit's tough exterior and caveman-like appearance, his cold heart is actually a heart of gold. The self-proclaimed "Man of the North" developed a soft spot for both a trail he originally thought might kill him and his happy-go-lucky hiking partner. So many times, I'd be on trail crying about how I missed the trail family, how hard a particular section was, especially the fire reroute into White Pass or how I didn't want our hike to end. He was always there to wipe my tears, cheer me up and make me laugh.
Grit drove me crazy too. I've never met someone who has lost as much stuff as he does. It seemed like every day he was losing something – a pair of sunglasses, the tube for his hydration reservoir, his water bottle and filter, his beloved hat and bandana, his phone, his headphones and the PCT pin I gave him at PCT Days. Miraculously, these things would always seem to come back to him. He'd always find a new pair of sunglasses in a hiker box. We found the tube by backtracking our steps and going back to the campsite we camped at the night before. He found his water bottle and filter after having to hike back two miles on trail when another hiker told him they saw it at a water source. He had left his hat and bandana in the shuttle that picked us up at the Greyhound station and drove us to the rental car place. Luckily, they were kind enough to mail it to us on trail at Trout Lake. He was always misplacing his phone, putting it in a different pocket each time he'd go to look for it. I have no idea what happened to his headphones, but thankfully our hiking buddy, Chillin had an extra pair and gifted them to Grit. The PCT pin I gave him? He lost that within an hour of me giving it to him at PCT Days. I have no idea where or how he lost that one. Even after we parted ways, he managed to leave his hat and bandana behind on a Greyhound bus he was riding on his way home. I hope it makes it back to him.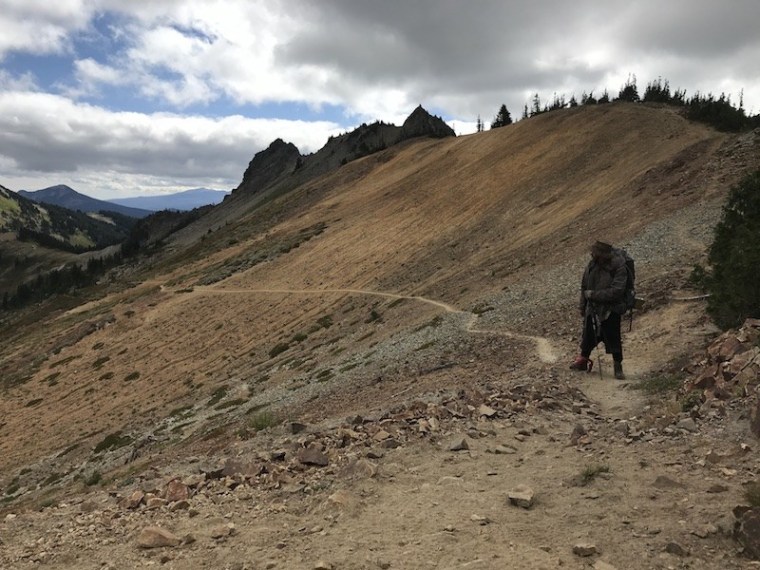 Grit and I bickered like brother and sister. He was my unofficial little brother on trail and I was his unofficial older sister. We'd bicker over things like whether real men cry or not. I believe they do. So did all of the other hikers we'd meet on trail and have this discussion with. Grit is the only person who believes real men don't cry. We also fought tooth and nail over whether or not the trail provides. "The Trail Provides" is a common saying and belief most thru-hikers strongly believe in. You might not get exactly what you want on trail, but whenever you need something, the trail always seems to provide it when you need it the most. Grit refused to believe this theory. He thought when magical things happened to us on trail like trail magic, trail angels or his hat being found and sent back to us on trail, it was all random.
Grit happily embraced the Hiker Trash lifestyle and proudly rocked his "Hiker Trash Fashionista" attire with his red and green bandana gaiters he found on trail, the oversized hiker attire he grew out of because he'd lost so much weight hiking the trail, his signature black leggings that helped with the godawful chaffing, his Teenage Mutant Ninja Turtles t-shirt he wore the whole way from Mexico to Canada and the Pabst Blue Ribbon cardboard box he kept on the back of his pack with his sleeping pad. There was also his infamous hat and travel bandana he'd wear during the day and hang on his "sad little tent" at night. There were the countless pairs of sunglasses (I think he got up to 12 pairs?) he'd find on trail, wear and god only knows where he lost them along the way.
No matter how tough the terrain got, how many rivers and creeks we had to ford, how many miles we had to hike in a day, how many feet we'd have to climb up or hike down or how heavy our packs were, he never once quit, hitched ahead or gave up on me. He was a man of his word and honored his Big Bear vow. He was "Of course! Of course!" a loyal, loving and extremely entertaining hiking partner. We helped keep each other sane through laughter, pep talks, animated stories, the constant sharing of snacks and the planning of upcoming, epic town days (and road trips.) There was never a dual moment with Grit. I could not have made it to Canada, nor would I have wanted to, without "I'm Still Alive!" Grit.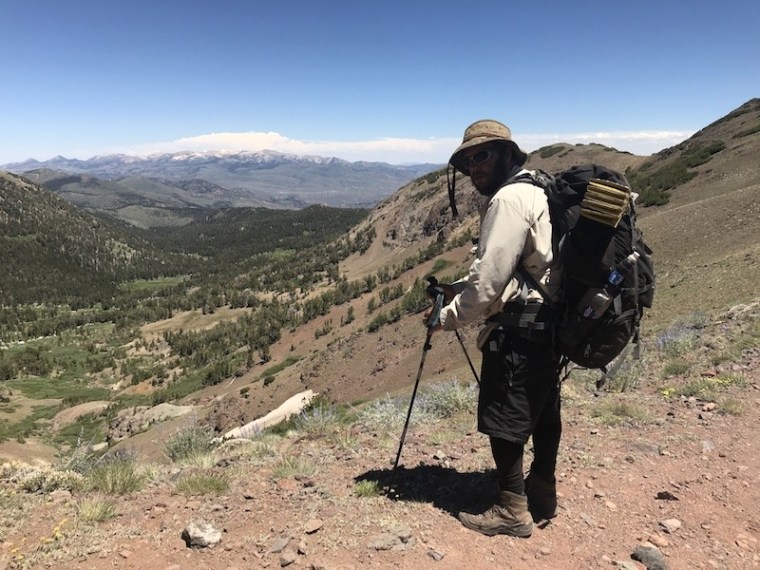 ---
DISCLAIMER: This post and video contain affiliate links, which means that if you click on one of the product links, I'll receive a small commission at no extra cost to you. This helps support my blog, The Hungry Hiker and allows me to continue to create content for you free of charge. Thank you for your support!
---