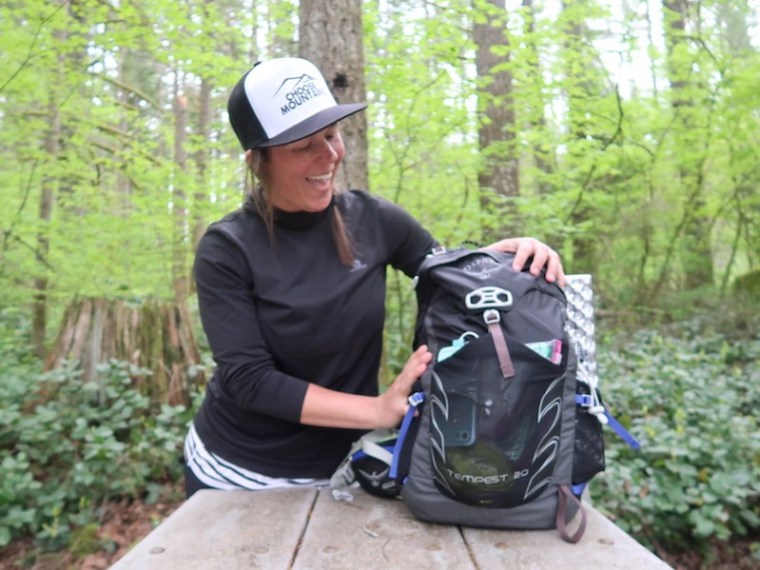 A question I often get asked by people new to hiking is, "What should I bring on a day hike?" Whether you're just getting into hiking or are a seasoned professional, it doesn't matter where you go, how hard/how easy the hike might be or even how many times you have/haven't gone hiking, there are certain items everyone should always bring with them on a day hike.
Let me share with you a little story. Over 10+ years ago, I was talked/sandbagged into going on a day hike with a friend of mine. In 2007, I'd never gone hiking before and had the opportunity to join a friend and his family at Yosemite National Park. After hearing my friend rant and rave about how beautiful the park was, I was intrigued and interested in going. Part of this experience would be (in his words) a "little 17-mile hike" he wanted to take me on, up to Half Dome. I have to preface this story with 1) This was before you needed a permit to day hike Half Dome in Yosemite and 2) At this point in my life, I'd never even heard of Half Dome, let alone done a 17-mile hike or any sort of hike at all. I had no clue what kind of pickle I was about to get myself into, but my friend sold me on how I needed to go on this adventure so I did…blindly.
The only thing my friend told me about this hike was that it was incredibly beautiful, which it was. He kept telling me how we'd pass a couple of waterfalls and see Yosemite in a way we couldn't see it from the valley floor. He also mentioned to me that since this was such a long hike, we'd need to leave early in the morning to make it back to our campsite before it got dark. All of these statements were 100% true. As far as a packing list for this adventure, the only thing my friend told me to bring was a pack with some water, a lunch, a few snacks and a sense of adventure. That's it!
It's ALL the details my friend left out that make this story interesting and an experience I've yet to forget. What my friend didn't tell me was that this would be a strenuous hike and not for the out of shape and unprepared. He failed to mention we'd be hiking up a total of 4,800 feet in the hot sun with the possibility of running into bears and the possibility of running out of food and water. He failed to mention that we'd be doing our final ascent up a massive rock on a sketchy cable system, shared with other hikers going up and coming down at the same time. He failed to mention that I might need a flashlight in case we came back after dark. This was before cellphones had a fancy flashlight feature. He also failed to recommend how much water I should bring or mention that I might need something to filter water with along the way should I run out.
I managed to learn some pretty big lessons along this hike. First lesson? I should have done my due diligence and done a little research of my own on this hike before agreeing to join him for this crazy adventure. I could've at least had some idea what I was about to get myself into. As I'd mentioned before, this would be my first hike EVER. I had no clue what was to come.
The first part of the hike was great. We hiked up two waterfalls, Vernal and Nevada Falls. At the top of Nevada Falls, we decided to stop, cool off in the water and eat our lunch. Second lesson? Since I didn't know how much water and food to carry for this sort of adventure, I had no idea that I'd need to ration the food and water I had brought with me in order to make this trek safely. In my pack, I had two 32 ounces of bottled water along with a sandwich and a bag of chips. I polished off one of those bottles at our lunch spot and ate all of the food I brought when we stopped for lunch because I was starving. I didn't have a water filter with me so once my water was out, I was out. At least my pack was getting lighter.
After lunch, we started heading up the trail again. As the day went on, it got hotter out and the shaded areas were becoming far and few between. A mile or so after leaving our lunch spot, a ranger walking down the trail in the opposite direction asked us if we had enough water and told us to be on the lookout for bears. Bears? I turned around and looked at my friend with wide eyes. "Don't worry," he said. "Just make sure if you see a bear, look as big as possible." For the next few miles, I practiced looking as big as possible while continuing to hike up the trail. Third lesson? When multiple red flags start presenting themselves, it's time to re-evaluate the adventure. Getting low on food and water, experiencing the heat of the day, your hiking partner not being forthright with what's really coming up on the trail and getting a warning from a ranger? These should have been signs telling me I might not be prepared for this hike and that I should probably consider turning around  at this point. Instead of listening and acting on these red flags, we continued to push up the trail. My friend convinced me that since we had already come this far, we might as well keep going. Fourth lesson? Summit Fever is not to be confused with goal setting and achieving. Summit Fever can kill you.
Whenever I asked my friend how much further we had to go, his response was always, "Oh not that far. Just a little further up. Once we get to the stairs, we're almost there." STAIRS? I knew for a fact he never mentioned stairs, but shrugged that off too. I figured it was too late to turn back now. Fifth lesson? It's never too late to call off a hike, turnaround and head back to the trailhead.
Eventually after huffing and puffing our way up the trail in the heat and climbing over the biggest stairs/boulders I've ever seen, we reached the saddle. That's right, we hadn't even made it to the TOP yet. As we approached the saddle, I looked up to see that the last 400 feet of the trail would be a straight up ascent along two metal cables. OH MY GAWD! My friend's response? "Just don't look down and you'll be fine." Those 400 feet were the scariest 30 minutes of my life.
We reached the top of Half Dome and my friend was right, it was quite an epic view from up there. It was hard to imagine we had left the valley floor early that morning and were now towering above it in the hot sun. I couldn't believe I'd made it up there on my own two feet. "See! Aren't you glad I didn't tell you how hard this would be? If I would've told you how hard it was, do you think you would have come?" asked my friend. He was right. Had my friend been honest and told me exactly what this adventure would entail, I would've told him to go to hell or at least tried to have been more prepared. Sixth lesson? It's always better to be informed and prepared before getting out on trail. There's no such thing as being over prepared for a day hike. Sure, I'd made it up to the top, but we were only half way through this adventure. I still had to make my way down, back to the campsite.
After making our way back down the cables and reaching the saddle, my friend and I became incredibly thirsty. We both had run out of water by this point. The afternoon sun was making us miserable and there wouldn't be any shade until we were able to make it back down the trail in a few miles. Now I understood why the ranger earlier had asked us if we had enough water. I quickly scanned the area and saw someone had left a bottle of Gatorade on their pack. The heat was making us thirsty and desperate. My friend and I scrounged up some cash, a $10 bill – the only thing we seemed to have in our packs at this point – and helped ourselves to the Gatorade in exchange for leaving the cash on the pack for this poor, soon-to-be thirsty person. Seventh lesson? Karma is a bitch. Every time I get thirsty on trail, I still think about this moment and feel incredibly guilty about it. I WISH I could find this person and repay them with a countless supply of iced, cold Gatorade. They unknowingly saved our dumb asses, but I'm sure they were pretty bummed to come back and find the Gatorade they had been counting on having after their summit had been replaced with a measly $10.
After sharing the Gatorade, we knew we had to get moving on the trail as fast as possible. We had over eight miles of hiking to do in the direct sunlight without any food or water and with all of our dilly dallying up until this point, it was looking like we wouldn't be making it back to our campsite before dark. Of course, neither one of us had a flashlight or a headlamp.
Those next eight miles were some of the most painful miles I've ever hiked in my life. I was hot and tired. Every step was incredibly painful. Everything on my body hurt, especially my feet. The worse part of all though was that I couldn't stop thinking about how thirsty and hungry I was. On our way down, we decided to stop at the first water source we saw, which was a pond off to the side of the trail and wait for another hiker to come by. Eighth lesson? This was my first experience with learning that the trail always provides, something I got to experience over and over again while thru-hiking the Pacific Crest Trail 10+ years later. My friend and I waited by this pond until we found a fellow hiker who not only stopped to talk to us, but also had a water filter and took pity on us by filtering water for us into one of our water bottles. After giving both of us a lecture on not being prepared with having enough water and making us promise him we'd never hike without a water filter again, the helpful hiker continued heading on down the trail shaking his head. As I watched this guy walk away, I vowed that this would be my first and last hike ever, if we ever made it back to the campsite. Ninth lesson? Never say never.
We finally made our way back to the campsite in one piece, well after dark. Surprisingly neither one of us had killed each other on the way. I think we both knew how much we had screwed up, how unprepared we were and did what we could to help each other make it back as safely as possible. Plus, the last three or so miles on the trail, we spent describing in detail what we wanted to eat once we got off trail. As soon as we got back to the campsite, we hopped in the car, drove to the village and stuffed our faces with pizza and bought the largest container of soda and several bottles of water. While sitting at the picnic table, in-between stuffing my face with bites of pizza and taking gulps of soda and water, I proclaimed I'd never go anywhere without making sure I had enough water again. Spoiler Alert: I've since been hiking and have run out of water, but nothing as dire as this situation on Half Dome was.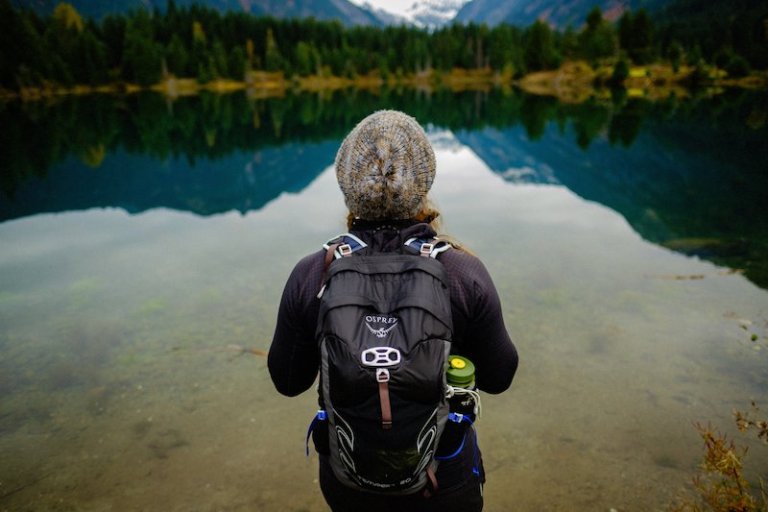 The tenth and final lesson I learned along this hike? Learning what I need to carry in my pack for a day hike. It only took me one scary, hungry and very thirsty day hike to learn this lesson. It would also take several years after this crazy adventure before I felt comfortable and had the desire to go back out on a trail again. Save yourself time and heartache by learning from my bad experience before getting out on trail. Before going on any hike, make sure you do your research, prepare yourself and your gear/food/water and pack accordingly.
Here's a List of What I Bring With Me On A Day Hike:
Osprey Tempest 20 Women's Pack
Osprey Raincover, Small
All of the 10 Essentials including: (1) Navigation, (2) Food, (3) Water, (4) Sun Protection, (5) Illumination, (6) Clothes, (7) Fire, (8) Shelter, (9) Tools/Repair and (10) First Aid Kit
Phone/ACR Electronics ResQLink 400 Personal Locator Beacon
Extra Food and Extra Snacks
Water (I like to start with 2-3 liters of water)
Osprey 3 Liter Hydraulics Reservoir
Sawyer Squeeze Water Filter
CNOC Outdoors Vecto 2L Water Container
Knockaround Premium Sunglasses
Sunscreen/Chapstick with SPF
Buff
Black Diamond Storm Headlamp With Extra Batteries
Extra Pair of Darn Tough Hiker ¼ Cushion Socks
Mountain Hardwear Ghost Whisperer Puffy
Salomon Lightning WP Jacket W* (light rain jacket)
Pair of Outdoor Research Melody Sensor Liner Gloves
Lighter
SOL Emergency Bivy
Tools & Repair Kit which includes: hand warmers, Swiss Army Class Knife and Pixie Cup.
Backcountry First Aid Kit which includes Leukotape, blister repair, Body Glide, ankle brace, pain reliever, bandages, ointment, alcohol wipes, disposable gloves and tick key.
Poop Kit (including The TentLab The Deuce #2 UL Backcountry Trowel, toilet paper/baby wipes, doggy bags, extra Ziploc bags and hand sanitizer)
Onzie Face Mask – for hiking in COVID-19
Pair of Kahtoola Microspikes Traction System (depends on trail conditions)
Wallet/Car Key
Therm-A-Rest Z-Seat – luxury item
GoPro Hero 5 Camera/GoPro 3-Way Mount (Grip+Arm+Tripod)/Extra Batteries – luxury item
Black Diamond Alpine Carbon Cork Trekking Poles (with duct tape wrapped on each pole in case I need to repair something on trail)
These days, I not only feel comfortable with being getting out on trail, but I also never leave my house without being properly prepared for a hike – no matter where I go, how long I plan on being out there, what time of the year it is and who I'm hiking with.
Looking for a comprehensive checklist to use for when packing for your next hike? Check out REI's print-friendly Day Hiking Checklist PDF version.
 Need a visual to see all the gear I bring for a day hike and how I pack my day pack? Check out my YouTube Video:
Gear | What I Bring For A Day Hike + How I Pack My Day Pack
---
Disclaimer: The-Hungry-Hiker.com is a participant in the Amazon Affiliate Links and Skimlinks Program, affiliate advertising programs designed to provide a means for sites to earn advertising fees by advertising and linking to Amazon.com and other affiliated sites at no cost to you. Please note, I only link to products and services I personally use and trust.
---
Inspired? Pin It!