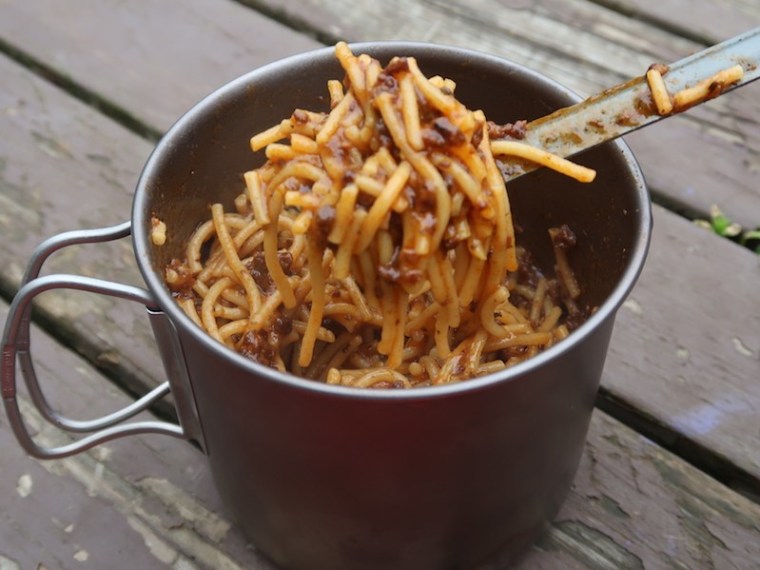 Dehydrating your own backpacking meals for your next trip doesn't have to be complicated or expensive. I recently took my roommate's mouthwatering spaghetti recipe and turned it into an easy DIY backpacking meal that's delicious, hearty and easy-to-rehydrate in the backcountry.
Dehydrated Backcountry Spaghetti
Ingredients
2 lbs mild Italian sausage
1 small onion, diced
3-4 garlic cloves, minced
4 Roma tomatoes, peeled and blended
15 oz can of tomato sauce
6 oz can of tomato paste
1 cup water
4 tbsp Italian seasoning
1 tsp thyme
1 ½ tsp brown sugar
1 tsp salt
¼ tsp red pepper
¼ cup red wine
Cooking Instructions
Brown sausage in large pot.
Add onions and cook for 3-4 minutes.
Add garlic, tomatoes, tomato paste, tomato sauce and 1 cup of water.
Add Italian seasoning, thyme, brown sugar and red pepper.
Bring to a boil.
Stir in wine.
Simmer on low for 4 hours, stirring once each hour.
In a separate pot, boil water with a dash of salt.
Break spaghetti noodles in half and cook for 10-12 minutes.
Drain pasta.
Add pasta to sauce and mix together.
Dehydrating Instructions
Prep food dehydrator and add parchment paper to each tray.
Measure out 1.5 cups of spaghetti for each tray and spread it evenly in a flat layer on the tray.
Turn on food dehydrator to medium (135 degrees F) and dehydrate for 10 hours.
Rotate trays once every hour while dehydrating.
Remove each tray from dehydrator and let cool.
Once cooled, break up spaghetti and package each tray into a storage container, Ziploc bag or vacuum sealed bag.
Rehydrating in the Backcountry
Add dehydrated spaghetti to pot.
Add enough water to the level of the spaghetti inside the pot.
Let spaghetti sit in pot with water, covered, for 5 minutes.
Bring water and spaghetti to a boil.
Stir spaghetti.
Cover and remove from heat.
Put covered pot in stove cozy.
Let pot sit covered in cozy for 20 minutes.
Give rehydrated spaghetti a quick stir.
Enjoy!
Serving Size: 1.5 cups
Recipe Makes: 5 Servings
Backpacking Meals DIY Recipe | Dehydrated Backcountry Spaghetti
Learn how to make your own backpacking meals with some of my favorite recipes:
Coconut Cashew Curry With Couscous
Dehydrated Pasta Penne Alfredo
Sweet & Spicy Homemade Trail Mix
Holy Molé Breakfast Bars
---
DISCLAIMER: This post and video contain affiliate links, which means that if you click on one of the product links, I'll receive a small commission at no extra cost to you. This helps support my blog, The Hungry Hiker and allows me to continue to create content for you free of charge. Thank you for your support!
---
Inspired? Pin It!