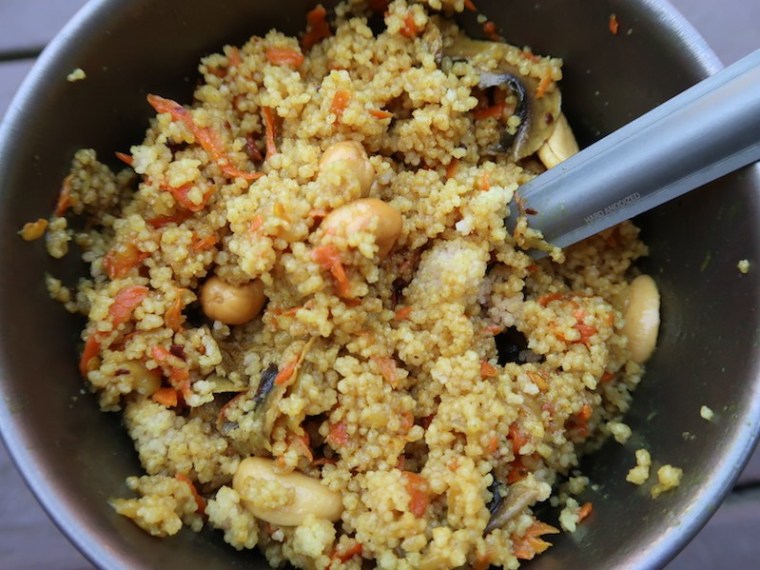 Looking for an easy, healthy and super tasty backpacking recipe idea that isn't instant mashed potatoes, ramen or an expensive, store-bought, freeze dried backpacking meal? Coconut Cashew Curry is incredibly easy to make and is loaded with flavor. Prep the ingredients ahead of time and in the backcountry and this DIY backpacking meal takes less than 10 minutes to cook.
Coconut Cashew Curry With Couscous
Ingredients
¼ cup dried onion flakes (or dehydrated onion)
¼ cup dehydrated shredded carrots
¼ cup dehydrated mushrooms
2 veggie or chicken bouillon cubes
2 tsp curry powder
4 tbsp coconut milk powder
¼ tsp garlic powder
½ tsp crushed red pepper
½ tsp sugar
1 cup water
½ cup couscous
1 packet coconut oil
½ cup roasted cashews
Instructions (Prepping the Dish Before Your Trip):
Add the onion, carrots, mushrooms, bouillon, curry powder, coconut milk powder, garlic powder, crushed red pepper and sugar into a Ziploc bag.
Package couscous, coconut oil and roasted cashews separately, each in their own bag or container.
Instructions (Cooking the Dish in the Backcountry):
Boil ½ cup water of water.
Add couscous, cover and remove from heat.
Let couscous sit covered for 5 minutes.
Boil the remaining water, stir in vegetable curry mix and simmer for 5 minutes.
Add coconut oil to the vegetable curry sauce.
Add curry sauce to couscous and top with cashews.
Enjoy!
Serving Size: 1.5 cups
Recipe makes 1 serving
Backpacking Meals DIY Recipe | Coconut Cashew Curry With Couscous
Learn how to make your own backpacking meals with some of my favorite recipes:
Dehydrated Backcountry Spaghetti
Dehydrated Pasta Penne Alfredo
Sweet & Spicy Homemade Trail Mix
Holy Molé Breakfast Bars
---
DISCLAIMER: This post and video contain affiliate links, which means that if you click on one of the product links, I'll receive a small commission at no extra cost to you. This helps support my blog, The Hungry Hiker and allows me to continue to create content for you free of charge. Thank you for your support!
---
Inspired? Pin It!