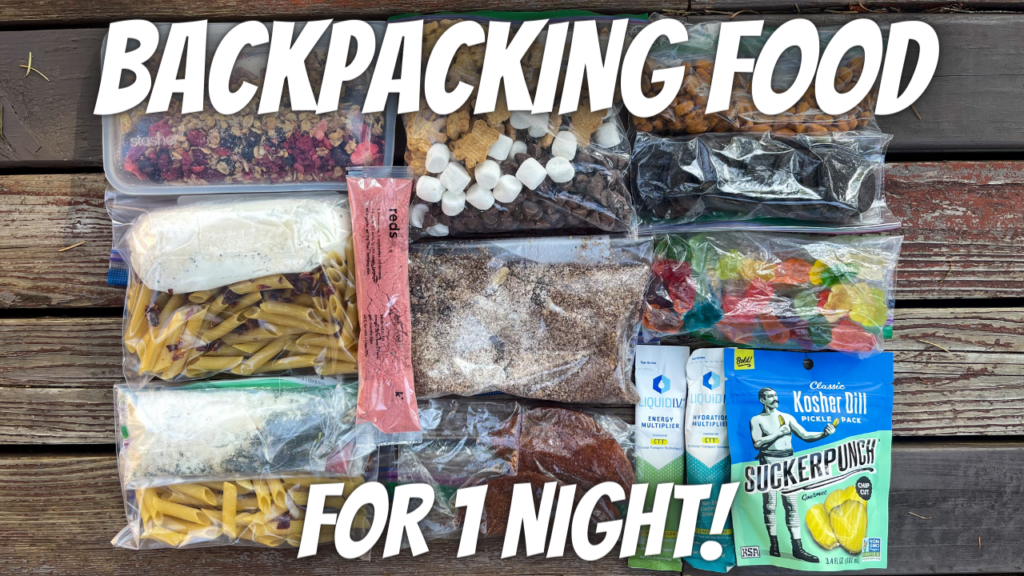 Backpackers, have you come back from a backpacking trip with way too much food leftover in your food bag? I know I have.
My biggest struggle when it comes to backpacking has always been overpacking my food…for every single trip I go on.
They say you always pack your fears and one of my fears has always been running out of food, even though I've never actually run out of food on a backpacking trip before. I think the closest I came to running out of food was when I came into Trout Lake along my PCT thru-hike in 2018 with just one packet of ramen left over.
Whenever I come back from any backpacking trip, I always seem to have a lot of food leftover in my food bag, whether it's an extra meal or several snacks I decided not to eat for whatever reason during my trip.
Even though I create a spreadsheet for my backpacking meal plan for most of the trips I go on and carefully plan out the food and number of calories I pack, I'm always guilty of throwing in a few extra snacks or an extra meal or two, just because.
Those "just becauses" always end up causing me to carry way more weight in my food bag than I need to and, like water, food is heavy, especially when you don't eat it while you're out on trail.
So for my next overnight backpacking trip, I decided to try something different. I used Backcountry Foodie to put together a backpacking meal plan for my trip and see if I can NOT overpack my food for once.
What is Backcountry Foodie?
Backcountry Foodie was created by Aaron Owens Mayhew, a registered dietician nutritionist, backpacking meal planning expert and long-distance backpacker and is an online meal planning service for backpackers that specializes in simple, ultralight backpacking meal options, which are designed to help save backpackers time, money and weight.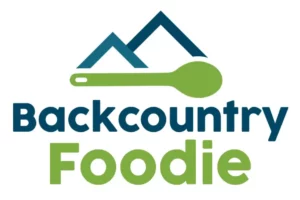 In additional to all of the dietician-created, ultralight backpacking meal recipes, Backcountry Foodie also features a ton of meal planning tools including:
A backpacking meal planner with over 40 sample meal plans to choose from, based on a variety of calorie levels and meal prep styles.
A shopping list generator that automatically puts together a shopping list based on whatever meal plan you choose or create.
A hiking calorie calculator that helps you figure out how many calories you should aim to eat while out on your backpacking trip based on your body and daily activity.
A Foodie's Pantry to help make hard-to-find ingredients easy to shop for online.
A number of on-demand masterclasses featuring topics like ultralight meal planning, high altitude and cold weather nutrition, backpacking with diabetes and nutrition for the bariatric backpacker
Goals for My Overnight Backpacking Trip
I had a couple goals for my upcoming overnight backpacking trip:
Give myself an overnight backpacking trip/pack shakedown to help me prepare for my upcoming PCT thru-hike
Find new-to-me, grocery store backpacking meals that are cheap, easy, tasty and healthy
Help reduce the overall weight of my food bag.
If you've watched some of my previous backpacking food videos on YouTube, you probably noticed that I'm a big fan of shopping for backpacking meals at the grocery store.
I love cheap options that are quick and easy to prepare both on trail and off, but unfortunately a lot of these cheap and easy options I've featured in previous videos consist of a lot of sodium and processed foods.
Also, some of you who follow me on YouTube have asked for vegan, vegetarian, gluten-free, dairy-free, nut-free, low sodium and/or bariatric diet backpacking meal recipe options. Good news! Backcountry Foodie has several recipe options in its database that meet all of these specialty dietary needs.
Okay, let the backpacking meal planning begin!!
Starting With the Backcountry Foodie Calorie Calculator
First, I needed to find out how many calories I should aim to eat each day based on the type hiking I'd be doing out on trail during my trip.
Using the Calorie Calculator, I can enter in my:
Height
Weight
Age
Gender
The type of hike I plan on doing – day hike or overnight backpacking trip
My pack weight
The number of miles I plan on hiking
How many days my trip will be
My average hiking pace
The terrain type for my hike
The average grade %
The altitude I'll be hiking at
The temperature range of where I'll be hiking
And camp activity like if I plan on just setting up my tent and going to bed, if I plan on doing basic camp chores or if I plan on setting up camp and then going off the explore the area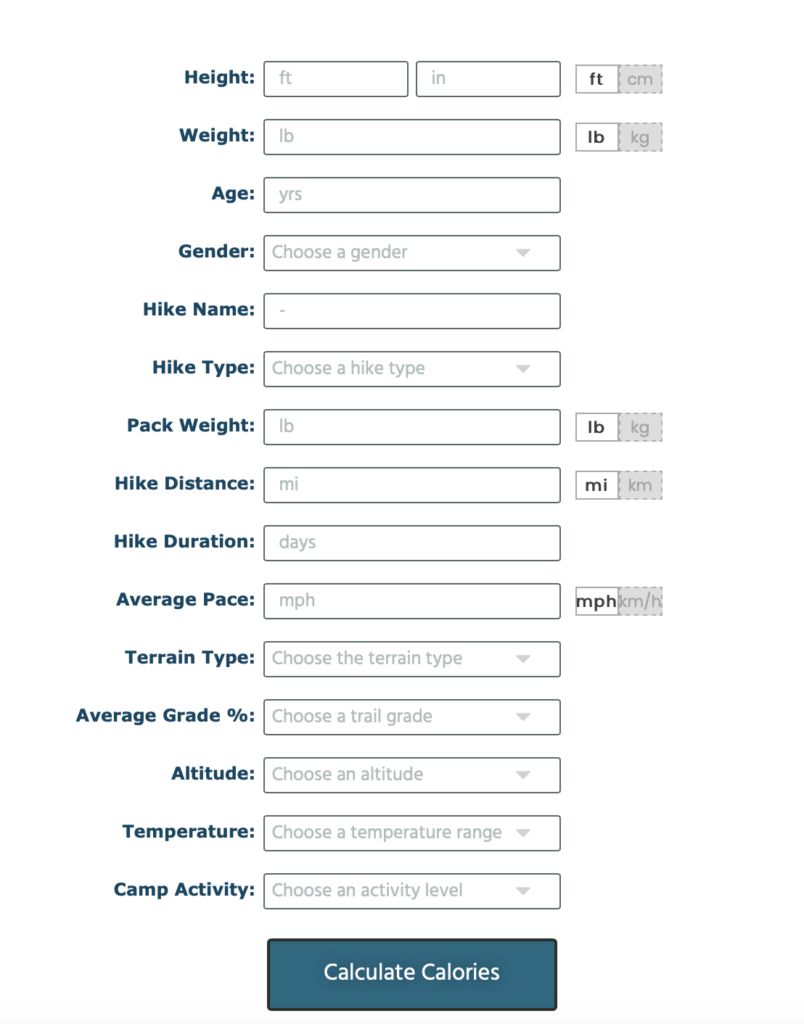 Once I had all of my information added, I could click a button to calculate the total calories I needed to eat each day while I was out on trail.
For my upcoming trip, my plan was to eat around 3,300 calories per day.
Backcountry Foodie Recipes
Now that I had an idea of how many calories I needed to eat each day, it was time to check out the recipe database and put together a list of recipes I wanted to try.
What's cool about the Backcountry Foodie Recipe Grid is that are a ton of different ways you can search for recipes within the Backcountry Foodie database.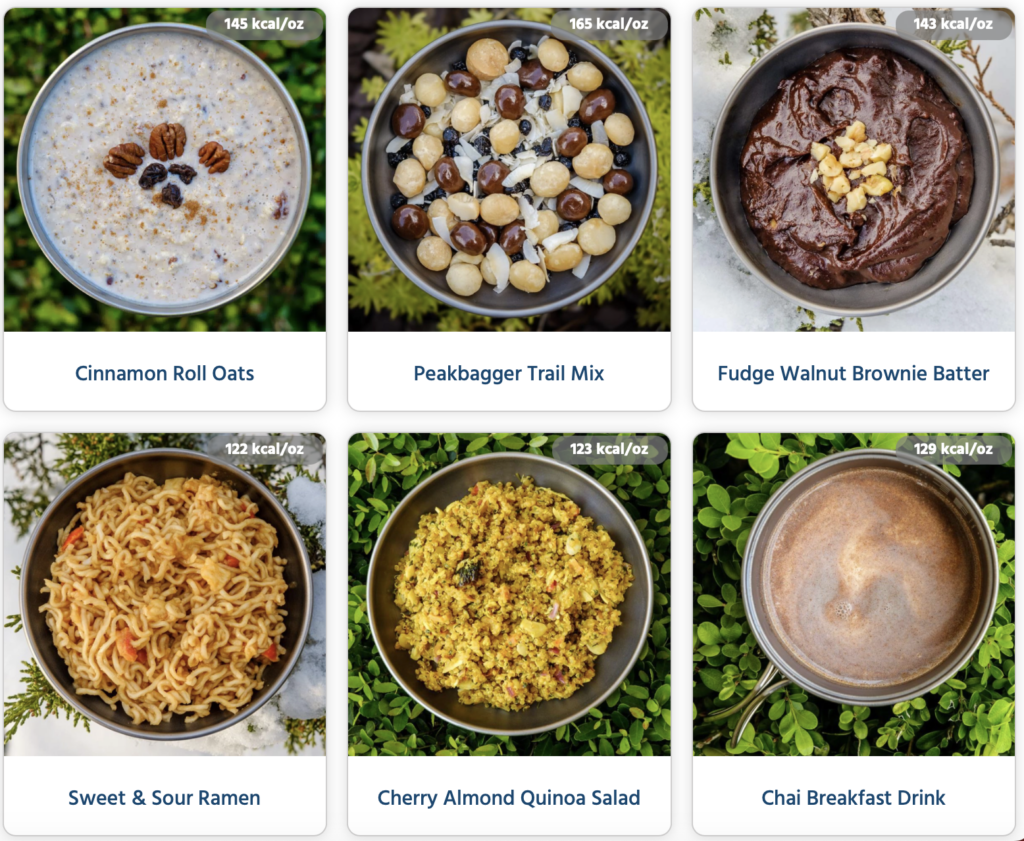 You can visually search for recipes just by scrolling through the grid.
You can search by recipe name or ingredient.

You can sort all of the recipes by recipe name alphabetically, newest to oldest, calories per ounce and even popularity by views.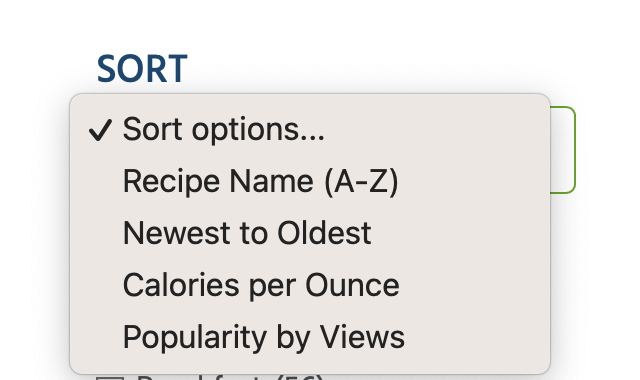 Then there's the option to select recipes by course: beverages, breakfast, dessert, lunch/dinner and snacks.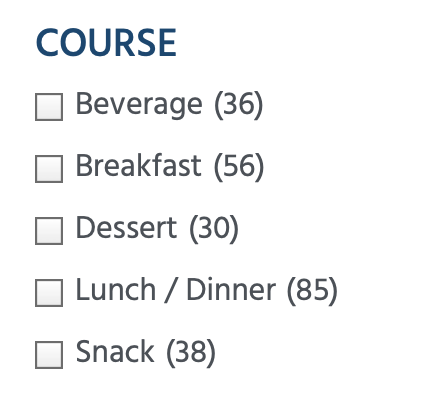 You can also select recipes by meal prep like cold soak, cook, dehydrator not required, four ingredients or less and no cook options.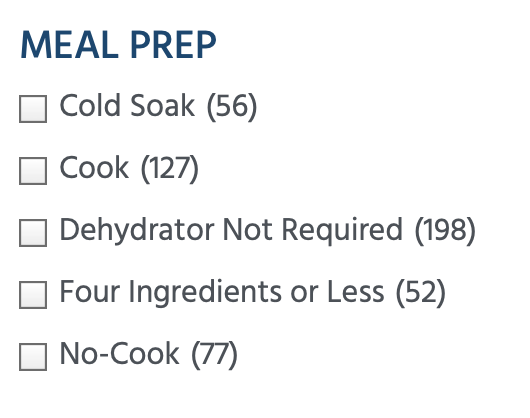 If you have specific dietary restrictions, you can search the recipe database by diet preferences like bariatric, dairy free, gluten free, kid friendly, low sodium, low sugar, nut free, reflux friendly, vegan and vegetarian.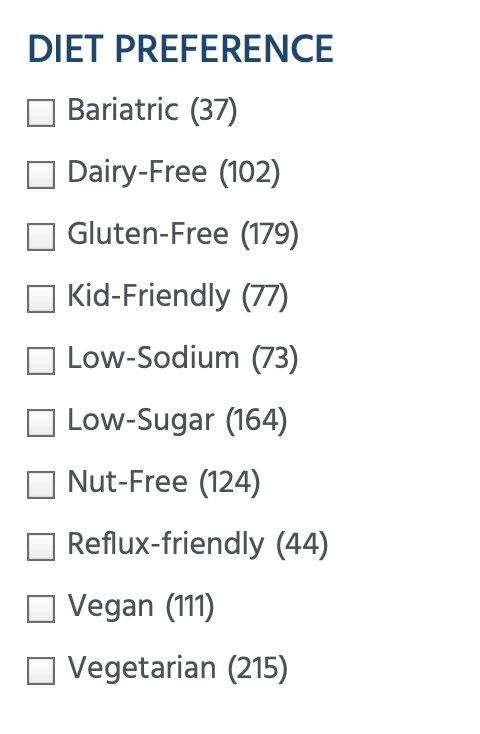 And then there are also meal types you sort the recipes by which include coffee, dip, energy bites, grocery friendly, meal replacements, pasta, recovery, smoothie, soup, thru hiker and trail mix.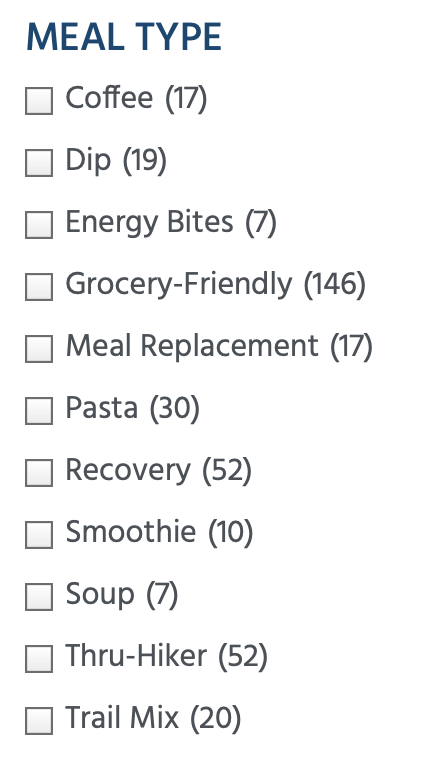 From each recipe, you can see all of the ingredients, nutritional information, total weight, prep time (both at home and on trail), prep and cook instructions, have the option to adjust the number of servings and get optional ingredient substitutions based on your dietary needs.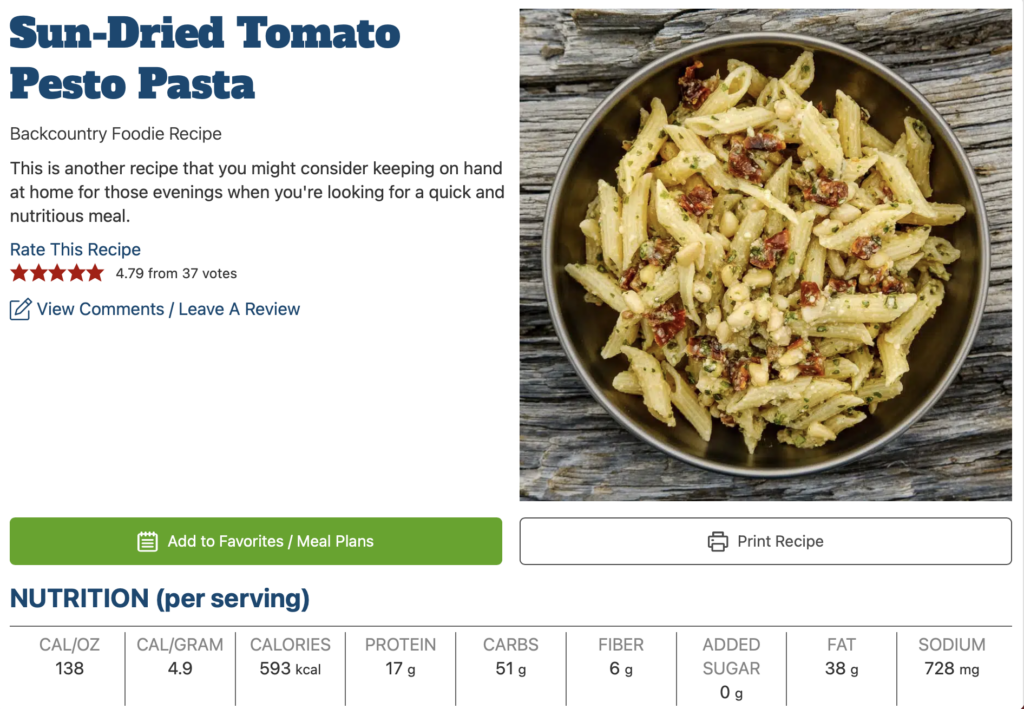 With the recipe, you can either add it to a meal plan or print it out.
Backcountry Foodie Backpacking Meal Planner
After saving a few different recipes, I used the Backpacking Meal Planner to put together a meal plan for my trip. I could either choose from one of the Sample Meal Plans or create my own based on the recipes I had saved.
Since my upcoming trip was just a 1 day/1 night overnight backpacking trip, I decided to create my own meal plan.
For this trip I'd need:
1 Breakfast
1 Lunch
1 Dinner
1 Dessert
4 Snacks
After adding all of the recipes and snacks for each of the meals I'd need for my trip in my custom meal plan, I could see all of the nutrition facts for my meal plan by day including:
Dry weight
Total calories
Protein
Carbs
Fiber
Total Sugar
Fat
And Sodium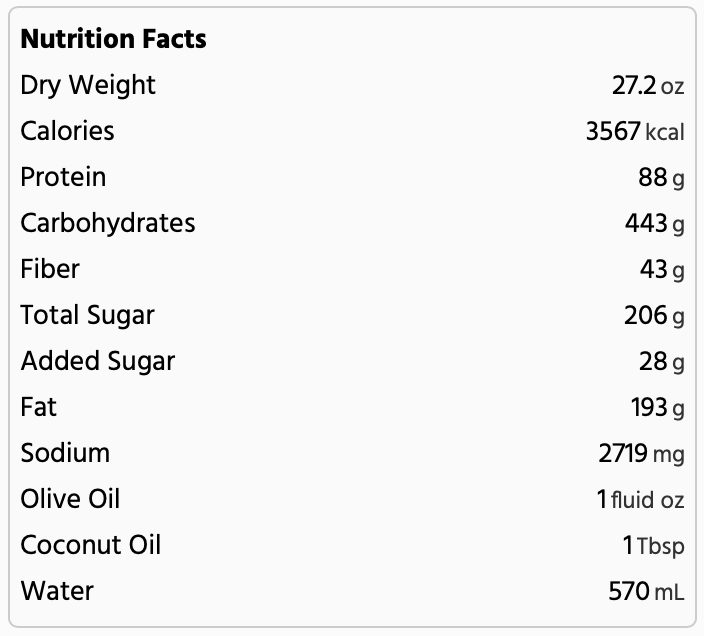 I could also see how much olive oil, coconut oil and water I needed to prepare all of my meals for my trip.
So for example, according to the backpacking meal plan I created for my upcoming trip, I'd be eating a total of 3,500 calories for the day, which is 200 calories more than the Calorie Calculator suggested. That's okay!
The total weight of my food for this trip will be 27.2 ounces or 1.7 lbs.
I also needed to make sure I packed out 1 ounce of olive oil, 1 tbsp of coconut oil and I'd need about 2.5 cups of water to prepare my meals when out on trail. No problem on the water amount since my plan was to camp near the river for the night, but this would be extremely helpful if I was planning on camping at a dry camp (a campsite without a water source nearby.)
After creating my meal plan, I was able to generate a shopping list that had all of the ingredients I needed to prepare each of the recipes on my backpacking meal plan.
Then, I could go through the list to see which of the ingredients I already had at home and take them off the list. Once I finished editing my Shopping List, I saved it, printed it out and took it to the grocery store to go shopping.
Thanks to Backcountry Foodie, there's no need to create a separate spreadsheet with all of the food items and meals I plan on bringing with me for this trip. There's no need to individually weigh each meal and snack to figure out what my food weight is. And now, I have 5 new recipes to try out for my upcoming trip!
So cool. So easy.
My Overnight Backpacking Meal Plan
So here's the Backpacking Meal Plan I came up with for my upcoming overnight backpacking trip.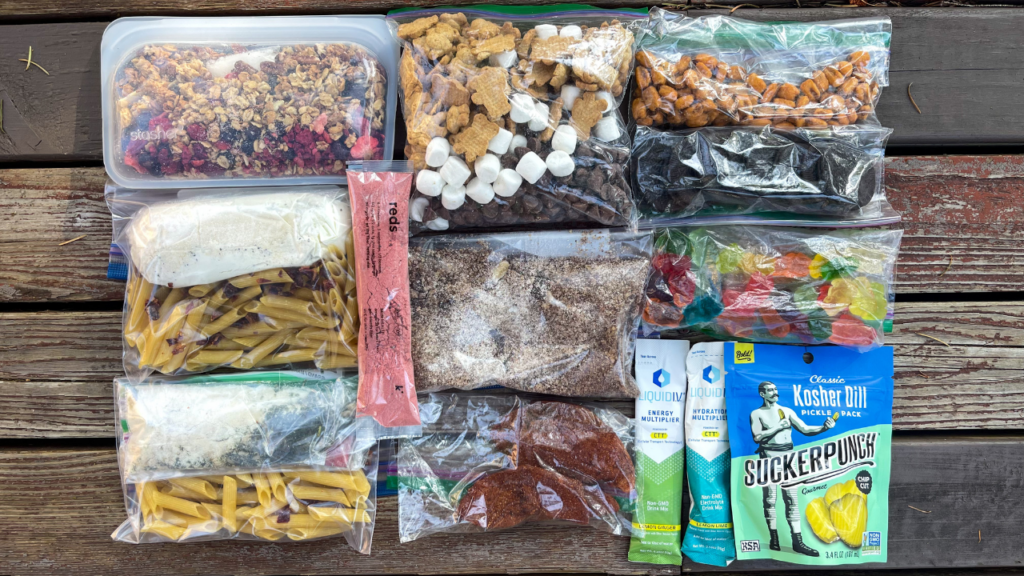 Breakfast:
Berry Breakfast Crumble
583 calories, 15 grams of protein and weighs 3.9 ounces per serving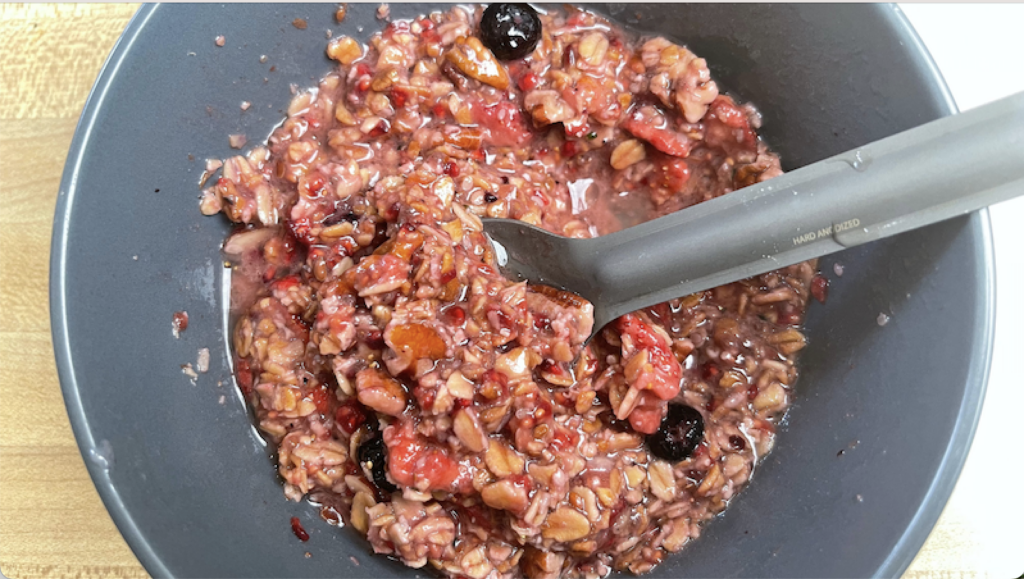 Lunch/Dinner:
Cheesy Ranch Noodles
588 calories, 28 grams of protein and weighs 5.1 ounces per serving
Sun-Dried Tomato Pesto Pasta
593 calories, 17 grams of protein and weighs 4.3 ounces per serving.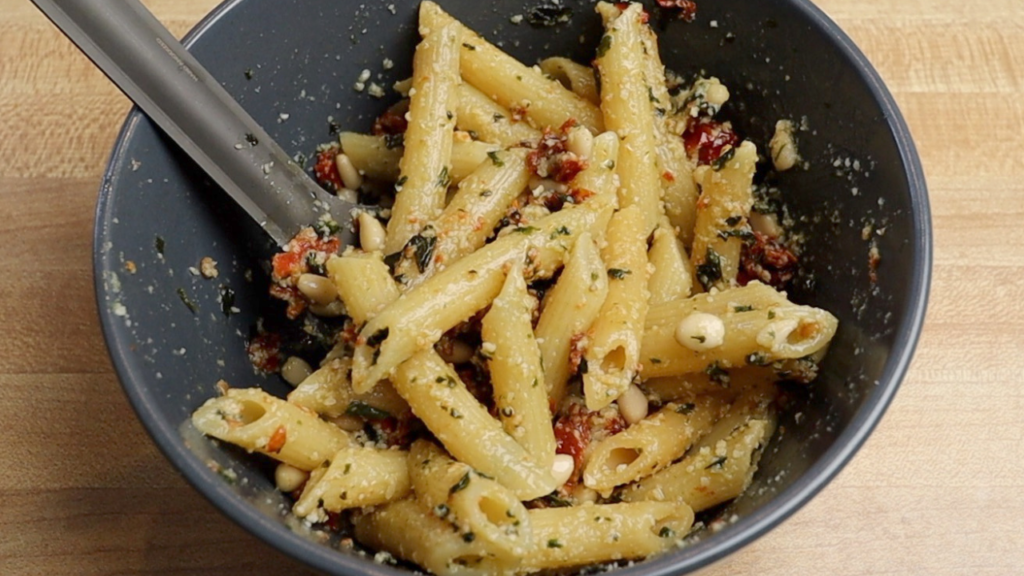 Whatever I don't have for lunch, I'd have for dinner.
Dessert:
Fudge Walnut Brownie Batter
499 calories, 12 grams of protein and weighs 3.5 ounces per serving.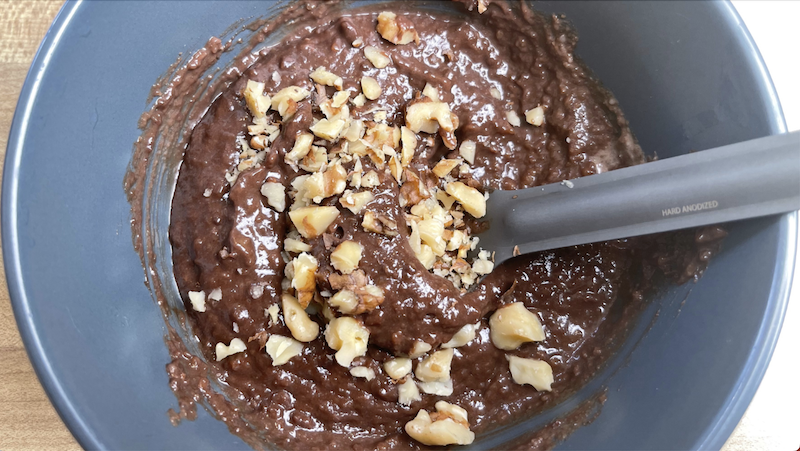 Snacks:
Two servings of the S'mores Trail Mix
492 calories, 7 grams of protein and weighs 4 ounces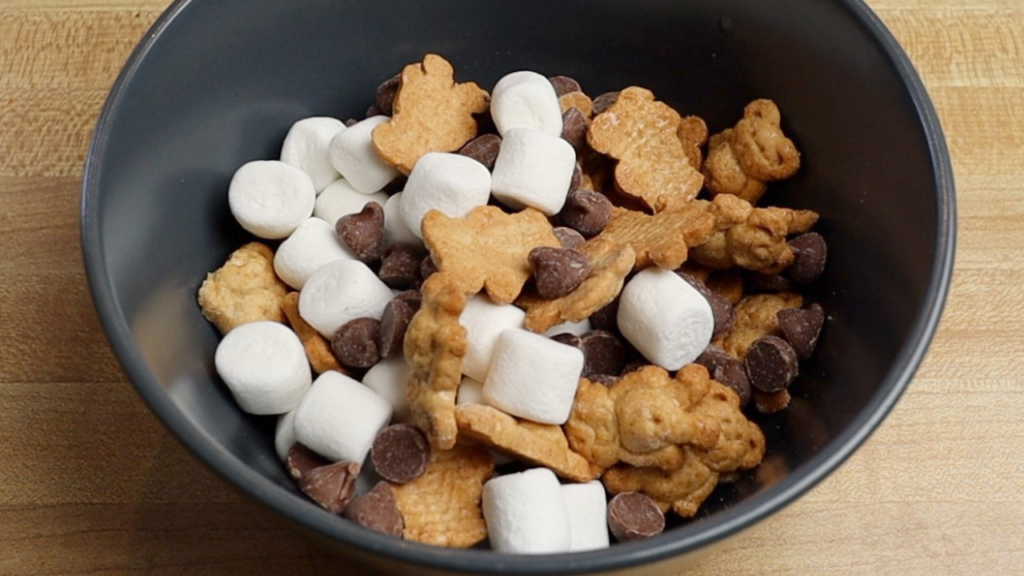 One serving of Thin Oreos (not part of the Backcountry Foodie recipe database)
140 calories, which comes out to 4 cookies.
One serving of Smoked BBQ Love Crunchy Corn (not part of the Backcountry Foodie recipe database)
130 calories, which comes out to 1 oz per serving
One serving of Trader Joe's Chile Spiced Mango (not part of the Backcountry Foodie recipe database)
140 calories, which comes out to ½ cup per serving
One serving of gummy bears
100 calories per serving
One SuckerPunch Gourmet Kosher Dill Pickle Pack (not part of the Backcountry Foodie recipe database)
10 calories per pack
Two packets of Liquid IV electrolytes
If you're curious to see what backpacking gear I bring for an overnight trip and how I pack my pack, make sure you check out How I Pack My Pack For An Overnight Backpacking Trip.
How Did My Backpacking Meal Plan Do For This Trip?
 So here's the food I came back with from my overnight trip.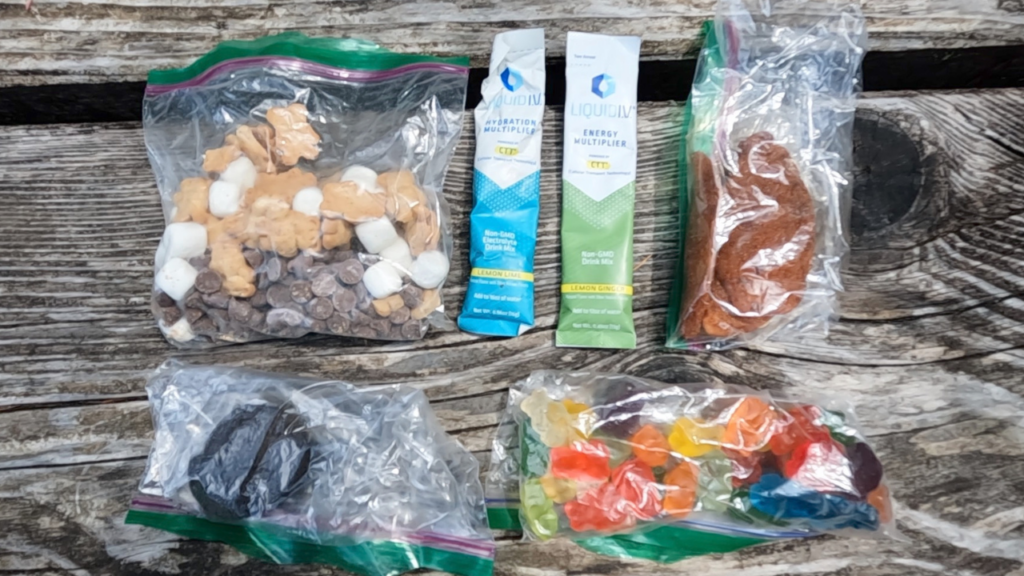 I could have easily gotten away with just bringing 1 serving of the S'mores Trail Mix instead of 2. And it turns out I didn't need those extra "just because" snacks after all…the gummy bears, the chili spiced mango and even the two electrolytes.
For electrolytes, I ended up bringing a small bottle of Gatorade, which I drank on the first day and then used the bottle to mix my Kencko smoothie in for breakfast.
Still, not bad. I've definitely come back from backpacking trips before with WAY more food.
Interested in using Backcountry Foodie to help you put together a backpacking meal plan for your next trip? Click HERE and use coupon code "HUNGRYHIKER20" to get 20% off your membership.
---
Disclaimer: The-Hungry-Hiker.com is a participant in the Amazon Affiliate Links and AvantlInks Program, affiliate advertising programs designed to provide a means for sites to earn advertising fees by advertising and linking to Amazon.com and other affiliated sites at no cost to you. Please note, I only link to products and services I personally use and trust.
---