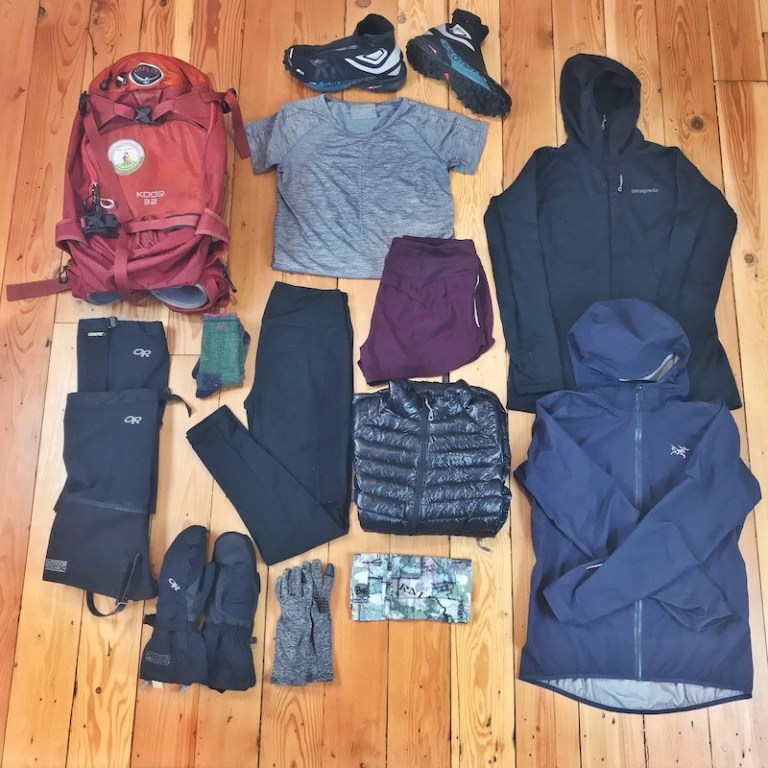 A lot of people get scared away with the cold, wet weather, but I personally LOVE fall and winter hiking. There's hardly anybody out on the trail. Most of the time, I have the trail all to myself. I get to enjoy the lake or summit all to myself. I also love not having to get up super early just so I can score a parking spot at the trailhead. To enjoy the trails safely and comfortably during this time of year, it's important to to prepare for a cold weather hike. As long as you have the right gear, do a bit of preparation before getting on trail and make a few adjustments to your gear and clothing, you can turn a cold, wet and snowy day into a fun, safe and comfortable hike out on the trail.
Pack the Ten Essentials
When planning ANY hike, whether it be a day hike or overnight backpacking trip, the first step should always be preparation. This means always carrying the Ten Essentials with you in your pack on every hike.
The Ten Essentials are:
Navigation
Illumination
Sun Protection
Extra Food
Extra Clothing
Extra Water
Shelter
Fire
Knife
First Aid Kit
What to Wear
The clothing you wear on a warm, summer hike will be completely different than what you'll want to wear on a cold weather hike. Hiking in cold weather means wearing layers of clothes and being able to adjust your layers on the fly for the weather.
Base Layer
Stay away from wearing cotton clothing on a hike during the cold, winter months. The problem with cotton is it holds water. It also doesn't insulate or dry easily. If you sweat a lot like I do when I hike (especially on the big climbs up the trail), wearing cotton once you start sweating will leave you feeling weighted down, miserable and cold. When putting together a clothing layering system for cold weather hikes, start from the inside out. Your underwear and base layers should be made of synthetic or wool, sweat-wicking material. These types of materials can pull moisture away from the body and is able to dry quickly.
Mid Layer
Pack a lightweight fleece as a mid layer for extra insulation to your core. I personally love my Patagonia R1 Fleece Hoodie. It's one of my most favorite pieces of gear I own for hiking and I use it all year long. Not only does it breathe well, allowing me to wear it while hiking without sweating to death, but it also does a nice job keeping me warm on a break at the top of a summit or sitting by the lake, at camp or on the car ride home. The hood provides extra warmth on really cold days and nights. The chest zipper pocket is just the right size to fit a wallet, Chapstick and GoPro inside. I even store my phone in here during a hike to prevent the cold weather from draining my battery. The fleece was pricey, but worth every penny. I'd never go on a hike without this fleece either on my body or in my pack.
Outer Layer
Pack a lightweight rain jacket. You'll want something waterproof, preferably made of Gore-Tex, to help keep you and your layers dry underneath. For some reason, I had a hard time shopping for a rain coat before leaving to hike the Pacific Crest Trail. I wanted something light that would keep me dry during a rainstorm and not leave me feeling like I was suffocating underneath. I found everything I was looking for and more with the Arc'teryx Norvan Jacket. The Arc'teryx Norvan Jacket is an ultralight raincoat designed for trail runners, but works perfectly for hiking and thru-hiking.
I hate to admit how expensive this jacket was, but it works. With outdoor gear, I truly stand by the "You Get What You Pay For" philosophy. It's super lightweight and compact, making it easy to store at the bottom of a pack. When I needed this jacket to perform the most, it didn't let me down. I used this jacket in constant rain downpour while hiking the remote sections of Washington along the PCT. I've even used it in the snow. This super light jacket kept me dry and warm in all different types of conditions. I can easily wear all of my layers comfortably underneath, including my fleece and my puffy jacket without sweating to death, thanks to the built-in underarm vents.
Hat
Pack a hat with a brimmed hood. Most rain jackets will have a hood, which helps keep rain off of your face. I like to pack a sports hat with a brimmed hood for an extra layer of protection from both the rain, snow and sun. The thing about a hat is it helps keep the heat in too. You lose most of your body heat from your head so if it's cold out, having a hat will help you stay warmer.
Footwear
Boots vs trail runners? Some hikers like to wear boots for the extra durability and stability. Some hikers like to wear trail runners for the flexibility and comfort. I prefer wearing trail runners when I hike, even in the rain and snow. For me, trail runners are comfortable, dry fast, breathe well and I don't get many, if any, blisters wearing them. The mesh material on a trail runner doesn't prevent my feet from staying completely dry on a wet hike, but the material does allow for a quick dry as long as I'm not constantly sloshing through puddles and mud. Micro-spikes also fit pretty easily over trail runners, making them easy to travel over hard, compact snow.
I recently discovered my new favorite winter hiking shoe – the Salomon Snowcross 2 and I love them for cold weather hiking. The inside of the shoe has the guts of the Salomon Speedcross trail running shoe and the outside is made up of a waterproof, breathable, protective membrane to protect the foot from snow, slush, mud and rain. On the bottom of the shoe, the traction is made up of a Wet Traction Contragrip outsole that helps the foot stick to any type of wet weather terrain. Finally, a trail runner shoe I can wear in the cold, wet weather that is comfortable, lightweight, has amazing traction AND keeps my feet warm and dry.
Gaiters
I don't wear rain pants. Instead, I prefer wearing gaiters with a pair of leggings during the cold, winter months. Gaiters provide an extra layer of warmth on my legs while keeping my legs and feet dry and free from mud. My preferred gaiters of choice are the Outdoor Research Crocodile Gaiters.
Gloves/Mittens
My hands are always the part of my body that gets cold first. For this reason, I always pack two pairs of gloves for every winter hike I go on – a thin pair of liner gloves and an insulated pair of waterproof mittens. The liner gloves act as a base layer for my hands. They help provide a thin layer of coverage to my hands from the elements while hiking, adjusting equipment and/or navigating my phone as I go.
The insulated, waterproof mittens help keep my hands warm in the most extreme weather conditions – cold, rain, wind and snow. If it's really cold and windy out, I'll wear the liner gloves underneath my waterproof mittens and add a hand warmer inside each mitten for extra warmth.
Protect Your Gear
In addition to carrying the Ten Essentials and wearing extra clothing, you might want to have a few of these items handy in your pack to protect your gear from the elements.
Pack Rain Cover
Think of this as a rain jacket for your pack. A pack rain cover will help keep your pack and the gear inside dry.
Lightweight Dry Sacks
Pack covers will help protect the outside of your pack, but lightweight dry sacks will help protect the contents of the inside of your pack like electronics, clothes, a sleeping bag and food.
 Ziploc Plastic Bags
Ziploc plastic bags aren't 100% waterproof or durable, but they're cheap and will work in a pinch to help keep the gear organized and somewhat dry and protected.
Trash Bags
Trash bags have many uses for day hikers and backpackers. You can turn a trash bag into a temporary pack cover. A trash bag can also be used as a liner inside of your pack to help keep the items inside your pack dry if you don't have dry sacks to store your gear in. Trash bags can be used as an emergency poncho if you don't have any rain gear and are caught in a storm. And of course, you can always use a trash bag to pack out any trash you might find on trail.
Additional Cold Weather Items
Trekking Poles
Before hiking the PCT, I never used trekking poles on a day hike. Now, I can't imagine doing a hike without them. In the cold, winter months, trekking poles are super helpful with navigating in the mud, snow and water crossings. Having the extra point of contact with the ground helps you become more stable on unstable terrain.
Handwarmers
These aren't necessary, but they're a nice-to-have on those really cold and windy hikes. Handwarmers are cheap, easy to use, lightweight and work immediately.
Extra Blister Supplies
Hopefully if you have the right footwear, your feet won't be getting too wet during your cold weather hike. Wet feet are more prone to blisters so having extra blister supplies might not be a bad thing to add to your first aid kit in your pack during a wet hiking season.
Headlamp
It's really important during the winter months where the days get darker earlier to carry a headlamp or illumination device, just in case you're caught out on the trail later than you anticipated.
Just because it's cold outside doesn't mean you can't go hiking. When you're prepared with the Ten Essentials, dress appropriately for the weather and have the right gear, you can hike in most conditions, year-round, pretty comfortably. Happy safe cold weather hiking!
---
Disclaimer: http://www.The-Hungry-Hiker.com is a participant in the Amazon Affiliate Links and Skimlinks Program, affiliate advertising programs designed to provide a means for sites to earn advertising fees by advertising and linking to Amazon.com and other affiliated sites at no cost to you. Please note, I only link to products and services I personally use and trust.
---