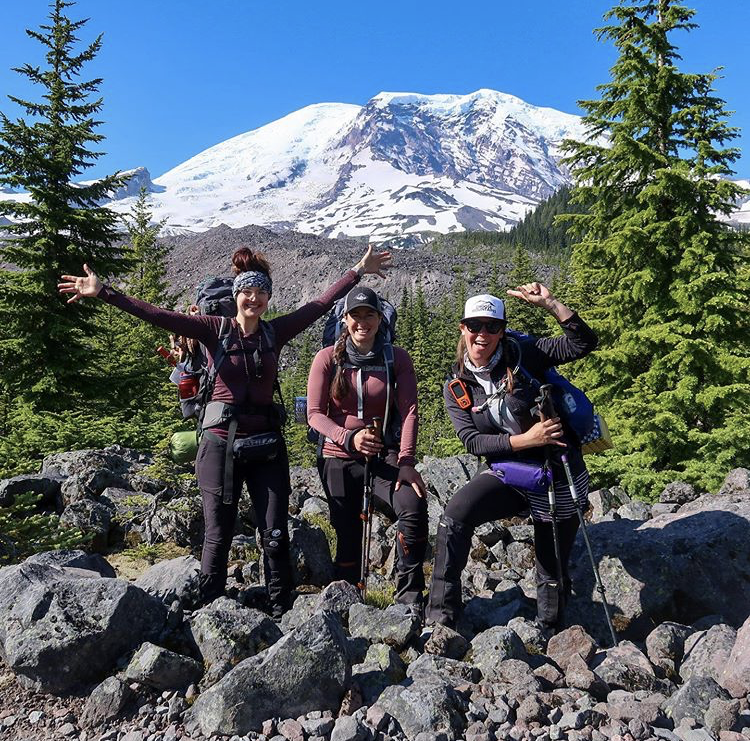 The Northern Loop (off of the Wonderland Trail in Mount Rainier National Park) is a total of 34 miles from Sunrise and 44.8 miles from the Carbon River entrance. If you're looking to hike a portion of the Wonderland Trail with less crowds and desire a more serene experience, consider hiking the Northern Loop.
Along the Northern Loop, you'll travel through several subalpine areas, cross rivers, jaunt through the wilderness up a high mountain pass (Windy Gap) and pass the junction for Lake Eleanor as you meander through the wide-open meadow of Grand Park. Campsites on the Northern Loop include: Berkeley Park Camp, Fire Creek Camp, James Camp and Yellowstone Cliffs Camp. A Backcountry Permit is required for staying at any of the camps along the Northern Loop and The Wonderland Trail.
On Friday, July 3rd, 2020, my friends Clarkia, Raquel and I set out from the Sunrise parking lot to backpack the Northern Loop, counter clockwise, via The Wonderland Trail in four days. The day we started our trip was the first day Sunrise would be open for the 2020 season. We encountered all kinds of early season obstacles – snow, huge tree blowdowns, nerve wrecking water crossings, Windy Gap being 100% covered in snow (which required two different GPS systems to navigate), sleeping on snow one night at Yellowstone Cliffs Camp and crossing the scariest snow-covered steep mountain pass I've ever had the pleasure of crossing in my life, Skyscraper Pass.
It wasn't until our last day on trail as we made our way to the top of Skyscraper Pass that we finally got to see Mount Rainier, which apparently had been next to us the entire time. We just couldn't see it because we'd been socked in with fog for the first three days of our trip.
For the entire trip, we clocked in a total of 34 miles, 9,967 feet of ascent, 10,001 feet of descent and countless memories.
Originally, our itinerary was as follows:
Enter Sunrise Trailhead and Fire Creek Camp: Friday, July 3rd
Carbon River Camp: Saturday, July 4th
Mystic Camp: Sunday, July 5th
Exit Sunrise Trailhead: Monday, July 6th
Due to the excessive snow travel throughout Windy Pass, we ended up not making it to Mystic Camp on Sunday. Instead, we stopped to camp at Yellowstone Cliffs camp…on the snow. This was the only night and the only campsite on the whole trip where we had to set up on snow. The rest of the campsites we stopped at during our trip were snow-free.
Video: Backpacking The Wonderland Trail | Mount Rainier 2020 | Hiking The Northern Loop Via Sunrise
Knowing ahead of time that there would be a possibility we'd have to hike and camp on snow, we adjusted our gear list for the trip to make sure we had the right gear for the early season trail conditions. Here was my Gear List for the trip, broken down by system:
Pack
Osprey Eja 48
Osprey Ultralight Raincover
Shelter System
Big Agnes Copper Spur 2-Person Tent
Big Agnes Copper Spur Footprint
Sleep System
Sierra Designs Zissou 12 Degree Sleeping Bag
Cocoon Camp Inflatable Pillow
Cocoon Mummy Silk Sleeping Liner
Sea to Summit eVAC Dry Sack 20L
ThermaRest Z-Lite Foam Pad
ThermaRest NeoAir Xtherm Inflatable Sleeping Pad
Clothing I Packed (Warm Layers)
Arc'teryx Norvan Women's Jacket
Patagonia R1 Fleece
Mountain Hardwear Ghost Whisperer Down Jacket
Beanie
Smartwool Merino 250 Base Layer Crew Top (to sleep in)
Pair of insulated leggings (to sleep in)
1 pair of Darn Tough Hiker Micro Crew Cushion Socks (to sleep in)
2 extra pairs of Darn Tough Hiker ¼ Cushion Socks (backups to hike in)
Teva Hurricane Sandals (camp shoes)
Outdoor Research Melody Sensor Liner Gloves
Outdoor Research Crocodile Gore-Tex Gaiters
3L Osprey Ultralight Bag (to store socks and sleep clothes in)
Clothes I Hiked In
Athleta Running Shorts
Athleta Foothills Tee
Leggings
Darn Tough Hiker ¼ Cushion Socks
Choose Mountains Trucker Hat
Buff
Knockaround Premium Sunglasses (Black/Smoke Premiums)
Salomon Odyssey Triple Crown Magic Trail Runners
Black Diamond Alpine Carbon Cork Trekking Poles
Electronics Bag
RavPower Battery Pack Charger and cord
Canon G7X Camera, cord and three batteries
Manfrotto Tripod
GoPro Hero5 and cord
Garmin inReach Explorer+ and cord
Black Diamond Storm Headlamp with extra batteries
iPhone7 in a LifeProof case and charging cord
ThruPack Summit Bum Fanny Pack
Cooking System
BRS 3000T Ultralight Titanium Backpacking Stove
Snow Peak Trek 900 Titanium Cookset (pot and lid)
3L Osprey Ultralight Bag
Sea to Summit Long Spoon
REI Multi-Towel Light – Small
1 – 8.11 oz/230 g (Medium Sized) Fuel Canister
2 Bic Lighters
DIY Stove Cozy – Watch this video the learn how to make one of your own!
Food System
20L Osprey Ultralight Dry Sack + paracord
Water Filtration System
3L Osprey Hydration Reservoir
Sawyer Squeeze Water Filter
Sawyer Fast Fill Hydration Pack Adapter Kit
2L CNOC Outdoors Vecto Bag
Repair/Tool/Toiletry Bag
Swiss Army Knife
2 Packs of Hand Warmers
Repair Kit For Sleeping Pad
Travel Toothbrush and Toothpaste
Travel Sunscreen
Chapstick
Baby Wipes
Pixie Cup
2 Zip Ties
3L Osprey Ultralight Bag
Poop Kit
Deuce Trowel
Travel-Sized Hand Sanitizer
Baby Wipes
Doggie Bags
Couple Extra ZipLock Bags
First Aid Kit
3L Osprey Ultralight Bag
Medications (Aleve, Benadryl, Immodium)
Leukotape
Body Glide
Travel Ankle Brace
2 Pairs of Disposable Gloves
Tick Key
Q-Tips
Blister Kit (Antiseptic Towelettes, 2 Safety Pins, moleskin, Misc Sized Band-Aids and Neosporin)
Misc (For This Trip Specifically)
Kahtoola Microspikes Traction System (microspikes)
Space All-Weather Blanket
Outdoor Research Bug Bucket Hat
Ben's 100 Max Formula Tick & Insect Repellent (95% Deet)
Total Base Weight: 23.42lbs (minus the clothes/shoes I hiked in, trekking poles, water and fuel)
My Gear List (with weight) for this trip on LighterPack.com
---
Disclaimer: The-Hungry-Hiker.com is a participant in the Amazon Affiliate Links, AvantLink and Skimlinks Program, affiliate advertising programs designed to provide a means for sites to earn advertising fees by advertising and linking to Amazon.com and other affiliated sites at no cost to you. Please note, I only link to products and services I personally use and trust.
---
Inspired? Pin It!