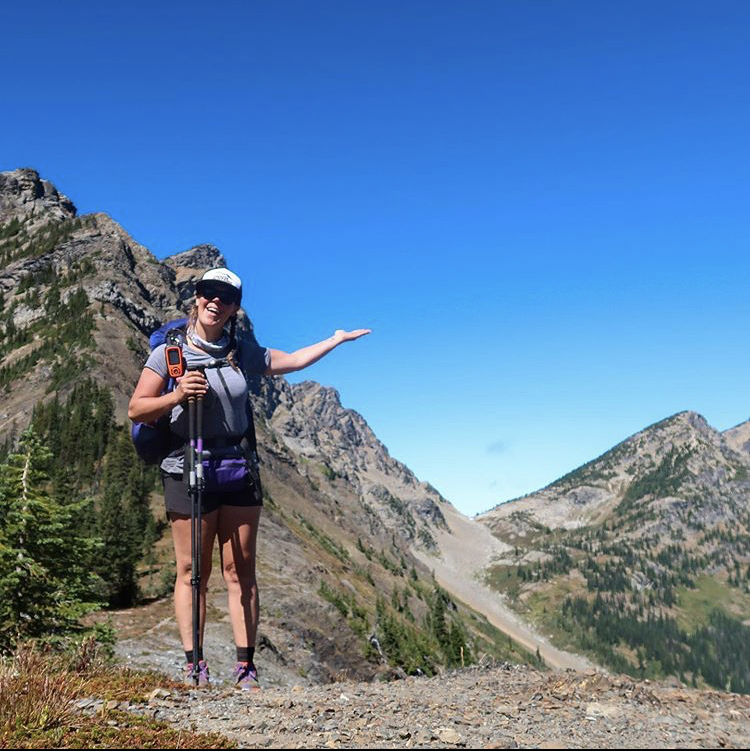 Since all of my original plans this summer got canceled thanks to COVID, such as backpacking the Grand Canyon for four days and hiking up to Mount St Helens with a geologist, I decided to play it safe and plan an epic adventure closer to home. At the end of August and the beginning of September, I took off for eight days for a solo hike/backpacking trip along my favorite section of the Pacific Crest Trail in Washington, Section L.
Section L starts from Rainy Pass off of Highway 20 in the North Cascades and heads NoBo for 62 miles to the Northern Terminus at the Canadian Border. Since the border was closed, making it illegal for me to continue hiking in to Manning Park, I instead tagged the Northern Terminus at the border and then turned around and headed back to Rainy Pass.
This backpacking trip was a perfect alternative to my original plans and quite COVID-friendly. First of all, I could go from my doorstep to the trailhead without having to make any stops in-between. Secondly, there was no need or opportunity to go into a town and resupply along my way to the Northern Terminus and back. This is why this was my heaviest food carry to date – I've never had to carry more than eight days' worth of food in my pack before. Well, it was more like 10 days' worth of food because I always pack at least an extra day's worth of food in fear of running out. Hey, they say you always pack your fears. Mine is running out of food and going hungry.
Another reason why this was such a perfect trip alternative was because I got to hike one of the most beautiful sections of the entire PCT in warm and sunny weather, except for the second night and third morning when it lightly rained. The last time I hiked this section in 2018, it was kind of sunny, but pretty dang cold. Another thing that made this backpacking trip so COVID-friendly was since it's such a remote portion of the PCT, there was hardly anyone else out on trail. Having to socially distance out on trail was never a problem. In fact, I didn't have to worry about socially distancing myself on trail until the morning I headed back into Rainy Pass, which happened to be the Saturday before Labor Day.
For eight days, I was out on trail, all on my own, soaking in all of the sunshine and taking in all of the incredible views along the way, both heading NoBo and SoBo. It was 122.26 miles of solo hiking all by myself out there and I loved every single minute of it.
Here's my Gear List of everything I brought with me for this trip, broken down by system:
Pack
Osprey Eja 48
Osprey Ultralight Raincover
Shelter System
Big Agnes Copper Spur 2-Person Tent
Big Agnes Copper Spur Footprint
Sleep System
Enlightened Equipment Enigma Custom Quilt (Down Type: 950, Temperature: 10 Degree F, Length: Regular, Width: Wide, Draft Collar Added, Outside fabric: Purple 10D, Inside Fabric: Purple 10D, Total Weight: 23.85 ounces
Cocoon Camp Inflatable Pillow
Cocoon Mummy Silk Sleeping Liner
Sea to Summit eVAC Dry Sack 13L
ThermaRest NeoAir Xtherm Inflatable Sleeping Pad
Clothing I Packed (Warm Layers)
Arc'teryx Norvan Women's Jacket
Patagonia R1 Fleece
Mountain Hardwear Ghost Whisperer Down Jacket
Smartwool Merino 250 Base Layer Crew Top (to sleep in)
Hiking Leggings
Enlightened Equipment Sidekicks – Ultralight Down Booties
Outdoor Research Melody Sensor Liner Gloves
2 extra pairs of Darn Tough Hiker ¼ Cushion Socks (backups to hike in)
1 pair of Darn Tough Hiker Micro Crew Cushion Socks (to sleep in)
3L Osprey Ultralight Bag (to store socks and sleep clothes in)
Clothes I Hiked In
Salomon Sense Running Shorts
Athleta Foothill Tee
Darn Tough Hiker ¼ Cushion Socks
Choose Mountains Trucker Hat
Buff
Knockaround Premium Sunglasses (Black/Smoke Premiums)
Salomon Odyssey Triple Crown Magic Trail Runners
Black Diamond Alpine Carbon Cork Trekking Poles
Electronics Bag
RavPower Battery Pack Charger and cord
Canon G7X Camera, cord and three batteries
SanDisk 256GB Ultra SDXC UHS-1 Memory Card
Manfrotto Tripod
Garmin inReach Explorer+ and cord
Black Diamond Storm Headlamp with extra batteries
iPhone7 in a LifeProof case and charging cord
ThruPack Summit Bum Fanny Pack
Cooking System
BRS 3000T Backpacking Stove – Ultralight Titanium
Snow Peak Trek 900 Titanium (Cooking Pot) Cookset
DIY Stove Cozy
3L Osprey Ultralight Bag
Sea to Summit Long Spoon
REI Multi-Towel Light – Small
1 – 8.11 oz/230 g (Medium Sized) Fuel Canister
2 Bic Lighters
Food System
20L Osprey Ultralight Dry Sack
Water Filtration System
3L Osprey Hydration Reservoir
Sawyer Squeeze Water Filter
Sawyer Fast Fill Hydration Pack Adapter Kit
CNOC Outdoors 2L Vecto Bag
32 oz Gatorade Bottle
Repair/Tool/Toiletry Bag
Swiss Army Knife
2 Packs of Hand Warmers
Repair Kit For Sleeping Pad
Travel Toothbrush and Toothpaste
Travel Sunscreen
Chapstick
Baby Wipes
Pixie Cup
2 Zip Ties
Outdoor Research Bug Bucket Hat
Ben's 100 Max Formula Tick & Insect Repellent (95% Deet)
3L Osprey Ultralight Bag
Poop Kit
The Deuce Trowel
Travel-Sized Hand Sanitizer
Baby Wipes
Doggie Bags
Couple Extra Ziploc Bags
Homemade First Aid Kit
Medications (Aleve, Benadryl, Immodium)
Leukotape
Body Glide
Travel Ankle Brace
2 Pairs of Disposable Gloves
Tick Key
Q-Tips
Blister Kit (Antiseptic Towelettes, 2 Safety Pins, moleskin, Misc Sized Band-Aids and Neosporin)
3L Osprey Ultralight Bag
Total Base Weight: 21.63 lbs (not including food, water, trekking poles and the clothes and shoes I hiked in)
The Gear List for my 2020 PCT Section Hike – Section L in Washington (with weight) on LighterPack.com
All the hiking gear I brought with me to section hike the Pacific Crest Trail on Section L in Washington:
Episodes 2 through 5 of my section hike along the Pacific Crest Trail on Section L in Washington:
---
Disclaimer: The-Hungry-Hiker.com is a participant in the Amazon Affiliate Links, AvantLink and Skimlinks Program, affiliate advertising programs designed to provide a means for sites to earn advertising fees by advertising and linking to Amazon.com and other affiliated sites at no cost to you. Please note, I only link to products and services I personally use and trust.
---
Inspired? Pin It!