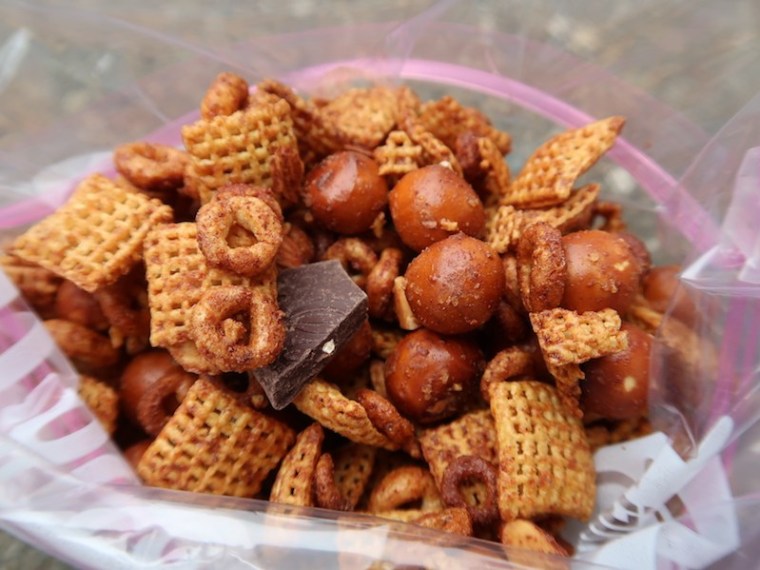 Are you looking for something else besides expensive, store-bought trail mix to bring with you to snack on during your next day hike or backpacking trip? Here's a homemade hiking snack idea for your next hike – Sweet & Spicy Homemade Trail Mix. This easy trail mix recipe is one of my favorite snacks to take day hiking and also makes a cheap, easy and filling backpacking snack.
This trail mix recipe is the perfect combination of crunchy with Corn Chex, Multigrain Cheerios, pretzels and almonds, sweet with sugar and dark chocolate and spicy with a dash of cinnamon, paprika, cumin and cayenne. This trail mix recipe only takes 10 minutes to prep and 30 minutes to bake. You can make this easy hiking snack at home in less than 45 minutes!
Sweet & Spicy Homemade Trail Mix
Ingredients
2 large egg whites
¼ cup sugar
1 tsp cinnamon
1 tsp paprika
1 tsp kosher salt
½ tsp ground cumin
½ tsp cayenne
¼ cup chopped almonds
4 cups Corn Chex cereal
2 cups pretzel nuggets
3 cups Multigrain O's cereal
¼ cup chopped dark chocolate
Instructions
Preheat oven to 300F. Line baking sheet with parchment paper.
Add egg whites, sugar, cinnamon, paprika, salt, cumin and cayenne into a large bowl.
Mix ingredients until well blended.
Add cereals, pretzels and almonds. Toss to coat.
Spread mixture evenly on to baking sheet.
Bake until cereals are lightly browned and dry, about 30 minutes. Stir mixture every 10 minutes during baking time.
Remove from oven and let cool completely.
Once cooled, add chocolate and mix together.
Measure out 2 cup servings into separate, air-tight containers.
Enjoy!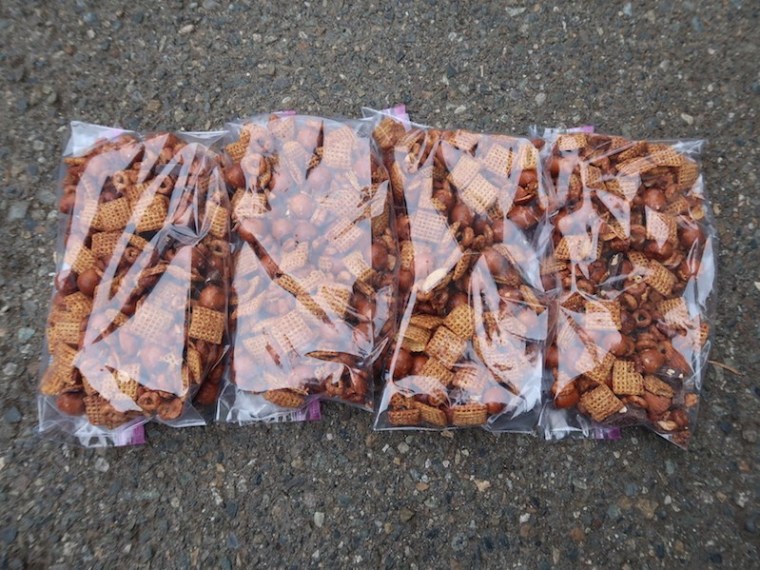 Serving Size: 2 cups
Recipe Makes 4 Servings
Backpacking Recipe | Sweet & Spicy Homemade Trail Mix – Easy Hiking Snack
Learn how to make your own backpacking meals with some of my favorite recipes:
Coconut Cashew Curry With Couscous
Dehydrated Pasta Penne Alfredo
Dehydrated Backcountry Spaghetti
Holy Molé Breakfast Bars
---
Inspired? Pin It!