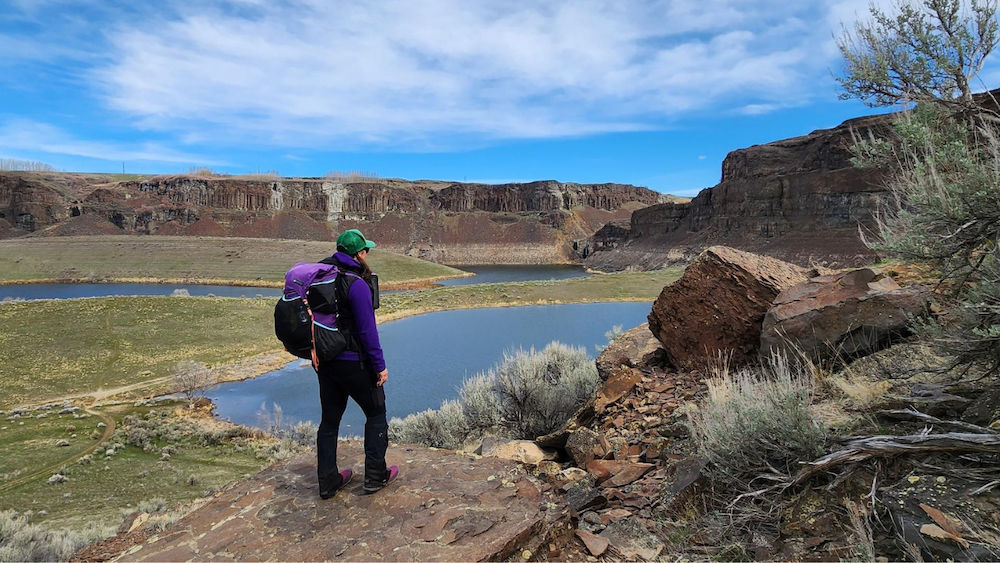 Where do you go backpacking in Washington State when everything is covered in snow?
Head over to Eastern Washington and go backpacking in the desert. Ancient Lakes is a beautiful place to go pitch a tent and explore during the early shoulder season, before the heat, ticks and snakes come out.
Located in Central Washington, Ancient Lakes has it all…canyon vibes, sunshine, wildflowers, meadows, waterfalls, wildlife, lakes and plenty of places to camp. It's easily accessible, there's no permits needed to camp and when everywhere else is raining or snowing, this area usually has some sunny, warm weather.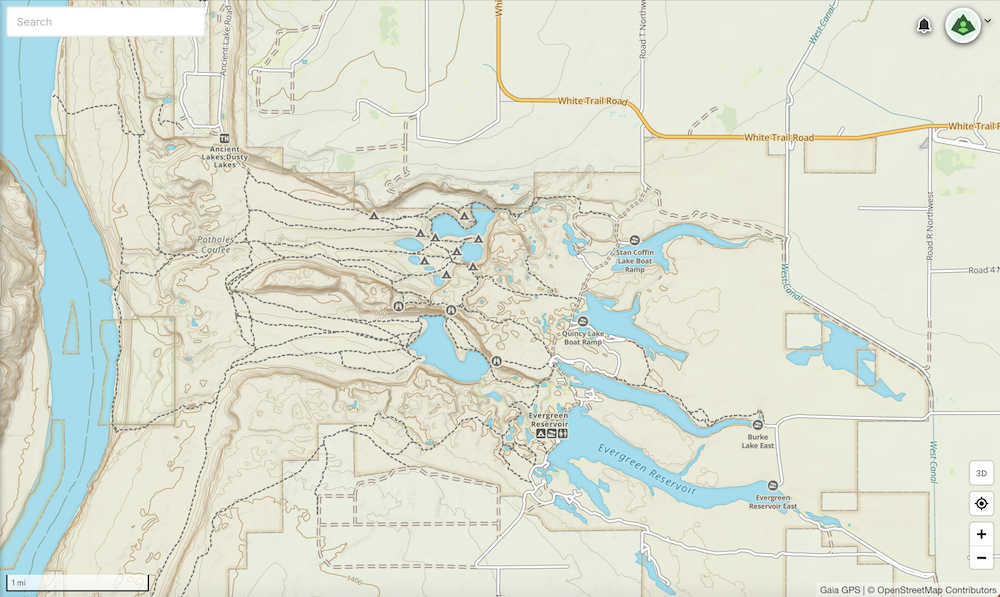 Up until a couple of weeks ago, I'd only been to this area for day hikes, but knew I wanted to come back and camp. So I brought a group of my students from my online backpacking program for women, The Confident Solo Female Backpacker System here in March for one of their first, early season backpacking trips.
For some of the women in the group, this was only their first or second overnight backpacking trip EVER!
For this trip, we parked (and car camped the night before) at the Burke Lake West Water Access parking lot where there was also a well-stocked privy!
We scored a beautiful tentsite on top of hill above Ancient Lakes that overlooked the whole area in all directions and was directly across from Ancient Lake Falls.
On Day 1 after setting up camp, we did the 5-6 miles, roundtrip hike from camp, down to Wanapum Lake/the Columbia River and back.
On Day 2, we did a 9-mile loop hike, starting from camp, hiked around Dusty Lake, made a pit stop at the cars for drinking water and to use the privy and then headed back to camp for the evening
We watched the sunrise and sunset, enjoyed tasty backpacking meals together, hiked our booties off, shared lots of laughs with one another and finally got to play with all of our backpacking gear.
What an incredible way to start off the spring season. I'd say the weekend was a complete success.
Visit the Ancient Lakes page on WTA for more information about the Potholes Coulee/Ancient Lakes area.
A Discover Pass is required when parking at the trailhead.
Note: While there are lakes in the area, the water is irrigation runoff and not safe to drink, even if you filter it. Plan to carry in all of the water you'll need for this trip or be prepared to hike down to Wanapum Lake to filter and gather safe drinking water.
CLICK HERE to learn more about The Confident Solo Female Backpacker System.
To see all of the backpacking gear I brought with me and used on this trip, CLICK HERE for my LighterPack.com list (with links to all of my gear)
---
Disclaimer: The-Hungry-Hiker.com is a participant in the Amazon Affiliate Links and AvantlInks Program, affiliate advertising programs designed to provide a means for sites to earn advertising fees by advertising and linking to Amazon.com and other affiliated sites at no cost to you. Please note, I only link to products and services I personally use and trust.
---
 Inspired? Pin It!