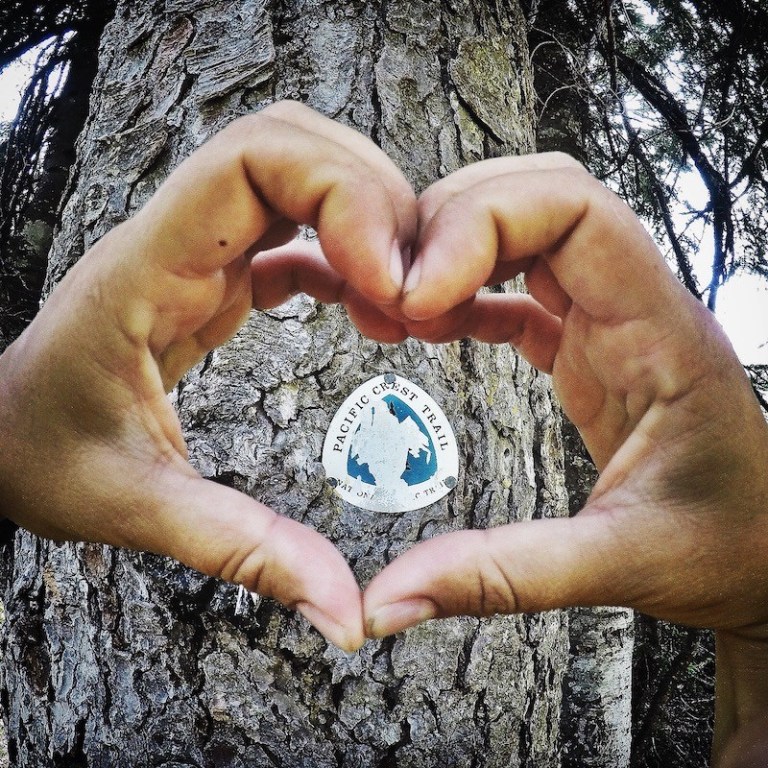 Out of all the questions people ask me about my upcoming PCT thru-hike, asking me why I want to hike the PCT is the question I get asked the most. My short answer is, "Why not?" I love hiking!
I've spent the last year of my life planning, preparing and physically/mentally training to hike the entire Pacific Crest Trail, all 2,650+ miles of it. The Pacific Crest Trail, otherwise known as the PCT spans all the way from the Southern Terminus in Campo, California all the way up to Canada in Manning Park, just 7 miles past the Canadian border. I'll be walking the entire length of California, Oregon and Washington over 5.5 months starting on April 25th, 2018.
While I'm out there on the trail, I'll spend the entire five months hiking, eating and sleeping, every single day for 2,650+ miles. It will be a simple life where I'll be carrying everything I need to survive in the pack on my back and literally putting one foot in front of the other every day.
My real, honest and long answer for why I want to hike the PCT starts with when I first became obsessed with hiking, which was only back in 2015. I had just finished my first hike across the Grand Canyon, from North Rim to South Rim, in one day, for 25 miles. Before my Grand Canyon hike, I had spent the previous three months training for this adventure by hiking whenever I could, all over the PNW. At the time, I had a full-time 9-to-5 job and was limited to only getting to hike on the weekends. I was also relatively new to hiking. I had just started hiking back in May when a dear friend of mine (the same friend I hiked the Grand Canyon with) had told me about her upcoming Grand Canyon hike and told me (not asked me) to join her. Mind you, this conversation happened during my first official hike. At the time, I thought she was crazy. I didn't think I'd be ready to hike something like the Grand Canyon in three months. By the time September came around, whether I was ready or not, I hiked all 25 miles across the canyon, from rim to rim, on my own two feet. As soon as I reached the South Rim, I knew I could do anything I wanted to do. Anything. This is the moment I decided I wanted to hike the PCT.
Talking about wanting to hike the PCT and planning to hike the PCT are two very different things. After I came back home from hiking the Grand Canyon, I spent a year talking about how I wanted to hike the PCT. During this year, I had a lot of big changes happen in my life. I finally made the commitment and started my journey to becoming a yoga teacher. I completed four different yoga teacher training programs while holding down my full-time 9-to-5 job. I also separated, divorced and then got back together with my husband/ex-husband. I also did quite a bit of hiking over the summer and fall where I was able to recover from my heartache and get back to being and finding myself again.
At the beginning of 2017, I started teaching yoga and I loved it. Teaching yoga was the confidence booster I needed to turn the conversation I kept having with friends and family about wanting to hike the PCT into planning to hike the PCT. I got tired of wondering when I would do the hike and decided to set a start date for my hike. I knew once I had a start date, the rest would fall into place.
And I was right. At the end of March, I quit my full-time 9-to-5 job and started researching, planning and training for my hike. I set my start date for my PCT hike to be April 25, 2018, giving myself a whole year to plan my trip.
There are so many reasons why someone would decide to hike all 2,650+ miles from Mexico to Canada. Some people choose to do this adventure because they've lost everything and are looking to find themselves again, out on the trail. Some people have read the story about others who have lost everything and found themselves on the trail and decide they want to have a similar adventure. There are adventure junkies out there who for them, thru-hiking is just their thing, the thing they have to do in their life. Some do the hike for fun. Some do the hike for a cause or a charity. Some hike the trail for a special person in their life. For as many people who hike the PCT, there are as many different reasons why they choose to do the hike.
I look forward to this trail changing my life in ways I can't even imagine right now. As I tackle each section of the PCT, I hope my confidence and sense of accomplishment will grow. I know there will be good days when I'm excited to hike the trail and there will be bad days where I won't feel like getting out of my tent. I look forward to embracing every single opportunity that comes my way because they will give me a chance to grow and become a stronger human being. This is why I want to hike the PCT.