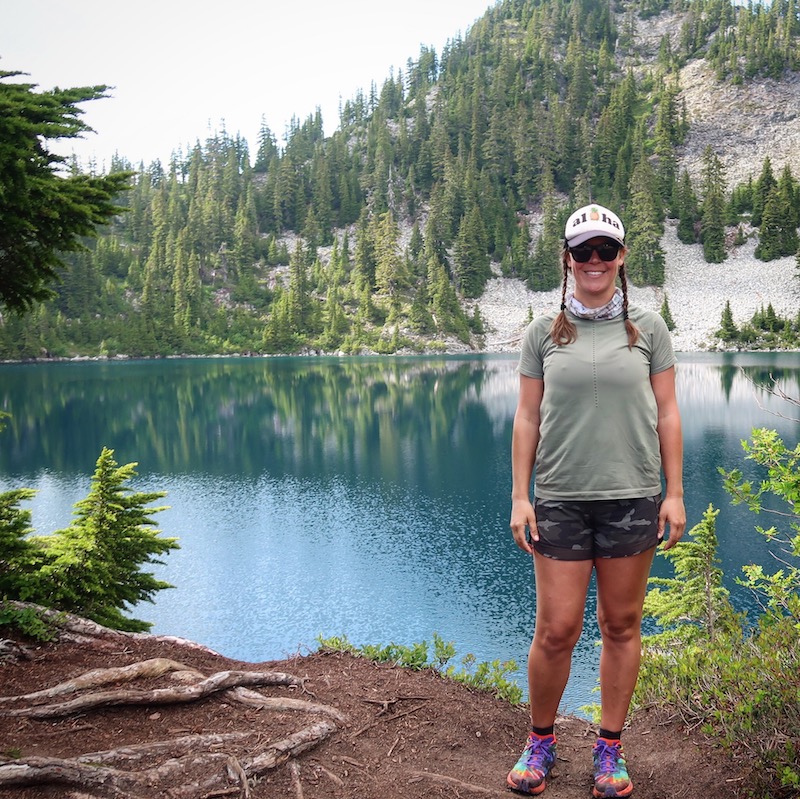 Are you thinking of hiking the Pacific Crest Trail? Over the last two years, I went from being an avid day hiker to falling in love with long-distance hiking thanks to thru-hiking the PCT in both 2018 and again in 2019. In 2018, I spent five months hiking over 1,800 miles of the PCT, heading northbound from Campo, California. In 2019, I spent two months hiking a little over 700 miles of the trail before having to end my hike due to injury and running out of money.
Hiking the PCT is both the hardest and most amazing thing I've ever done in my life. Even on my hardest day out on trail (there were three REALLY tough days) and with all the sacrifices I've made to be out on trail over the last two years, there's nothing else I'd rather do. Thru-hiking the PCT has ruined my life in the best way possible thanks to all of the incredible experiences I had, the amazing people I got to meet along the way and the mind-blowing sites I got to see.
Planning something as big as hiking 2,650+ miles from Mexico to Canada over the course of five months is a huge feat and can be quite intimidating. You might be wondering, "Where in the heck do I start with planning an adventure like this?"
My goal is to help you get started on planning an epic PCT hiking adventure of your own, whether it be a thru-hike, section hike or a day hike. After hiking the PCT two years in a row, I have lots of tips and tricks to share on how to plan your hike, how I planned my own hike, gear.
What is the Pacific Crest Trail?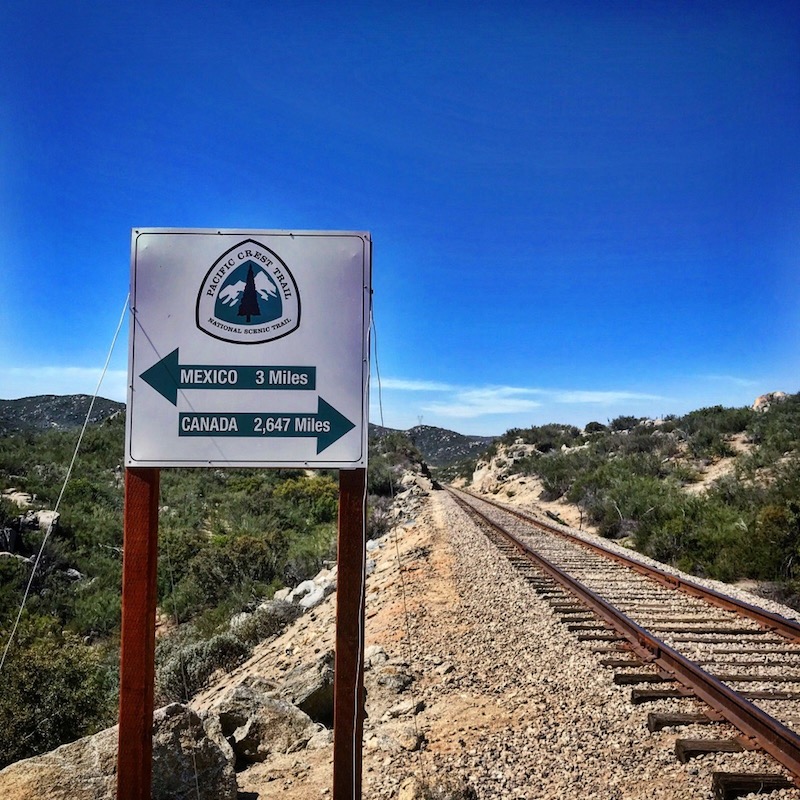 The Pacific Crest Trail or PCT is a long-distance hiking and equestrian trail spanning over 2,650+ miles and travels through three states including California, Oregon and Washington. California is 1,691.1 miles long and is broken down into three parts: Southern California (commonly known as the desert) – 566.5 miles, Central California (commonly known as the Sierra) – 455.8 miles and Northern California – 599.4 miles. Oregon is 455.8 miles and Washington is 504.8 miles.
How I Planned My Hike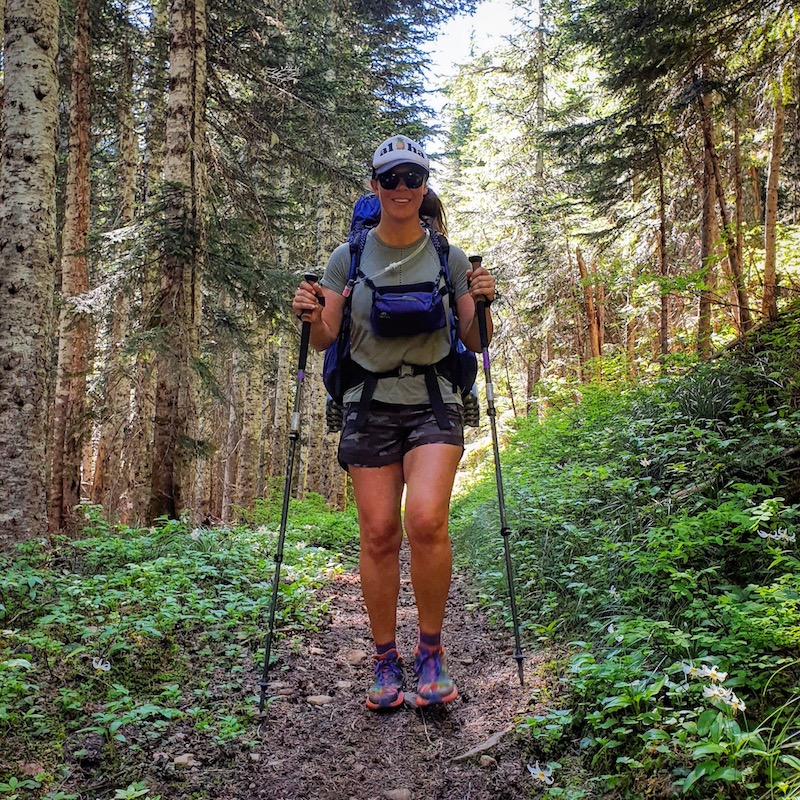 Before hiking the PCT for the first time in 2018, I had given myself a whole year to research, plan, prepare and save money for my hike. Since this was my first time ever doing a long-distance hike, I had so many questions. I started by doing some research on trail specifics by reading Yogi's Pacific Crest Trail Handbook several times.
After doing a bit of research and taking a ton of notes, I had to start making some decisions about my hike. First, I had to decide which direction to hike in – northbound (NoBo) or southbound (SoBo)? Then I had to pick a start date. Once I had a start date in mind, I could apply for a long-distance hiking permit through the PCTA. As soon as I had a permit with my start date, I could make concrete plans for my hike like organizing transportation to the terminus, creating an itinerary for my hike, deciding on alternative trips I wanted to take along the way and putting together a resupply strategy.
With the logistics figured out for my hike, it was time to think about gear. Yogi's Pacific Crest Trail Handbook gave me lots of great ideas on the type of gear I'd need for my hike along with a few specific recommendations from other hikers. Since this would be my first long-distance hike ever, I had quite a long list of gear I wanted to check out at REI and through various online outdoor retailers. I also needed to figure out what I wanted to wear while hiking, sleeping and on town days. Then I needed to start thinking about the food I wanted to eat on trail.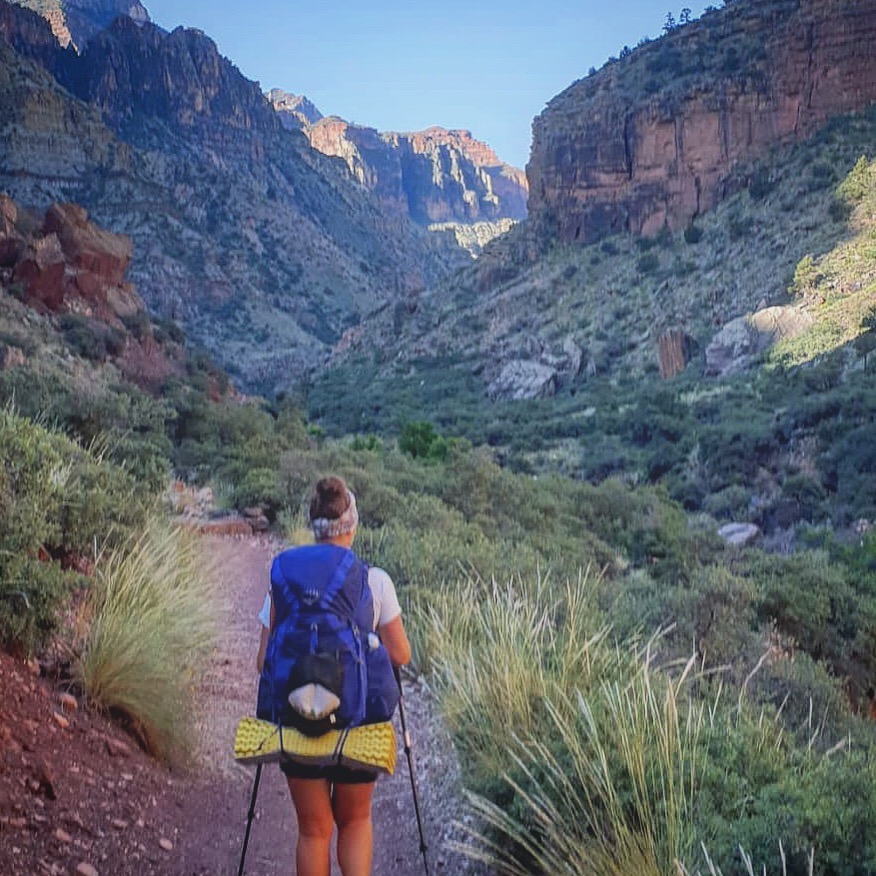 After making gear and clothing purchases, it was time to train using my new gear. I decided to maximize my time by combining my weekly training hikes with gear testing. Every training hike I'd go on, I'd wear my PCT pack and weight it down with all my gear and 3-5 liters of water. I wanted to start getting used to organizing and packing my pack, wearing my pack and feel comfortable hiking with all of the weight in my pack before getting on the PCT for real. I also wanted to make sure I knew how to set up my tent, filter my water, turn on my stove and use my microspikes correctly. Living and hiking in Washington, I'm all too familiar with the rain so I also wanted to make sure the rain jacket I had selected for my hike would be comfortable to wear and keep me dry while hiking.
During the gear testing process for my first hike in 2018, I made several trips to REI. I found a lot of gear that worked, gear that failed and gear I purchased and found I didn't need at all. Thank goodness for being an REI member and REI's generous return policy. REI helped me fit my pack correctly. It took me two inflatable sleeping pads to find the right one for me that didn't deflate. It took me two different pairs of microspikes until I found a brand and that fit my shoes correctly without getting lose and collecting a bunch of snow on the bottom. It also took me a few rain jackets until I found the perfect one that would keep me both warm and dry without feeling like I was stuffed in a garbage bag. The gear I got right on the first try included my tent, sleeping bag, sleeping bag liner, inflatable pillow, emergency beacon (thanks to the advice of my friends who volunteer for Search and Rescue), my cooking stove, my fleece, socks and water filter.
For my second hike in 2019, instead of doing gear research, I only had to make a couple of switches like changing out my pack for a lighter one, purchasing a different brand of inflatable sleeping pad, switching out my trowel for a lighter one, treating myself to a brand new water filter and using my REI dividend to get a brand new pair of trekking poles since the ultralight ones I bought the year before snapped on my first big fall in the Sierra and the poles that were gifted to me by one of my fellow trail family members were severally bent by the time I had reached the Northern Terminus at the end of my first hike.
During the entire planning process for my first thru-hike, I made it a point to read about, reach out to and meet as many previous PCT thru-hikers as I could. My PCT hiker outreach started (unintentionally) with attending a special showing of a film documentary about hiking the Appalachian Trail. At the event, I visited the Pacific Crest Trail Association (PCTA) informational table where I met Karen Wang, a local woman whom had hiked the PCT the year before. We quickly chatted about her PCT hike. I excitedly told her I was in the midst of planning mine. She then invited me to reach out her with any questions. A few weeks later, Karen announced she would be hosting an event where she's be talking about how she planned her PCT hike. I signed up immediately to attend her event. It was at Karen's event when I first started learning about trail lingo through meeting other previous PCT thru-hikers. During the event, I took several notes and left feeling more inspired than ever to keep researching as much as I could about the trail and continuing to plan my own hike.
In addition to attending PCT-specific events, I discovered a number of PCT hikers who had blogged about their hikes. I read a few of these blogs in completion, including Karen Wang's and Tandem Trekking, from beginning to end. While reading through the PCT blogs I had stumbled upon, I took a bunch of notes for my own hike. I quickly reached information overload. Each of the blogs I read gave me a lot of new things to think about. I started questioning how I had put together my own hiking itinerary, whether to set up my resupply strategy ahead of time or if I should wing it on trail and even second guessed some of the gear purchases I had already made.
From the moment I decided I was going to thru-hike to PCT in 2018, I started the most important part of my whole planning process – saving money for my hike. I started by quitting my full-time day job, went back to bartending and started teaching yoga. Working as a bartender 4-5 nights a week gave me the opportunity to make more cash in a shorter amount of time. Bartending also gave me more flexibility in my work schedule to have plenty of time during the weekdays to physically train and prepare for my hike. Teaching yoga was another fun, source of income that allowed for flexibility in my work schedule, gifted me free yoga and helped me mentally prepare for my hike.
Through all of my research, important decision making, gear purchases, practicing using gear, countless trips to REI, physically training for my hike, PCT hiker outreach, attending PCT-specific events, reading numerous blogs written by PCT thru-hikers, working my butt off and saving as much money as I could, continuing to learn how to speak thru-hiker trail lingo and being able to answer all the questions people kept asking me about planning my own PCT hike with educated, well-thought out answers, I started blogging about my own PCT hike planning process.
Gear Recommendations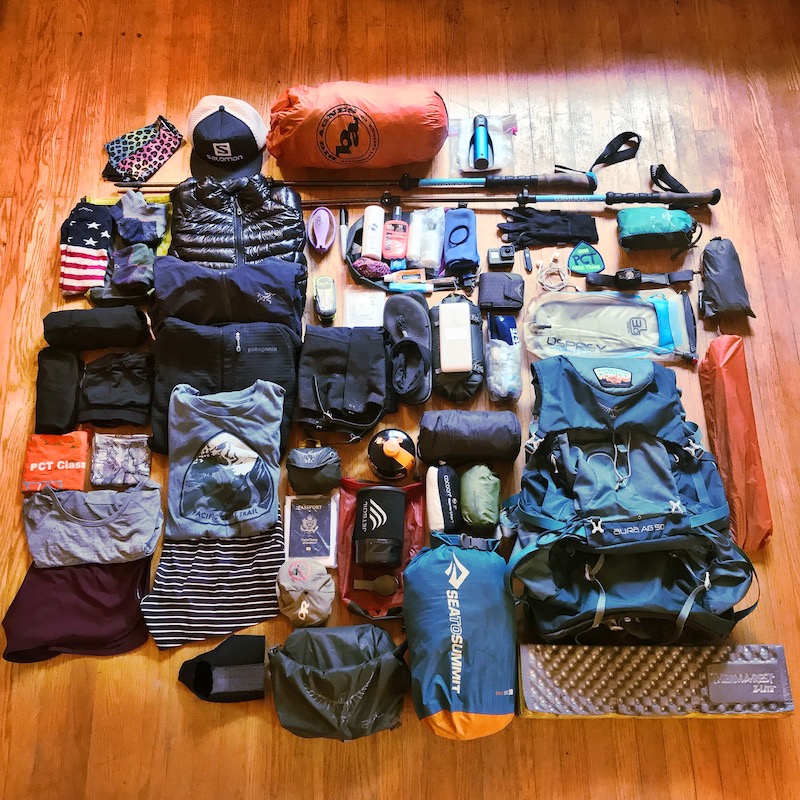 The thing about thru-hiking gear is there's usually no one right piece of gear that works for everybody. Hikers love gear and are especially passionate about the gear that works for them on trail. Keep in mind, what works for one hiker might not work for you. For example, most PCT hikers rave about the Therma-a-Rest NeoAir XLite inflatable sleeping pad. I did my entire 2018 PCT hike using this mattress, but had to have it replaced by REI three times along trail because it kept deflating on me. For my 2019 PCT hike, I traded it in for the Big Agnes Q-Core SLX inflatable sleeping pad and didn't have a single problem with it. Be sure to check out the complete list of gear I finished my 2018 PCT hike with and the gear I sent home.
Below is a list of systems I organized all of my hiking gear in along with the pieces of gear I used on both my 2018 and 2019 PCT thru-hike:
Pack
2018 and 2019 – Osprey UltraLight Pack Raincover
2018 – Osprey Aura 50 (Removed the brain)
2018 – Black Diamond Distance Carbon FLZ Trekking Poles (120-140 CM)
2019 – Osprey Eja 48 (Kept the brain and added a fanny pack to replace the missing hip belt pockets)
2019 – Black Diamond Alpine Carbon Cork Trekking Poles – One Size (With Rubber Tech Tips)
Shelter System
2018 and 2019 – Big Agnes Copper Spur HV UL 2
2018 and 2019 – Big Agnes Copper Spur HV UL 2 Footprint
Sleeping System
2018 – Therma-a-Rest NeoAir XLite Inflatable Sleeping Pad
2018 and 2019 – Sierra Designs Zissou 12 Sleeping Bag
2018 and 2019 – Cocoon Mummy Silk Liner
2018 and 2019 – Cocoon Camp Inflatable Pillow
2018 and 2019 – Sea to Summit eVAC Dry Sack 20L (To store sleeping bag, liner and pillow in)
2018 and 2019 – Therma-a-Rest Z Lite Sol Sleeping Pad
2019 – Big Agnes Q-Core SLX Inflatable Sleeping Pad
Hiking Clothes
2018 – 2 pairs of Athleta Running Free 3.5 Shorts
2018 – Athleta Speedlight Top/Athleta Foothill Tee
2018 – 1 Sports Bra
2018 – 1 Pair of Underwear
2018 – PCT-Designed Buff
2018 – Salomon Odyssey Pro Trail Runners (Went through three pairs in 1,800+ miles)
2018 – 2-3 pairs of Darn Tough Hiker ¼ Cushion Socks
2018 – 1 pair of Dirty Girl Gaiters
2018 – Liner Gloves/Outdoor Research Chroma Full Sun Gloves
2018 – PCTA Trucker Hat/Salomon Trucker Hat
2018 – Oakley Holbrook Sunglasses
2019 – 1 pair of Athleta Running Free 3.5 Shorts
2019 – Athleta Foothill Tee
2019 – 2 Athleta Run Free Sports Bras
2019 – 2 Pairs of Athleta Underwear
2019 – PCT-Designed Buff
2019 – Salomon Odyssey Triple Crown Trail Runners (Went through one pair in 700+ miles)
2019 – 3 Pairs of Darn Tough Hiker 1/4 Cushion Socks
2019 – Outdoor Research Melody Sensor Gloves (Liner Gloves)
2019 – Aloha Trucker Hat
2019 – 1 Pair of Knockaround Premium Sunglasses (Black/Smoke Premiums)
 Sleeping/Town Clothes
2018 – 1 pair of knee-high Darn Tough Socks
2018 – 1 quick drying tank top
2018 – Sanuk Yoga Sling Sandals
2019 – The Landmark Project Pacific Crest Trail Cotton T-Shirt
2019 – Lua Tees "I'd Rather Be Hiking" T-Shirt
2019 – Teva Hurricane Sandals (Used for town days, at camp and water crossings)
 Warm Layer Clothing
2018 and 2019 – Mountain Hardwear Ghost Whisperer Puffy
2018 and 2019 – Patagonia R1 Fleece Hoodie
2018 and 2019 – Arc'teryx Norvan Jacket Women's
2018 and 2019 – Outdoor Research Cascadia Gore-Tex Gaiters (Washington Only)
2018 – Non-Brand Specific Black Leggings
2019 – Athleta Salutation Stash Pocket Tight in Powervita
2019 – REI Talusphere Rain Pants
Navigation System
2018 and 2019 – Guthooks app (on my iPhone)
2018 and 2019 – ACR Electronics ResQLink 400 Personal Locator Beacon
Cooking System
2018 and 2019 – Jetboil MicroMo Cooking System
2018 and 2019 – 3L Osprey Ultralight Bag (To store my stove, spoon and lighter in)
2018 and 2019 – Stove Fuel
2018 and 2019 – TOAKS Titanium Folding Spoon SLV-07
2018 and 2019 – 20L Osprey Ultralight Dry Sack (To store my food in)
Electronics
2018 and 2019 – Black Diamond Storm Headlamp
2018 and 2019 – iPhone 7
2018 and 2019 – Anker Quick Charge Charging Adapter
2018 and 2019 – RavPower Battery Pack Charger
2018 and 2019 – Misc cords for electronics
2018 and 2019 – iPhone EarPods/Headphones
2018 and 2019 – LifeProof Nuud Case for iPhone 7
2018 – GoPro Hero 5
2019 – Canon G7X Digital Camera
Water System
2018 and 2019 – Sawyer Squeeze Filter
2018 and 2019 – Osprey 3 Liter Hydraulics Reservoir
2018 – Sawyer 64 OZ and 32 OZ Water Filter Squeeze Pouch
2019 – Sawyer Fast Fill Hydration Pack Adapter Kit
2019 – Cnoc Outdoors 2019 Vecto 2L Water Container
Misc
2018 and 2019 – Homemade First Aid Kit (Including Liberty Mountain Tick Key)
2018 and 2019 – Toiletries Bag
2018 and 2019 – Swiss Army Classic Knife
2018 and 2019 – Kahtoola Microspikes Traction System
2018 and 2019 – Outdoor Research Bug Bucket Hat
2018 and 2019 – Bear Vault BV500 Food Container (Used from KM South to North KM)
2018 and 2019 – Ziplock Bag With Important Documents (Passport, PCT Long-Distance Permit, CA Campfire Permit and Approved Entry to Canada Via the PCT)
2018 – Sea to Summit Pocket Trowel
2019 – TheTentLab The Deuce #2 UL Backcountry Trowel
When it comes to planning your PCT hike, do your research, ask questions, test gear out and be flexible when your gear needs change. If you have questions about planning your PCT hike, how I l planned both of my hikes and the gear I used, please leave me a comment below. I'm more than happy to help you plan your next thru-hike!
---
Disclaimer: The-Hungry-Hiker.com is a participant in the Amazon Affiliate Links and Skimlinks Program, affiliate advertising programs designed to provide a means for sites to earn advertising fees by advertising and linking to Amazon.com and other affiliated sites at no cost to you. Please note, I only link to products and services I personally use and trust.
---
Inspired? Pin It!