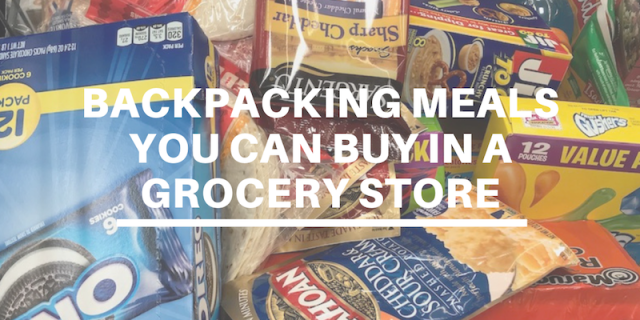 Who says you have to shop at outdoor retailers like REI for backpacking meals? When most people think of backpacking food, they often think of the fancy, tasty and expensive freeze-dried and dehydrated meals from Mountain House, Backpacker's Pantry, Good-To-Go or AlpineAire Foods. These types of meals are convenient on trail. They're relatively light, only require boiling water to cook, can be eaten out of the same bag they come in, pack in a ton of calories per serving and are quite delicious. The problem is they're expensive, ranging anywhere from $8 to $22 per bag. Since I'm not sponsored by Mountain House and I have to budget my food costs carefully on trail, I save the prepackaged freeze-dried and dehydrated meals as rare treats for when I'm hiking through a difficult section, like Northern Washington in the cold rain and snow.
Some people opt to make their own dehydrated meals. I personally didn't have the time to learn how to dehydrate food and experiment with recipes nor did I have the money to invest in buying all of the tools and ingredients I'd need to dehydrate my own meals before hiking the Pacific Crest Trail in both 2018 and 2019. Instead, I bought most of my food from whatever was available in town, whether it was a grocery store, dollar store, small general store, convenience store or gas station.
I don't have any dietary restrictions or food allergies, which makes resupplying along trail pretty easy. I am a picky eater though. I hate most bars, refuse to eat tuna and once I get sick of something, it's hard for me to eat it again for a very long time. This requires me to sometimes get creative and change up my town resupply strategy every few hundred miles or so. Looking for food options for your next backpacking adventure? Here are some of my favorite backpacking meal ideas, all of which can be found in most grocery stores.
Breakfast
Before I started hiking the PCT, I had this grand vision of cooking a warm breakfast every morning to fuel myself before getting on trail for the day. Once I got on trail, this idea lasted less than a week. The reality is, as soon as I got up in the morning, I wanted to pack up camp quickly and head out before the hot sun hit, forcing an afternoon break/siesta in the shade. This was especially true when hiking in Southern California. In the Sierra, it was outrunning the mosquitoes and biting flies. In Washington, it was trying to beat the rain. Plus, cooking usually requires water which was always a precious commodity on trail, unless we were camped at or near a water source. For breakfast, I wanted something I could eat fast and easy from the comforts of my tent, inside my sleeping bag or as I started hiking for the day.
Here are some of my favorite options for breakfast:
Each of these items could be squished at the bottom of my food bag and would still taste just as delicious from the first day out of town, up until the morning before heading into town, if they hadn't already been eaten.
Lunch/Dinner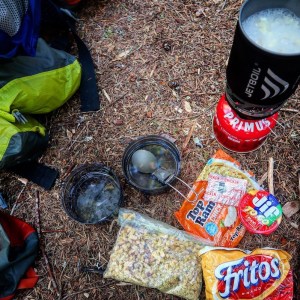 Lunch is my favorite meal of the day on trail. By the time we stopped for lunch, we had already hiked 10 miles and would take at least an hour break to eat and rest. The best lunch spots were always near a water source, especially if it was a lake or river. Having lunch near a water source made it easy to cook meals that required water. It also meant having a heartier, fuller meal. The best lunch spots also had an incredible view of the area and plenty of shade on a hot day.
Dinner is my second favorite meal on trail. By the time we stopped for dinner though, I was usually pretty exhausted from hiking all day. After setting up the tent, putting out my sleeping system, changing into my camp/sleeping clothes and giving myself a baby wipe bath, I barely had enough energy to prepare a meal. Most of the time, I'd grab for whatever snack was convenient to get to in my food bag. On the off chance I wasn't completely wiped out from the day, had access to a nearby water source and wasn't hiding in the tent from blood thirsty mosquitos and biting flies, I'd cook myself a proper dinner.
Here are some of my favorite options for lunch/dinner: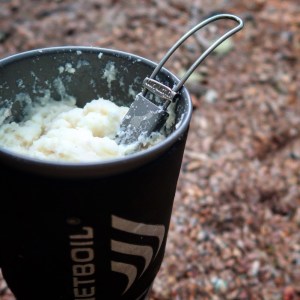 No Cooking Lunch/Dinner Options: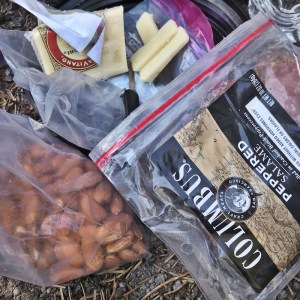 Pro Tip: Before leaving town, if there was a deli, pack out a deli sandwich before getting back on trail. Not only is this a super tasty meal option, but it means you don't have to cook the first meal back on trail.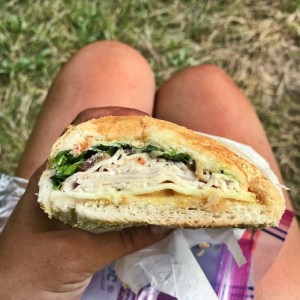 Another Pro Tip: Bagged salads are easy to pack out and eat on trail. Salad toppings and dressing are included so you don't have to buy them and carry them separately. To make bagged salads heartier, pick up a few chicken tenders from the deli and add them to the salad. Be sure to eat bagged salads within the first day or two of leaving town otherwise the lettuce will go soggy.
Snacks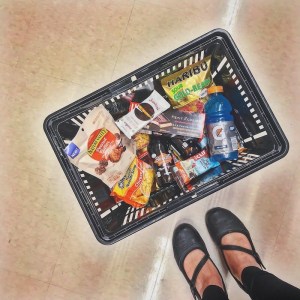 For most thru-hikers, snacks are life. When you're hiking 15-20+ miles a day, stopping to cook a meal isn't always ideal. Snacking is convenient and doesn't require any preparation other than reaching into a food bag. Snacking is easy to do even when you're hiking. I've found as a food-motivated thru-hiker, I can never have enough snacks. Often times, I'd run out of snacks long before I'd run out of meals that required cooking. When resupplying in town, always get more snacks than you think you'll need.
Here are some of my favorite options for snacks:
Pro Tip: Get rid of all the excessive packaging and portion out snacks with Ziploc bags. Not only will ditching the extra packaging free up room in your food bag and reduce the amount of trash you have to carry on trail, but the Ziploc bags can act as garbage bags once you've finished eating the snacks inside.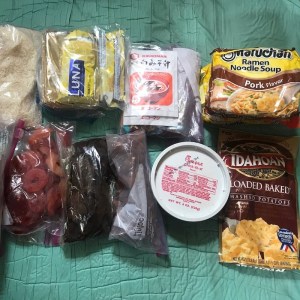 Another Pro Tip: Keep perishable and melty items like cheese, salami, chocolate and gummi bears in your food bag, deep inside your pack. I like to store these types of snacks close to my hydration reservoir, which tends to be the coolest part of my whole pack. Don't make the mistake of packing chocolate and gummi bears in the brain, on top of your pack in hopes of easy access throughout the day. Sure, you'll have easy access to the snacks, but if you're hiking in warm weather and sunshine all day, your snacks will be one melted, gooey mess by the time you're ready to eat them.
Next to gear and town days, food is something you'll probably spend a bulk of your thru-hiking budget on. Shopping for food along the PCT doesn't have to break the bank. There are plenty of budget friendly, hiking meal options available in the small towns along the Pacific Crest Trail. All of the food options listed above are cost-effective and can be found at a grocery store as well as a dollar store, small general store, convenience store and/or gas station. You can also cut food costs on trail if you: (1) shop out of Hiker Boxes first, (2) visit a dollar store before going to a grocery store, (3) plan ahead for how much food you'll really need for the next section and (4) don't shop for food on an empty stomach.
---
Disclaimer: The-Hungry-Hiker.com is a participant in the Amazon Affiliate Links and Skimlinks Program, affiliate advertising programs designed to provide a means for sites to earn advertising fees by advertising and linking to Amazon.com and other affiliated sites at no cost to you. Please note, I only link to products and services I personally use and trust.
---
Inspired? Pin It!