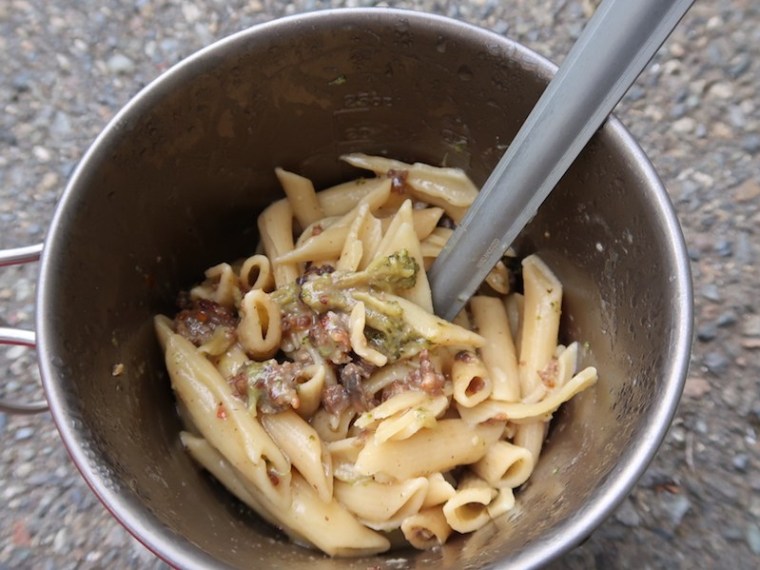 This DIY Dehydrated Pasta Penne Alfredo Backpacking Meal takes my all-time favorite pasta recipe I like to make at home and turns it into an easy, tasty backpacking meal to enjoy in the backcountry.
Tired of shelling out a bunch of money for prepackaged, expensive, store-bought backpacking food for each trip? Check out my backpacking recipes here on my blog and on my YouTube Channel, The Hungry Hiker to learn how to dehydrate your meals for your next backpacking trip for a fraction of the price while making healthier and tastier options.
Dehydrated Pasta Penne Alfredo Recipe
Ingredients
2 tbsp. olive oil
3 cloves of garlic
1 lb. hot Italian sausage
8-10 sliced mushrooms
2 1/2 cups of broccoli
15 oz. jar of Alfredo sauce
splash of milk
16 oz. package of penne rigate pasta
food dehydrator
parchment paper
Instructions (Cooking the Pasta Dish):
Add olive oil to a saucepan over medium heat.
Add minced garlic
Add sausage
Cook sausage all the way through and drain oil. Bring sausage back to saucepan over medium heat.
Add mushrooms. Cook mushrooms with the sausage.
Add broccoli. Cook broccoli with mushrooms and sausage.
Add Alfredo sauce
Add a splash of milk to the Alfredo sauce jar, swirl the milk around and add the milk to the saucepan.
Let sauce come to a boil. Simmer for 5-10 minutes.
Boil 2 quarts of water with a dash of salt. Add pasta to the boiling water.
Cook pasta for 10-12 minutes.
Remove pasta from heat and drain water in a strainer.
Add cooked pasta to Alfredo sauce in saucepan.
Mix everything together.
Prep the food dehydrator by lining each tray with parchment paper.
Measure out 2 ½ cups of pasta for each tray and spread out into a flat layer.*
Turn on dehydrator to medium (135 degrees)
Rotate trays once every hour during the dehydrating process to ensure that each tray gets dehydrated evenly.
Dehydrate for 10 hours (or until each tray is fully dehydrated)
Once dehydrated, remove each tray and allow to cool completely. Package each tray into a storage bag/container OR a vacuumed sealed bag.
Serving Size: 2.5 cups
Recipe makes 5 servings
*One Serving = One tray in the dehydrator
Instructions (Rehydrating the Pasta Dish):
Add dehydrated pasta to pot.
Add enough water to the level of the pasta inside the pot.
Let pasta sit in pot with water for 5 minutes.
After 5 minutes, uncover pot and bring water and pasta to a boil.
Stir pasta
Cover and remove pasta from heat.
Put covered pot in a stove cozy. Watch this video to see how to make your own stove cozy.
Let pot sit in stove cozy for 20 minutes.
After 20 minutes, remove pot from stove cozy, uncover and stir the rehydrated pasta.
Enjoy
Backpacking Meals DIY Recipe | Dehydrated Pasta Penne Alfredo
Learn how to make your own backpacking meals with some of my favorite recipes:
Coconut Cashew Curry With Couscous
Dehydrated Backcountry Spaghetti
Sweet & Spicy Homemade Trail Mix
Holy Molé Breakfast Bars
---
Inspired? Pin It!