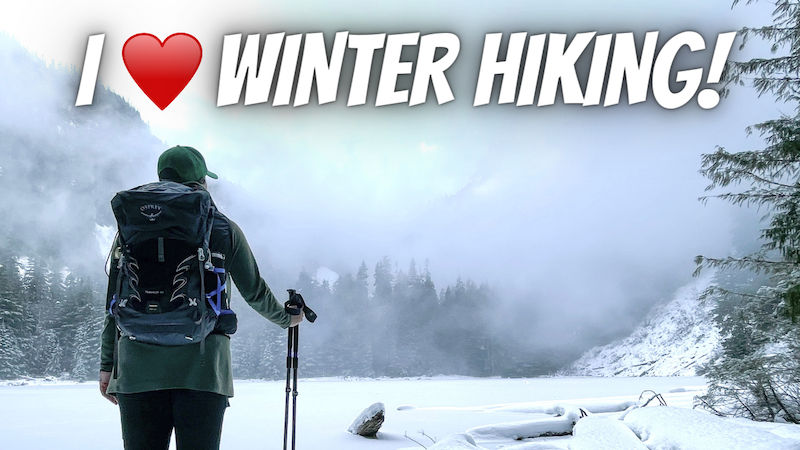 Why I love winter hiking. Oh, let me count the ways!!
Honestly, I've always said that snow travel and winter is my weakest link when it comes to hiking.
Over the years of living up here in the Pacific Northwest, pretty much as soon as the snow starts to fall in October or November, I usually stop hiking until the snow starts melting in the spring, which is around April or May.
Winter has always been hard for me here in the Pacific Northwest. It's cold and wet. It's dark. Driving in the snow can be dicey. Everything just seems harder and takes longer during the winter.
This winter though has been different.
At the end of last year, I decided that I wasn't going to stay inside and sulk all winter long. Instead of waiting for the warmer weather to arrive, I was going to push myself to get outside and enjoy the winter. The cold, the rain, the slush, the ice, the snow. All of it.
I'm also training for an upcoming thru-hike later this year and didn't want to wait until the snow melted before getting out on trail to start physically preparing for my long hike.
Since the beginning of December, I've been out for over 10+ hikes and even went on a winter camping trip where I slept on the snow. More about the winter camping trip later.
Most of my winter hikes have been with students in my online backpacking program for women, The Confident Solo Female Backpacker System.
If you follow me on Instagram, you've probably seen that all winter long, we've all been out hiking together:
In the mud
In the rain
And in the snow
We've been treated to a bit of sunshine here and there on our hikes, but not much.
It's been a lot of fun not only finally getting out of my own way with getting to the trailhead this winter for hikes each week, but it's also been really fun introducing a lot of my students to winter hiking for the first time.
Being part of The Confident Solo Female Backpacker System, my students have been able to start building up their own confidence and are getting hooked on winter hiking.
Even though I've struggled over the years when it comes to getting out of my own way with winter hiking, I'm finally learning this year that there are so many reasons to love winter hiking.
Reasons like…
Snow
 I know I said snow, or at least travelling over snow, has been my weakest link when it comes to hiking, but I'm discovering that snow can be pretty awesome. Not only is snow pretty, I mean everything is prettier when it's covered in snow, but snow also acts as a natural cushion. It's easier on the body than hard compact dirt and rocks.
A New Perspective
Hiking in the winter gives me a whole new perspective on the trails I hike during the warmer months. The same trail I hike on during the spring and summer looks so much different in the winter when it's covered in snow.
Training
Winter hiking is a great way to train for the warm weather backpacking season. Hiking in the rain, mud, slush and snow is a full body physical and mental workout.
Extends The Hiking Season
Winter hiking also extends the hiking season making it so that I don't have to stop hiking. I can continue to hike all year-round, which is super important when it comes to preparing for my upcoming thru-hike this year.
Less Crowds
There aren't as many people out on trail in the winter. Trails are much less crowded during the colder months. Hiking in the winter often times means I get to enjoy what normally would be a really busy trail, all to myself. Being out on less crowded trails during the winter is a great way to help build up confidence for solo backpacking trips.
Winter hiking also means I don't have to get to the trailhead super early in order to snag a parking spot.
It's Quiet
Not only are there less crowds during the winter, but the trail itself is much more quiet. Especially when everything is covered in snow. Winter hiking is my jam when I'm looking for peace and quiet out on trail.
No Bugs
Winter hiking means no bugs. No bug net. No bug spray. No bug bites.
Traction Devices are FUN
Winter hiking requires more and different gear than I need when hiking during the warmer months. When there's snow and ice out on trail, I love wearing traction devices like a pair of snowshoes or microspikes because they help me feel so much more safe, confident and in control when traveling over dicey trail conditions.
Trekking poles are always handy to have. I love how they give me an extra point of contact with the ground when travelling over mud, slush, snow or ice. Rain gear like a rain jacket, Gore-Tex rain pants and pair of Gore-Tex gaiters can help me stay warm and dry when it's raining and snowing out.
Winter hiking always reminds me why it's important to wear the appropriate layers like a base layer, mid layer and outer layer to help me stay warm and dry throughout my hike. Wearing proper footwear and socks and having a big enough pack to keep all of my extra winter hiking gear in are also important too.
If you want to learn more about what to wear, gear you should bring and get winter hiking tips, be sure to check out my blog post, Winter Hiking | What Hiking Gear To Bring and What To Wear.
Winter hiking requires more planning and preparing than warmer weather hikes. To give you an idea of all the planning and preparation it takes to put together a safe winter hike, check out my blog post, How To Stay Safe When Hiking in the Winter.
I think most importantly, the biggest reason why I love winter hiking is that it's a HUGE confidence booster. Not only does it feel really good to finally face this fear of mine, but it also feels really good to help inspire other women to try winter hiking so that they can also build up their confidence to get out on trail and extend their hiking season too. There's so much power in that.
I know that winter hiking might not be for everyone and that's okay. I'm not here, trying to convince you on why you need to give winter hiking a try.
What if you're someone who's been wanting to try winter hiking?
Maybe after reading this, you're realizing for the first time that it's actually possible to continue hiking during the winter?
You might be wondering where you could go, what you should wear, what gear you should bring?
Or maybe you just don't feel comfortable getting out on trail during the winter, but you're now getting inspired to want to give it a try?
I've asked myself all of these questions over and over again for years. So believe me when I say, I've been there too.
This is why I created the online backpacking program for women, The Confident Solo Female Backpacker System.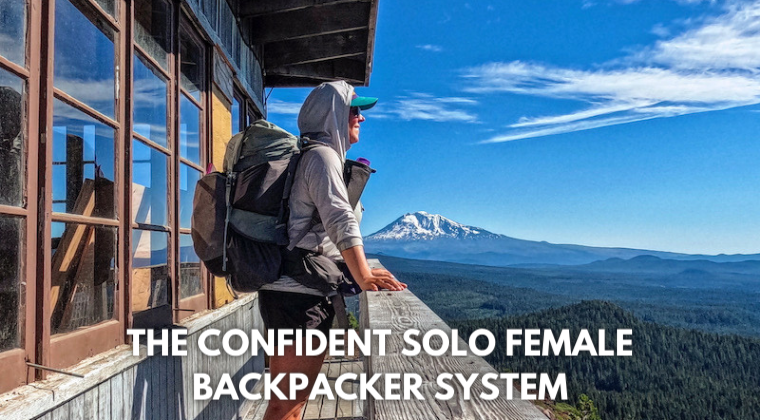 The Confident Solo Female Backpacker System is a comprehensive, self-paced, online hiking and backpacking program for women, designed to help you go from feeling scared and intimidated about being out on trail by yourself to feeling comfortable with planning your own backcountry adventures.
Whether you're a beginner or well-seasoned female hiker or backpacker, this program will walk you through, step-by-step, everything you need to know in order to plan, prepare and build up your confidence to comfortably go out for either your first or next solo hiking or backpacking trip.
Is spending more time out on trail this year important to you?
Need help getting out of your own way?
Ready to start building up your confidence this year so you feel comfortable getting out on trail by yourself for future hiking and backpacking trips?
If so, CLICK HERE to schedule a one-on-one Zoom call with me where we'll talk about your hiking and backpacking goals. If you're a good fit for the program, you'll have the opportunity to enroll into The Confident Solo Female Backpacker System during our call.
CLICK HERE to learn more about The Confident Solo Female Backpacker System
---
DISCLAIMER: This post and video contain affiliate links, which means that if you click on one of the product links, I'll receive a small commission at no extra cost to you. This helps support my blog, The Hungry Hiker and allows me to continue to create content for you free of charge. Thank you for your support!
---
Inspired? Pin It!