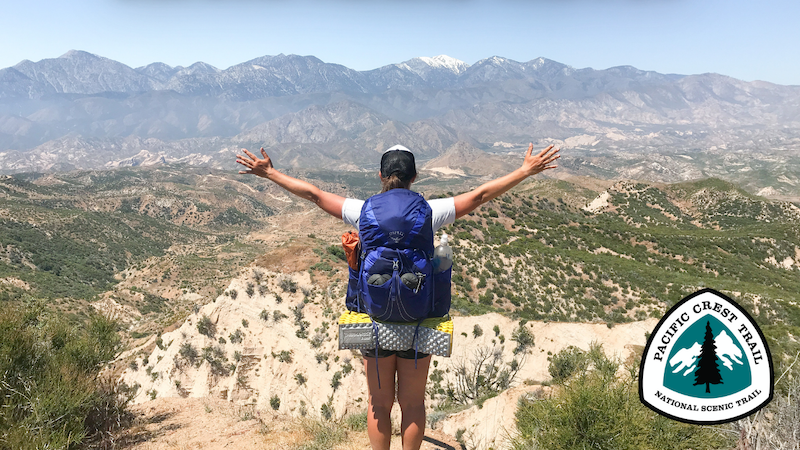 Remember a few months back when I announced that I would be thru-hiking the Pacific Crest Trail again this year? Well, it's almost time for me to get out on trail and hopefully head towards Mexico!
This year is the five-year anniversary of my first thru-hike on the PCT. To help celebrate the anniversary of my first thru-hike, I'm getting back on trail again for another thru-hike only this time heading southbound. That's right. I'm going to be a Dirty SoBo!
Over the last four years, I've section hiked all of Washington along the PCT:
2020 – I hiked Section L, 124 miles solo, from Rainy Pass to the Northern Terminus and back.
2021 – I hiked Section K, 126 miles solo, from Stevens Pass to Rainy Pass.
2021 – I hiked Section J for the third time, 74 miles from Snoqualmie Pass to Stevens Pass with a couple friends of mine.
2022 – I finished the rest of the Washington section of the PCT with a 250-mile, solo section hike from Snoqualmie Pass all the way down to the Washington/Oregon border, ending my hike at the Bridge of the Gods in Cascade Locks, Oregon.
This year for my PCT thru-hike, I'll be starting from the Washington/Oregon border and heading south, hopefully making it all the way down to the Southern Terminus in Campo, California at the Mexican border.
That's my hope anyways, but sometimes the trail has other outcomes in mind like a 200% snow pack in the Sierra this year, wildfires, various closures, and potential reroutes. So we'll see how far I get and how much of the trail I actually get to hike this year.
As I get ready to head back out on the PCT again, I wanted to share with you 10 things I wish I knew before my first thru-hike on the Pacific Crest Trail. I learned a ton of lessons on that thru-hike back in 2018 so I wanted to share with you some of the things I plan on doing differently this year for my hike.
#1: I Actually Really Like Hiking Solo
When I thru-hiked the PCT in 2018 for the first time, I thought the thing that would scare me the most would be having to sleep outside by myself. I had met my trail family on Day 1 of my hike and ended up hiking the first 700 miles northbound with them, until they all decided to leave the trail from Lone Pine, California for various reasons.
Hiking out on trail by myself was scary, especially with having to do it for the first time in the Sierra after everyone in my trail family went home. By the time I reached Northern California, I grew to love hiking solo and would purposely seek out tentsites away from other hikers just so I could have more solitude.
Over the last five years, I've done a fair amount of solo long-distance backpacking trips. I really enjoy being able to plan the hike I want to hike, camp where I want, stop when I want and not have to depend on anyone else but myself.
Hiking the PCT southbound is going to be quite the solitary experience. Over 90% of thru-hikers hike the PCT northbound, making a SoBo PCT hike the ultimate solo hiking experience. I used to think I could never be capable enough to hike the PCT southbound. Going SoBo could be too hard and too lonely. Now, I'm actually looking forward to it.
Hiking the PCT southbound means I get to see the trail in a completely different direction. It also means I get to start later in the season and finish later in the season than all of the northbound hikers. Being out on trail for my solo hiking trips is where the real growing happens. I get to know more about myself, what I'm truly capable of, get a chance to face my fears head on and I'm forced to be self-reliant. Solo hiking also gives me an incredible boost in self-confidence, which I can easily take with me into my off-trail life.
#2: All of The Gear Changes
As you can imagine, I've made quite a few gear changes over the last five years since I first thru-hiked the PCT.
My 2023 PCT SoBo Thru-Hike Gear List
My goal has never been to be ultralight, but I have made a point to reduce my base weight by using less gear and switching out for lighter gear options. Here are all of the gear changes I've made for my thru-hike this year:
I switched to a lighter pack.
I'll be using a 1-person tent as opposed to a 2-person tent, which is heavier and has more room to heat up on the really cold nights.
I switched from using a sleeping bag to a quilt because my quilt is lighter, warmer and more comfortable to sleep in than my old sleeping bag. And since I found out the hard way that I'm a cold sleeper, I now have a much warmer sleeping pad with an R-value of over 6.8.
I've switched out my backcountry stove for something slightly lighter and smaller.
For my Water Filtration System, I've switched from using a hydration reservoir to collapsible bottles. Not only is this system much lighter, but I can always see how much water I have with me and can easily filter water into my bottles without having to take everything out of my pack.
took a Wilderness First Aid course a couple years ago and have since built my own backcountry first aid kit, which is a bit heavier than my original kit. At least I now know everything that's in my kit and know how to use everything in there.
I got a new camera and I got a lighter battery pack/portable charger to use in town when charging all of my electronics.
I don't carry nearly as many clothes as I used to. I no longer bring a town outfit or a pair of camp shoes.
I also have more navigation resources to use while I'm out on trail. When I thru-hiked the PCT in 2018, the FarOut Guides app was known as GutHook and was introduced to me within the first week of me being out on trail by other hikers.
Get 20% off your purchase of onX Backcountry OR start a free 14 day trial of onX Backcountry Elite by using promo code "HungryHiker" and CLICKING THIS LINK.
#3: The One Piece of Gear I Wish I Had Gotten Sooner
The one piece of gear I wish I would've gotten sooner was a satellite messenger. I used a PLB or a Personal Locator Beacon for my first thru-hike in 2018, but with a PLB, I had no way to communicate with anyone off trail when I was out of cell and WIFI service. When I was running a day behind in the Sierra back in 2018, I had no way to communicate with my mom at home to let her know that I was okay and just running late.
With a satellite messenger, I not only have two-way messaging with first responders, in the event of an emergency, but I can also send and receive messages from friends and family at home while I'm out of cell and Wi-Fi service range.
I also have the ability to track myself, have friends and family at home follow me along my hike, get the current weather forecast for the area I'm in and use the device as a navigation tool by downloading maps and creating routes for the area I'm hiking in.
Yes these devices are expensive and require a paid subscription in order for them to be useful, but the cost is worth having peace of mind for both myself along with friends and family whenever I'm out on trail.
#4:  Don't Over Plan My Hike
For my thru-hike in 2018, I spent countless hours trying to plan every aspect of my hike. I figured the more I planned, the less there would to be afraid of.
Turns out all of the countless hours I put into planning my thru-hike went out the window within the first week of being out on trail.
For this year's thru-hike, I did some research on current trail conditions, trail closures and had in mind where I'd want to go into town and where I might want to send myself a resupply box, but that was it. I wanted to leave some wiggle room for my hike to happen out on trail. Some of my most favorite memories of thru-hiking the PCT in 2018 were experiences I could never have planned; they just happened. When you over plan your hike, you risk robbing yourself of the true, magical thru-hiking experience.
#5:  Be Flexible and Go With The Flow
Being flexible and going with the flow was one of the first lessons I learned when thru-hiking the PCT back in 2018. This includes letting go of the need to complete a continuous footpath all the way to either Canada or Mexico. Once I was able to let the plan go out the window, I was able to give myself permission to really experience and enjoy my thru-hike.
Every year, there's the possibility of coming across a section of trail that's closed due to protecting an endangered species, wildfire, trail washouts, bridge outages or snow. In 2018, we had to deal with quite a few trail closures due to wildfire. Who knows what will happen along my hike this year in 2023. So instead of letting missed miles ruin my hike, I'm ready to accept my hike for what it is and be happy to hike whatever the trail will allow me to hike this year until I reach Mexico.
#6:  My Resupply Strategy
In 2018, I made the mistake of preparing and sending myself multiple resupply boxes out on trail before I started hiking. There were two problems with this decision.
One, it's hard to know what food you're going to crave 100 miles into your hike before you start hiking. I ended up getting sick of all the food I had sent to myself out on trail, costing me a lot of time and money.
And two, in Southern California, there were plenty of places along the trail where I was able to resupply as I went into each of these towns, eliminating the need for resupply boxes.
This year for my resupply strategy, I'm going to do a combination of resupplying in town as I go AND using the Backcountry Foodie's Resupply Coordination Service. Instead of preparing boxes ahead of time and sending them to myself out on trail, all I have to do is place an order with Backcountry Foodie each week letting her know what I want in my box and she then puts together and sends me a fully customizable box with whatever food, supplies and gear I might need.
With Backcountry Foodie's Resupply Coordination Service, there's no need to have to deal with managing a Bounce Box full of gear and supplies I may or may not need along the trail. In 2018, my Bounce Box ended up getting lost, so I had to re-buy all of those items in town eventually along my hike.
I can save money on shipping costs because I get to utilize Backcountry Foodie's commercial shipping pricing.
Backcountry Foodie's Resupply Coordination service is a pay-as-you-go service, which allows me to use the service as much or as little as I need.
In addition to having the Backcountry Foodie be my personal shopper, chef, resupply support person and dietician, I also get to look forward to having homemade Backcountry Foodie meals in my boxes. I can also send her any of my gear I might need further down the trail along with any dehydrated and freeze-dried meals I make myself at home and then she will store these items for me and send them to me out on trail whenever and wherever I request them.
Interested in using Backcountry Foodie to help you put together a backpacking meal plan for your next trip? Click HERE and use coupon code "HUNGRYHIKER20" to get 20% off your membership.
Using this service, I'll be able to plan my hike, town by town each week, based on whatever food cravings I might be having. Even if the town I decide to stop in is small with limited resupply options, I can use Backcountry Foodie's Resupply Coordination service to send any of my favorite foods directly to me out on trail.
I'm super excited to use the Backcountry Foodie's Resupply Coordination service as my resupply strategy this year. I'll be sure to report back to you on how my experience goes.
#7:  What Food I Eat
As fun as it might sound, thru-hiking is not a good excuse to eat like a trash panda and consume a bunch of garbage when out on trail. For my hike this year, I want to make a point to eat better calories and more protein instead of only consuming empty calories in the form of sugar and junk. Something else I've been doing differently since my thru-hike in 2018 has been dehydrating and now freeze-drying my own food here at home. I've been taking my favorite home cooked meals and even meals I enjoy eating at local restaurants and putting the leftovers in either the food dehydrator or freeze dryer so that I can enjoy those same meals out on trail.
For someone like me who gets food fatigue really easy, this has been a real game changer for my backpacking meal plans over the last few years.
#8:  How Much Food I Pack
Something I discovered back in 2018 along with all of my other long-distance backpacking trips since is that I'm never as hungry as I think I'll be whenever I start out a big hike. In 2018, I always overpacked food anytime I stopped in town because one of my biggest fears was running out of food and being hungry. The thing was I never ran out of food and ended up giving away food in the next town.
For my thru-hike this year, I plan on being more intentional with the amount of food I pack between resupply stops and when I don't feel like eating, I'll plan on drinking my calories instead.
One meal that I always struggle with when out on trail is breakfast. In the mornings out on trail, I just want to get moving instead of sitting in camp to prepare a meal and then eating it. For me, I've found that in the mornings and before my hiker hunger has hit, it's easier to drink calories instead of eating them. This is especially important when I'm hiking at higher elevations because I tend to lose my appetite completely.
#9:  Smiles, Not Miles
With thru-hiking a long distance trail like the Pacific Crest Trail, it's hard to not get caught up in the daily mileage each day you're out there. Sometimes it feels like a constant race against time and the weather, with trying to complete the hike before the first snow hits.
Of course, my ultimate goal is to hike all the way along the PCT until I reach the Southern Terminus in Campo, California, but I also want to enjoy myself along the way. I want to open myself up to fun adventures that come my way and meet up with friends and family who might want to come see me while I'm out there hiking.
I do have a couple personal goals I'd like to achieve while I'm out there this year. One of them being getting up earlier in the morning each day instead of sleeping in and always being the last person out of camp. I'd also like to challenge myself by completing a 10 by 10, which is to hike 10 miles by 10AM in any given day. I think I might also want to try and hike a 30-mile day, but only if my body is feeling up for it. Personal goals aside, my priority out on trail this year is to have fun and enjoy the experience while I'm out there.
#10:  Physically Training For My Thru-Hike
To help physically prepare for my PCT thru-hike in 2018, I would go on multiple day hikes each week and do a lot of yoga. This year, my physical training is much more different for my upcoming thru-hike.
A lot of people say that the only way to train for a thru-hike is to thru-hike. Some of that is true. I also believe that strength training, stretching and cardio not only helps you get physically in shape for a thru-hike, but can also help prevent injury.
Over the last couple of years, I've been working with a personal trainer to help me with conditions, stretching and strength training. I honestly feel the strongest I've ever felt before a big section or thru-hike.
Some other aspects of my training include going on several overnight backpacking trips so far this year with students in my online backpacking program for women, The Confident Solo Female Backpacker System where I get a chance to practice packing/unpacking my pack, setting up/breaking down camp, testing out new gear, wearing new shoes, trying out new backpacking meal recipes and overall, just getting myself both mentally and physically better prepared for my upcoming thru-hike.
Since my first PCT thru-hike in 2018, I have many more miles under my feet with a loaded pack, helping my body be more well trained for thru hiking.
So those are the 10 things I wish I knew before my first thru-hike on the Pacific Crest Trail. Did any of these lessons or changes I'm making to my thru-hike this year resonate with you? If so, let me know in the comments below.
---
Disclaimer: The-Hungry-Hiker.com is a participant in the Amazon Affiliate Links and AvantlInks Program, affiliate advertising programs designed to provide a means for sites to earn advertising fees by advertising and linking to Amazon.com and other affiliated sites at no cost to you. Please note, I only link to products and services I personally use and trust.
---