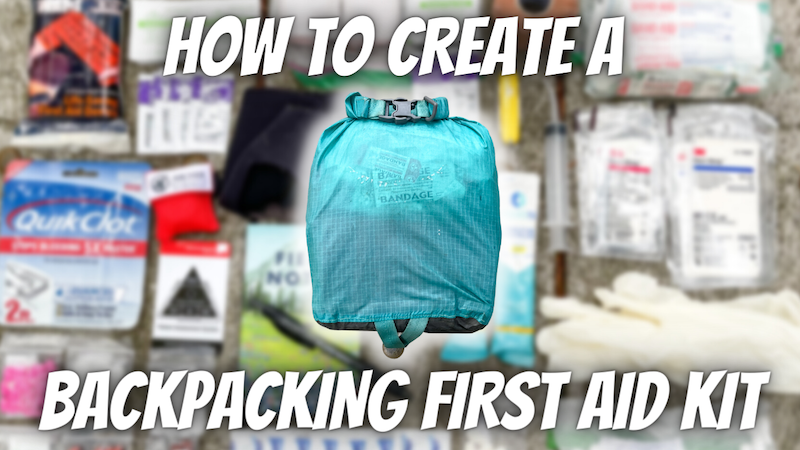 Have you ever gone on a day hike or overnight backpacking trip and NOT had a first aid kit?
Having a Backpacking First Aid Kit in your pack, whether you're just out for the day or spending multiple nights out on trail, is NOT something to skip or overlook.
Don't have a Backpacking First Aid Kit? Have no idea what to put in a Backpacking First Aid Kit? I'm going to share with you how to create a Backpacking First Aid Kit you can use on your next day hike or overnight backpacking trip.
Having a Backpacking First Aid Kit, just like always having the 10 Essentials with you whenever you're out in the backcountry, is a NECESSITY. It's like insurance – you might not need it every time you go hiking or backpacking, but if you find yourself in a situation where you actually need it, you'll be REALLY happy you have it with you.
A Backpacking First Aid Kit is hopefully the one gear system you carry that you'll never need to use.
So why carry a Backpacking First Aid Kit?
Having a Backpacking First Aid Kit helps you be better prepared to be self-reliant in the event you get sick, injured or find yourself in an emergency situation out on trail.
A Backpacking First Aid Kit can give you a better chance of being able to rescue yourself. Depending on where you're at, how far out on the trail you are and current weather conditions, if something happens where you need medical assistance or need to be rescued, it can sometimes take First Responders a few hours or even a day or two before they're able to reach you. EVEN if you have a satellite communicator with two-way messaging.
Having a Backpacking First Aid Kit can help you treat a range of trail injuries and illnesses until you're able to get back to the trailhead and off trail.
A Backpacking First Aid Kit can also be used in non-emergency situations and treat common trail injuries and illnesses like blisters, pain relief, an upset stomach or a sprained ankle.
My recommendation when packing for any hiking or backpacking trip? Always prepare for the worst-case scenario.
I want to make it very clear that I am NOT a licensed medical professional. I am an avid day hiker and backpacker who has hiked 100s and maybe even a few 1,000 miles out in the backcountry.
If you plan on traveling in the backcountry, whether it's for a day hike or an overnight backpacking trip by yourself or with a group, I HIGHLY recommend getting some sort of first aid training before going out for your next trip.
Start by taking a First Aid class online or in-person.
And if you're really serious about your First Aid training, consider getting either a Wilderness First Aid or a Wilderness First Aid Responder certification. I'm currently Wilderness First Aid Certified because it's that important to me that I know what to do in an emergency situation when out on trail. Having this type of experience and knowledge can possibly help save your life or someone else's.
When I first started backpacking, I started with a big, bulky and heavy pre-made first aid kit. At the time, I had the "bigger means better" mentality when it came to my Backpacking First Aid Kit. The problem was that the kit was WAY too big for what I needed it for AND I didn't know how to use half the stuff that was in there.
It wasn't until I was taking a backpacking class at a local REI where the instructor took one look at my oversized First Aid Kit and asked me, "What are you, Search and Rescue"?
After that class, I downsized my Backpacking First Aid Kit by creating my own, based on what I thought I might for the types of trips I was going on.
Click here to see what my Backpacking First Aid Kit looked like in 2019 when I was thru-hiking the Pacific Crest Trail.
We're all going to have different trip objectives and needs when out on trail. What works for me might not work for you. Figure out what you'll need based on who you're going with and the types of trips you plan on going on.
Here are some things I take into consideration when building my Backpacking First Aid Kit:
My trip objective and any activities I plan on doing along the way
The length of my trip
How many people I'll be out on trail with, like if I'm going out solo or with a group
Where I'm going and the type of terrain I'll be hiking in
Any potential environmental concerns I might have to deal with like extreme weather or high elevation
any anticipated illnesses and possible risks I might encounter along the way
Weight and space limitations
AND how I want to keep my kit organized
I recommend making your own Backpacking First Aid Kit, based on your specific needs and tailored for the types of trips you plan on going on. This way, you will know exactly what's in your kit and will know how to use everything in your kit.
All of the items currently in my Backpacking First Aid Kit:
A blister repair kit including Leukotape tape, a safety pin, moleskin, extra alcohol wipes and extra antibiotic ointment.
Bandages in various sizes including Steri-Strips to help close up wounds and Skin-Tac Adhesive Barrier Wipes to act as an adhesive for the Steri-Strips.
A syringe with a curved tip. This can be used with water to help clean out an open would before applying the antibiotic ointment and then closing it up.
A Classic Swiss Army Knife. This is my favorite multi-tool because it's small, light and has many uses including a small knife and nail file. My most favorite and probably most used feature are the scissors. These come in handy out on trail ALL THE TIME. There's also a small pair of tweezers you can use to remove splinters and ticks AND there's even a small toothpick if you need to get something out of your teeth.
Over the counter medications, like:

Aspirin, an anti-inflammatory that can be used to reduce fevers and relive pain from headaches, muscle aches or any other types of body aches. Aspirin can also be used to prevent blood clots and when experiencing chest pain, help reduce the risk of a heart attack
Ibuprofen to help reduce pain
Tylenol, a non-aspirin pain reliever
Urinary pain relief, in case you're the lucky recipient of a urinary tract infection when in the backcountry
Imodium to help relieve diarrhea
An antihistamine like Benadryl that can be used for allergies or to help treat an allergic reaction
I also have a couple leftover prescriptions like Diamox, to use in case of altitude sickness or as a way to prevent symptoms of altitude sickness
A prescription to help treat a Giardia infection

A couple extra electrolytes. I personally like to use Liquid IV
Water purification tablets, which are my back-up water filtration system for every trip I go on
A pair of latex gloves
An Ace bandage to use in the event you need support and compression for any twists, sprains, strains or other minor joint injuries
An ankle brace to help stabilize your ankle if you roll or sprain it. This is one thing I never knew I needed until I kept experiencing ankle issues during a long-distance backpacking trip
SWAT-T which is a easy to use and effective stretch and tuck tourniquet that can be used to help control extremity bleeding
Quick Clot to help stop bleeding
A pen and small notebook to take notes on along with my Patient Assessment Card I received with my WFA training
A stuff sack to store my Backpacking First Aid Kit in
SIDE NOTE: For any medications you decide to include in your Backcountry First Aid Kit, make sure ALL of your medications are individually wrapped, dated, labeled and include a description of its intended usage. You don't want to guess when you're out in the backcountry when in an emergency situation without cell or WiFi service.
It's always a good idea to go through your Backpacking First Aid Kit once a year, like either at the beginning or the end of the backpacking season just to make sure none of the medications in your kit have expired. If they have, get rid of them and replace them with new ones.
How Much Does It Weigh?
The base weight for my entire Backpacking First Aid Kit comes in over a pound at 24.6 ounces. Not the lightest system I carry in my pack BUT having these items in my Backpacking First Aid Kit helps me feel safe and confident, whether it's me who gets sick or injured out on the trail or I come across another hiker who might need help.
Tips For Maintaining Your Backpacking First Aid Kit
Not only is it important to have a backcountry first aid kit and bring it with you on your hiking and backpacking trips, but it's also equally important to know how to use all of the items in your kit.
Also, don't forget to restock your Backpacking First Aid Kit after each trip you go on. Get in the habit of restocking your kit whenever you're putting your gear away from your trip. If you use something in your kit, make sure to restock it so that you have everything you need and you're ready to go for your next trip.
Recommendations For First Aid Training
If you're interested in signing up for a Wilderness First Aid class, I highly recommend checking out NOLS Wilderness First Aid, the American Red Cross Wilderness First Aid Training courses, The Mountaineers First Aid courses and even your local REI for wilderness medicine classes and events either online or in-person near you. Click any of the links for more information on how you can find a First Aid class near you.
I hope this has been helpful and inspiring for any of you who have been wanting to put together your own Backpacking First Aid Kit or have been wanting to update the kit that you've been using for hiking and backpacking.
Tell me in the comments below, What's the ONE thing in your Backpacking First Aid Kit that you would NEVER hike without?
If you're planning on packing for an overnight backpacking trip in the near future, I've put together a FREE Backpacking Gear Packing List that is designed to help you get organized when planning your next trip. CLICK HERE to get your FREE packing list.
---
Disclaimer: The-Hungry-Hiker.com is a participant in the Amazon Affiliate Links and AvantlInks Program, affiliate advertising programs designed to provide a means for sites to earn advertising fees by advertising and linking to Amazon.com and other affiliated sites at no cost to you. Please note, I only link to products and services I personally use and trust.
---