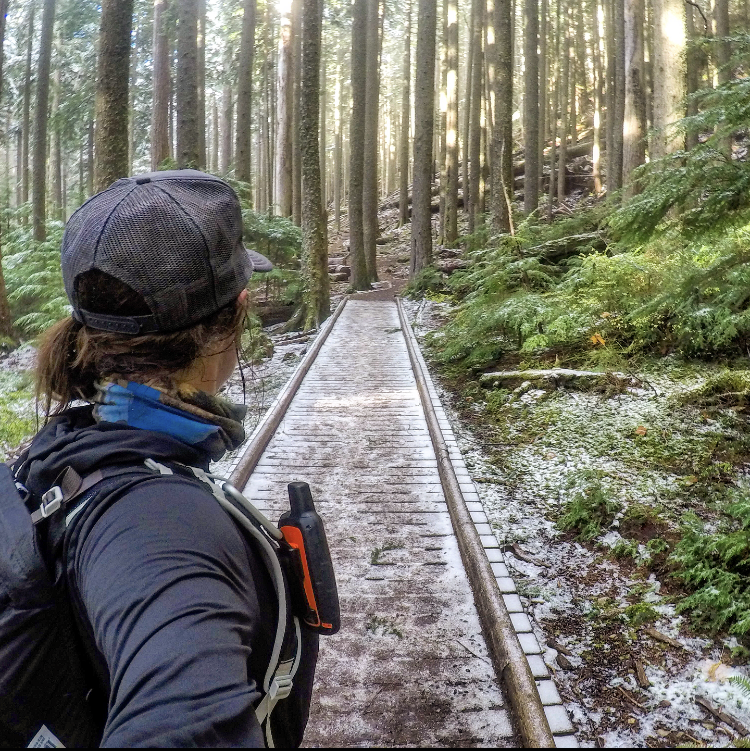 Do you have a thru-hiker, day hiker, backpacker or outdoor enthusiast on your holiday shopping list this year and have no idea what to get them? For the first time ever, I'm putting together a Holiday Gift Guide that features 60 Best Gifts for Hikers, Backpackers and Outdoor Enthusiasts. This list includes links to some of my favorite outdoor gear I use and love along with pieces of gear I want to add to my own gear collection. I've also included some of the gear from a few of my gear lists from a couple of trips I went on this year. Each section is broken down by price range, starting with 20 Gifts and Stocking Stuffers Under $20 to Gifts Under $25, 10 Gifts Under $50, 10 Gifts Under $100, Gifts Under $200 and 5 Gifts Over $200.
Be the one who gives the cool gifts people really want. Give the gift of adventure this holiday season to the hiker, backpacker or outdoor enthusiast in your life.
---
20 Gifts and Stocking Stuffers Under $20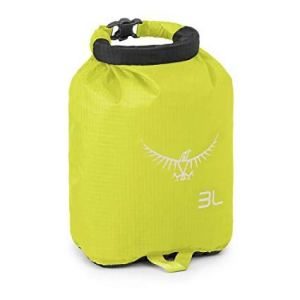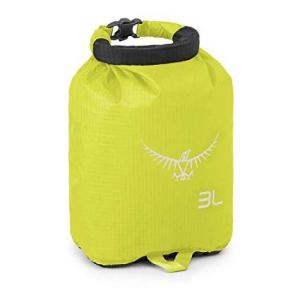 Osprey Packs Ultralight Dry Sack 3 Liter, $13
These ultralight stuff sacks are a perfect way to organize all of the loose contents in a pack. I use one for my first-aid kit, one for my repair/tool/toiletry bag, one for my cooking system and one for extra clothes in so they stay clean and dry.
Shelter is one of the ten essentials EVERY hiker and backpacker should carry with them in their pack at all times. This emergency bivy is lightweight and can also act as an emergency shelter in a pinch. It can also be used as a space blanket to cover up and stay warm with should you get caught out in a cold, wet storm. These are small, lightweight and easy to store in any pack for any adventure.
Like socks, this is one piece of gear hikers and backpackers can't have enough of. I love how multi-functional neck gaiters are. I use a neck gaiter in multiple ways including: as a headband to keep my hair off of my face, as an extra layer of warmth around my neck in cold weather, to wear over the back of my hat in super windy conditions to keep my hat from blowing away. I've also used a neck gaiter as snow protection to cover my face when crossing over snowfields on sunny days, as a snot rag when wrapped around the wrist and as a face covering when on trail during COVID.
I loved this spoon up until I lost somewhere along the Pacific Crest Trail while hiking Section L this summer. The long handle makes it really convenient to eat from any pot or container and it's super lightweight. Be careful. It's also the same color as most rocks, which is how I think I accidentally left mine behind somewhere on trail after stopping for lunch.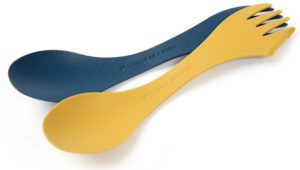 Light My Fire Spork (Pk of2), $7
Thankfully less than 24 hours after losing my beloved Sea to Summit Long Spoon on trail, a fellow hiker gift me one of their extra sporks on trail so I didn't have to continue using one of my tent stakes to eat my meals. These sporks are GREAT – one side is a spoon, one side is a fork and the edge of the fork can also be used as a cutting utensil. I like how bright these sporks are – making this really hard to leave behind on trail after eating.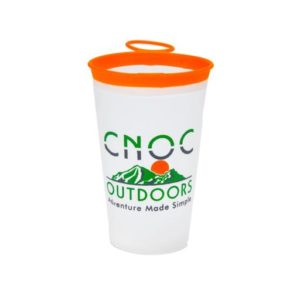 CNOC Outdoors Collapsible Cup, $5
If you're someone who uses electrolyte tablets on trail, this nifty little, collapsible cup by CNOC Outdoors is going to be a great piece of gear for you. These cups are perfect for mixing electrolytes in without having to mix them in a hydration bladder, which inevitably changes the taste of the drinking water.  These cups pack down to basically nothing, making them easy to store inside a pack or can be easily hung on the outside of the pack with the plastic ring attached to the outside of the cup.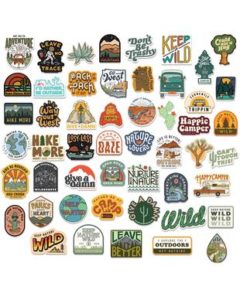 Keep Nature Wild Mystery Pack Stickers, $12
I've yet to meet a hiker or backpacker who doesn't love stickers. Stickers can turn an annoying piece of gear like a heavy bear canister into an on-trail accessory. Stickers are also fun to put on water bottles, phone cases and battery packs. Keep Nature Wild has a HUGE selection of adorable stickers AND for every product they sell, they are committed to picking up a pound of trash.
There are so many reasons to love Kobee's organic lip balm. Not only is this beeswax-based balm creamy and moisturizing, it comes in a variety of flavors like Coconut Vanilla (my favorite!), Grapefruit Lemon Orange, Peppermint and their original Beeswax. Kobee's is a small company with a large mission: to be more sustainable and give back to their community as much as possible.  The packaging for the balm is made from 100% biodegradable paper, making it plastic-free and compostable. Plus, a percentage of Kobee's total sales goes to non-profit organizations that are committed to cleaning our oceans and lakes, replanting and curbing deforestation and help provide cleaner air for our future.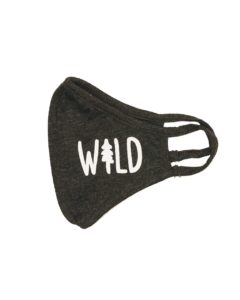 Keep Nature Wild Pine Face Mask, $5
We all have to wear a mask these days, so why not wear a comfortable, breathable, reusable, machine washable, double-layered face mask created by a small company who's committed to picking up a pound of trash for every product they sell? I've been rocking the Keep Nature Wild Pine Face Mask on trail and I love it. Cute and comfortable.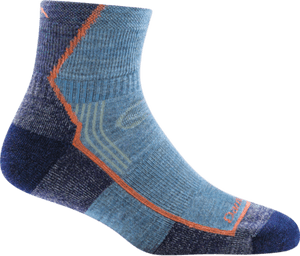 Darn Tough Hiker Quarter Cushion Socks, $18
I've ALWAYS been a fan of Darn Tough socks and the Quarter Cushion socks are my absolute favorite socks to hike in. I've never gotten a blister wearing these. These socks are breathable and comfortable for when you need to put in the miles on trail. There's no bunching or slipping. I'm a hiker and backpacker who prefers hiking in trail runners in the warmer months and I love how these socks are perfectly cut to fit right above my ankles, right above my shoe. Besides their perfect fit, Darn Tough offers a lifetime warranty on all of their socks.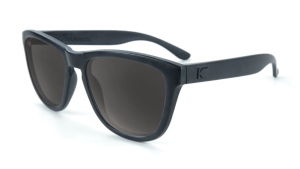 Knockaround Premium Glasses, $20
Quality, inexpensive sunglasses with countless customizing options! I used to pay over $100 for brand-named glasses. Then I discovered Knockaround glasses and fell in love with them instantly. It was love at first pair. These glasses are great quality, come in a wide variety of colors and lens styles and I no longer feel guilty whenever I accidently sit on a pair or scratch them on trail. For half the price I paid for one pair of the brand-named glasses, I was able to purchase multiple pairs of Knockaround glasses, giving me plenty of backup options incase I damaged or lost my pair of glasses on trail.
Is there a hiker or backpacker in your life who enjoys taking photos and videos when out on trail? Help them improve their trail selfie and vlogging game with this super trail friendly tripod that's easy to use. This tripod is compact and fits easily into a fanny pack. The base of the tripod is secure and sturdy, especially with the rubber feet, which helps it to be slip-free on most surfaces. Other features I love about this mini tripod is that it's lightweight and has a comfortable hand grip so when the legs are closed, it can be used as a selfie stick.
BSR Ultralight Backcountry Stove, $17
This backcountry stove is for the ultralight hiker or backpacker in your life who's looking to shed their pack weight and doesn't want to carry a complicated cooking system on trail. This has been the cheapest and lightest backcountry stove I've ever used. It's powerful with an adjustable flame, fits in the palm of my hand, weighs next to nothing (less than an ounce), boils water in only three minutes and costs less than $20!

Everybody poops and all hikers and backpackers have to poop outside eventually. Help the outdoor enthusiast in your life doo-doo the right thing by gifting them this super light Leave No Trace aid in a bright, fun color.
A practical and cheap gift every outdoor enthusiast will appreciate. Any hiker or backpacker who cooks meals in the backcountry will ALWAYS have a need for a fuel canister. This make excellent stocking stuffers too.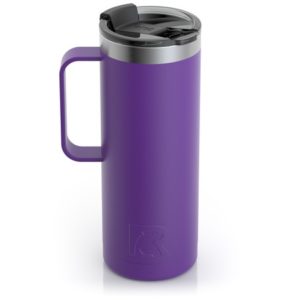 RTIC Outdoors 20oz Travel Mug, $17
When hiking during the winter up here in the Pacific Northwest, hot drinks (hot cocoa, tea or soup) become an 11th Essential for me. The RTIC Outdoors travel mug (I have it in the 20 oz size, pictured here) keeps hot drinks warm all day, come in a wide variety of fun colors and cost a fraction of the price compared to other name brands.
Paper maps are not dead! Navigation is another one of the ten essentials EVERY hiker and backpacker should carry with them in their pack at all times. Help your hiker or backpacker to always stay found when exploring outdoors. Lots of hikers and backpackers might opt to use the GPS on their phone as their navigation system, but what happens if the phone breaks, gets lost or the battery dies? Green Trail Maps never run out of battery. They never need to be recharged or downloaded. They're light, easy to read and water-resistant making them ideal to use even in wet, stormy conditions.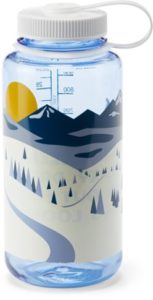 Nalgene Holiday Graphic Wide-Mouth Water Bottle (32 oz), $12 
Some hikers like to use a hydration reservoir to store their water in. Others might prefer using reusable water bottles. For those who prefer using water bottles. Nalgene bottles are super durable and a great choice to use during the winter months when hydration reservoir tubes tend to freeze. Plus, the holiday graphic on this bottle is SUPER CUTE. When purchasing a wide-mouth Nalgene bottle, spend the extra $4 to get a splashguard. Trust me, your hiker or backpacker friend will thank you. Pro Tip: Store Nalgene bottles upside down on the outside of the pack during the cold winter months. This way when the water freezes, it will freeze from the bottom, making the water in the top of the bottle still drinkable.
Blisters happen and when they do, having Leukotape in a blister kit on trail is crucial for quick healing. Leukotape is every hiker, thru-hiker and long-distance backpacker's best friend when having to deal with blisters on trail. This stuff stays on skin as long as you need it to, especially if you're days from getting into town and keeps the infected area covered and clean more effectively than any Band-Aid ever could.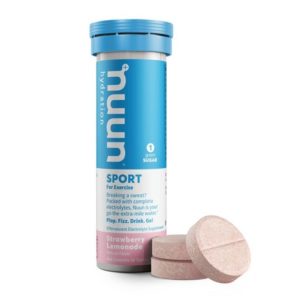 NUUN Sport Hydration Tablets, $7
Everyone needs a hydration boost on trail at some point. Electrolyte tablets are an easy, healthy and tasty way to that bump in hydration while on trail. NUUN tablets are vegan, kosher, non-GMO and gluten-free. Each tablet is only 15 calories with 1 gram of sugar and come in delicious flavors like Lemon Lime and Strawberry Lemonade.
---
Gifts Under $25
Still stumped on picking an outdoor-related gift? Every outdoor enthusiast knows, there's no such thing as too many beanies. Why not gift someone a cool beanie from a small business who's mission is to protect the outdoors? For every product Keep Nature Wild sells, they are committed to picking up a pound of trash. That's a mission every hiker and backpacker can get behind.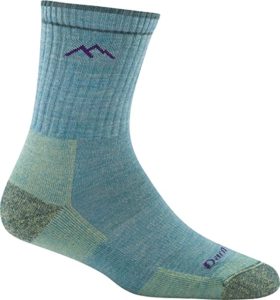 Darn Tough Hiker Micro Crew Cushion Socks, $23
In the colder, wetter months when I switch out my trail runners for hiking boots, I also switch out my socks for the Darn Tough Hiker Micro Crew Cushion socks. These socks are taller, covering the ankle area, breathable, provide medium cushioning for extra comfort and durable enough to wear in a taller, thicker boot on trail in any type of condition. These also make an excellent socks to sleep in, both on and off trail.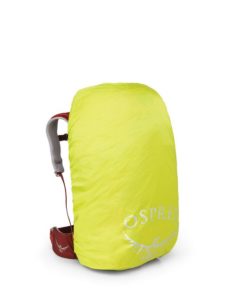 Osprey Packs High Visibility Raincover, $22
Raincovers are not necessarily a "need to have" piece of gear for the outdoors, but they sure are "nice to have" when it's raining or snowing out. The hiker or backpacker in your life will appreciate this gift when bad weather threatens to dampen their pack and gear inside. The High Visibility Raincover is designed to fit packs under 30L. The bright color makes this convenient and easy to spot when on trail in less than desirable weather conditions.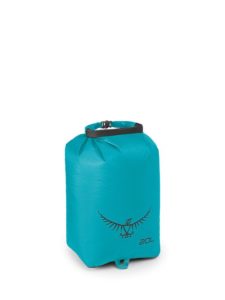 Osprey Packs Ultralight Dry Sack 20 Liter (food bag), $22.50
This 20L ultralight dry sack is my bag of choice for storing the food in my pack in, whether I'm on a day hike or on a multiple day/night backpacking trip. I've carried up to eight days worth of food in this bag and still had room to spare. This bag is also strong enough to hang from a tree or bear pole.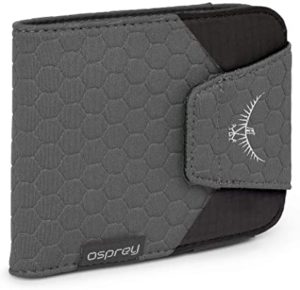 Osprey Packs Quicklock Wallet, $25
Looking for a lightweight wallet to use when on trail? I've been using this wallet for the last three years, both on trail and off and LOVE it. It's light, sleek and very convenient. Fits easily in my fleece chest pocket, fanny pack and in the hip belt pockets of my larger pack like the Osprey Aura 50.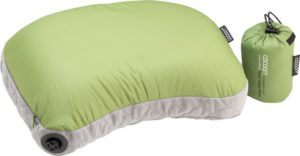 Cocoon Ultralight Inflatable Camp Pillow, $24
Many consider a pillow on trail a luxury item, but this inflatable pillow is a must-have for me in my Sleeping System. If I can't get a good night's sleep out on trail, I won't be able to hike. If I can't hike, then what the heck am I doing out there in the first place? At 3.5 ounces, I've never had any regrets bringing this with me on any of my outdoor adventures and it's been responsible for many sound sleeps on trail. To me, this luxury trail item is worth every ounce. It's also machine washable!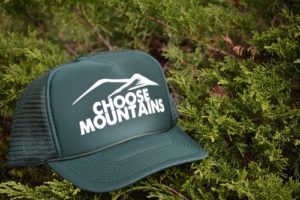 Choose Mountains Meshback Trucker Hat, $25
I love hiking in a hat with a wide brim because it helps keep the sun out of my eyes and gives me face more protection from the sun. I also like hiking in this style of hat because it's comfortable, helps keeps the stray hairs out of my face and has become such a big part of my trail  style over the last couple of years. I especially love the Choose Mountains trucker hat, not only for the comfort fit and cute esthetics, but because it's a local company run by a local woman whom I respect and adore. If supporting small, local, women-run businesses is your thing, I highly recommend checking out the entire Choose Mountains hat and apparel line.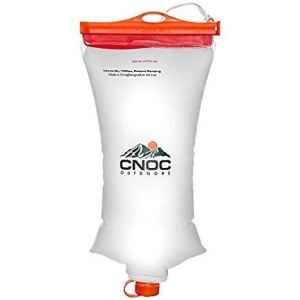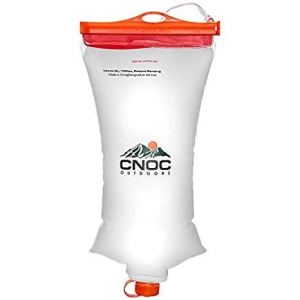 CNOC Outdoors 2L Water Container, $20
After becoming frustrated with multiple plastic Sawyer water bags ripping, cracking and breaking on me in the backcountry, I decided to give the CNOC Outdoors Water Container a try. This bag turned out to be a game changer for my water filtration system. The bag is durable enough to last through a complete thru-hike and beyond. Besides it's durability, some other feature I love include it being a perfect fit for the Sawyer Squeeze water filter and the wide mouth opening makes scooping up dirty water inside the bag at any type of water source easy and breezy.
---
10 Gifts Under $50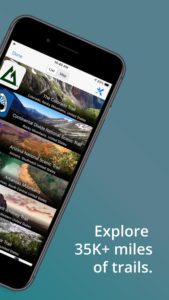 Guthook Guides app, $10-$30 (depending on the trail)
Guthook Guides is a smartphone app featuring long-distance trails all around the world. It's online topo maps contain virtual icons for important waypoints such as water sources, camping, parking, roads, viewpoints and towns & services. Each waypoint on the map offers important information including photos, mileage, elevation, a description, distance from the next significant waypoint on the map and gives users the option to leave comments about the specific waypoint. Even though most thru-hikers use the Guthook app as their main source of navigation on trail, be aware that the app should NOT a replacement for a paper map. Always have a paper map backup just incase something should happen to your phone out on trail. As someone who has used Guthook all along the Pacific Crest Trail, the waypoints comments are worth their weight in gold. READ THE COMMENTS. In addition to the topo maps, the app also provides an elevation profile for each map, making it easy to see what elevation gain and/or loss might be ahead on trail for the day. My favorite part of this app is that you can use it in airplane mode without needing wi-fi or cell service. I recommend making sure the app gets synched whenever you're in town and get cell/wi-fi service. This way, the comments for the waypoints are the most up-to-date before heading back out on trail.
This was my bible for planning my first PCT thru-hike in 2018! Written by a famous, former PCT thru-hiker, the PCT handbook is a great place to start for anyone looking to plan their thru-hike along the Pacific Crest Trail. The handbook includes gear recommendations, hiking advice, resupply options, must-see on trail and off-trail side trips and trail/town information from multiple previous thru-hikers from over the years. It's a PCT thru-hiking bible written and put together by other PCT thru-hikers.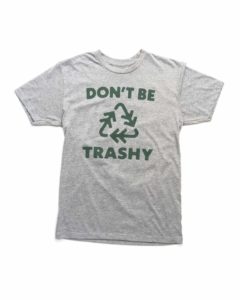 Keep Nature Wild Don't Be Trashy T-Shirt, $28
Keep Nature Wild is a small company started by two brothers (in law) whose mission is to build communities by picking up trash outside. For every item purchased, one pound of trash is physically picked up from the wild. What outdoor enthusiast wouldn't want to get behind a mission like that? I love their "Don't Be Trashy" t-shirt because it not only sums up Keep Nature Wild's company mission, but it's also a great reminder of how uncool it is to leave trash anywhere other than a garbage can.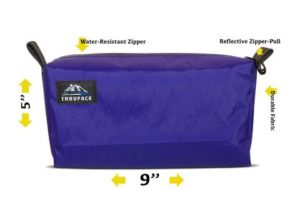 Thrupack Summit Bum Classic (fanny pack), $45
I never thought of myself as a fanny pack person until I swapped out my original pack for a lighter one that didn't have hip belt pockets. My Summit Bum Classic was a game changer for me on trail. I can now carry all of the items I need most within hands and arms reach on trail without having to take my pack off to access them. Inside the Summit Bum I carry my mini tripod, camera, extra batteries, memories cards, sunglasses, lip balm, keys, wallet and a Swiss army knife AND still have room to spare. I especially love the clip inside the bag, which is perfect for attaching my single car key to so I never have to worry about losing it on trail. The Summit Bum Classic comes in a wide range of fun colors. Hands down my FAVORITE color is the purple, as shown here.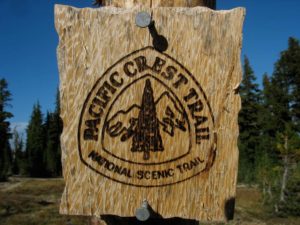 PCTA Trail Guide Annual Membership, Starting at $35 
Is someone on your holiday list planning to thru-hike the Pacific Crest Trail? Give them the gift of the PCT community while helping them protect and preserve the trail they love with an annual membership to the Pacific Crest Trail Association. There are a wide range of membership options, the most basic option being a Trail Guide for $35. Each gift membership includes: a letter and membership packet, The PCT Communicator (PCTA's full-color, members-only magazine), a one-year subscription to Backpacker Magazine, a PCT sticker, discounts on PCTA store items and special invitations to participate in future activities, trail classes and volunteer trail projects.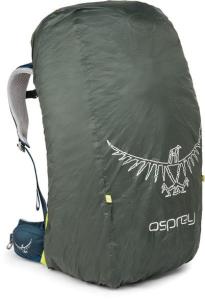 Osprey Packs Ultralight Raincover in Medium, $34
Raincovers are not necessarily a "need to have" piece of gear for the outdoors, but they sure are "nice to have" when it's raining or snowing out. The hiker or backpacker in your life will appreciate this gift when bad weather threatens to dampen their pack and the gear inside. There are two main differences between the Ultralight Raincover and the High Visibility Raincover – size and color.  The Ultralight Raincover comes in a Medium size, making it a perfect fit for packs between 30 – 70 liters and is available in a Shadow Grey color. When picking a rain cover for a pack, the size of the pack will help determine which cover you'll need.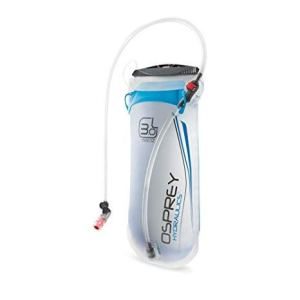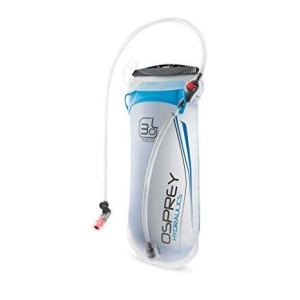 Osprey Packs 3 Liter Hydraulics Reservoir, $42
Hikers and backpackers either love or hate using water bladders on trail. This has been my on-trail water bladder of choice for several years and I love it. I've never had an issue with it leaking in my pack. Just make sure to shut off the bite valve before setting your pack down on the ground or in the car. Otherwise things can get fairly wet pretty quickly if there's water in the reservoir. I like having the 3-liter size because it gives me the option to have 3 liters of water if I need it. Most of the time I fill this one up to 2 liters and I'm good to go for most of my day hikes.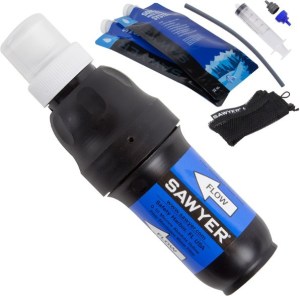 Sawyer Squeeze Water Filter System, $37
A water filter is one piece of gear a hiker and backpacker should NEVER hike without. The Sawyer Squeeze has always been my water filter of choice. It's lightweight, easy to use, easy to pack and fits on any Smart Water bottle or CNOC Outdoors 2L water container making for a quick and easy water filtering process at most water sources on trail. Pro Tip: Skip the cheap plastic bags that come with this filter and use the CNOC Outdoors water container instead. The CNOC Outdoors bags have more lasting power and the wide mouth makes for easier water scooping.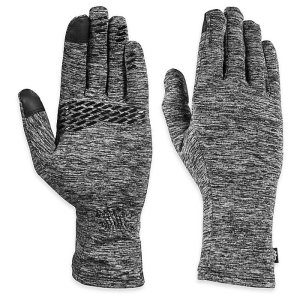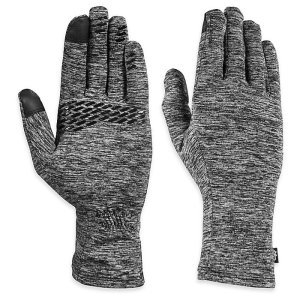 Outdoor Research Liner Gloves, $35
Do you have a hiker or backpacker in your life whose hands get cold easily, especially on the early mornings before the sun comes up? In my hiking experience, liner gloves provide the perfect amount of warmth for my hands on trail. They're also super lightweight and machine washable. One feature I love is that these gloves are touch-screen compatible with Sensor technology, which means I don't have to take them off when wanting to maneuver my phone or camera out on trail.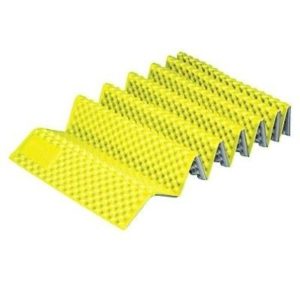 Therm-a-Rest Z Lite Sleeping Pad, $35
This foam sleeping pad is a thru-hiking staple for most hikers. It's light, compact, inexpensive (compared to most inflatable sleeping pads), full-length and doesn't require any sort of inflating to use. No inflating means not having to worry about a leaking sleeping pad in the middle of the night on trail. For both of my thru-hikes, I used to use this sleeping pad in addition to an inflatable pad for extra warmth and extra protection for my inflatable sleeping pad. Now, I love using this one for winter camping when I want another layer of protection between the snow and my sleeping system. This pad also makes a great butt pad for breaks on trail throughout the day.
---
10 Gifts For Hikers Under $100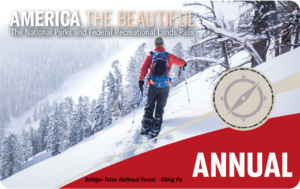 America The Beautiful Interagency Annual Pass, $80
My pass expires in January so you better believe this one is on my own Holiday Wish List this year! This is the PERFECT gift for hikers, backpackers or outdoor enthusiasts who love visiting national parks. The America The Beautiful annual pass not only provides entrance to any national park all year long, but it also cover fees required when visiting Forest Service or other federal site charging fee areas for a whole year. This means instead of buying a Northwest Forest Pass for $35, you can get the America The Beautiful Pass that will cover both national parks AND national service lands. You will still need to purchase a Discover Pass to cover fees on Washington State public lands including Washington State Parks, Department of Natural Resources lands and Department of Fish and Wildlife trailheads.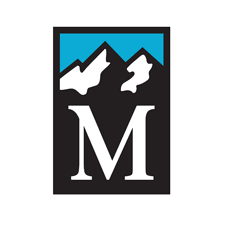 The Mountaineers Annual Membership, $75
For over 100 years, The Mountaineers have been helping people of all ages get outside safely and responsibly thanks to its community of over 14,000 active members and volunteers here in the Pacific Northwest. Each month, The Mountaineers hosts hundreds of monthly courses and activities – all volunteer-led. If you have a hiker, backpacker or outdoor enthusiast in your life who's looking to get more involved in the PNW outdoor community and/or is interested in taking courses where they can learn more about exploring the Great Outdoors safely and responsibly, getting them an annual membership for The Mountaineers is a great gift choice.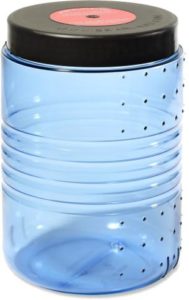 BearVault BV500 Food Canister, $80
Not exactly the most luxurious or fun piece of gear, but if the hiker or backpacker in your life is planning on travelling through bear country, this piece of gear will be a necessity. The BV500 is the most popular bear canister on trail, helping to keep bears honest and hiker food safe. With the lid fully closed, this also turns into a great camp seat or table, making this awkward piece of gear multi-functional.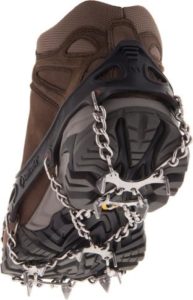 Kahtoola Microspikes Traction System, $70
If the hiker and/or backpacker in your life enjoys snow travel, they will appreciate a solid pair of microspikes. These are my microspikes and I love them. They easily fit over any trail runner or hiking boot. They're easy to put on, easy to take off and quite honestly, make me feel like a bad ass whenever I wear them in snowy, icy conditions.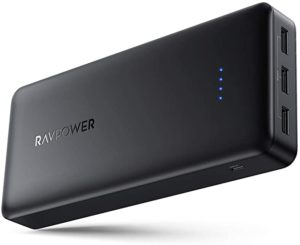 RAVPower Portable Charger, $80
A super convenient way to charge electronics on trail. This battery pack can provide up to almost a week of power to charge most smartphones. I love that this charger contains three USB ports, which means I can charge my phone, camera and Garmin inReach all at the same time whenever I'm out on trail. The longest stretch I've been out on trail, in-between towns and/or a power source has been 8 days and I still never ran out of battery power thanks to this nifty piece of gear.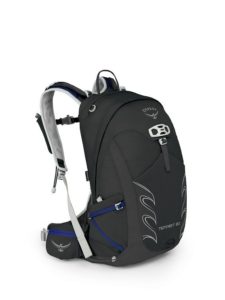 Osprey Packs Tempest 20 (Women's)/Osprey Packs Talon 22 (Men's), $90
The Tempest 20 has been my go-to pack for all of my day hikes this year including my hike across the Grand Canyon and back. The 20-liter capacity is big enough for me to carry all of the gear I need without worrying about overpacking and carrying extra gear I don't need. My favorite features on this pack include: the comfortable fit, the wide, side mesh pocks for easy, external storage, the large stretch mesh front panel pocket where I like to stash my rain cover, poop kit and garbage, the easily accessible top lid storage where I keep my headlamp, electrolytes and more snacks AND the well ventilated back panel, which provides air conditioning for my sweaty back.
Not a necessity on trail, but a silk mummy liner can make any outdoor sleeping system much more comfortable and adds an extra 10 degrees of warmth. This is a great piece of gear for backpackers and hikers who sleep cold. Liners also help keep sleeping bags and quilts cleaner on trail then not using one at all. Trust me, it's a whole lot easier to wash a liner in town then it is to wash a sleeping bag or quilt. This was one piece of gear I didn't realize I needed until I started thru-hiking.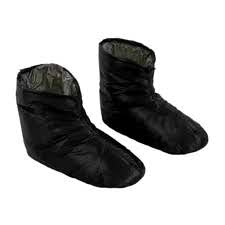 Enlightened Equipment Sidekicks (down booties), $60
Instead of getting a pair of house slippers, get the hiker or backpacker in your life a pair of trail slippers. Hikers and backpackers who travel in colder climates during the winter months AND whose feet tend to get cold on the super cold nights, will truly appreciate a pair of Sidekicks. They only weight two ounces, pack down next to nothing and do an amazing job of keeping the feet warm and moisture-free in the coldest of climates. After suffering through a few really cold nights where I had to get up in the middle of the night to boil water for my Nalgene bottle that I would then use to help warm up my feet in my sleeping bag, I decided to splurge and treat myself to these ultralight down booties. With my pair of Sidekicks, I no longer have to deal with cold feet while sleeping on trail. I WON'T go camping or backpacking without these.
Snow Peak Trek 900 Titanium Cookset Pot and Skillet, $59
What I love about this pot set is that it's super light (weighs 6.2 oz), is big enough to store a medium-sized fuel canister inside (which helps me save space in my pack) and the lid doubles as a fry pan. Really convenient.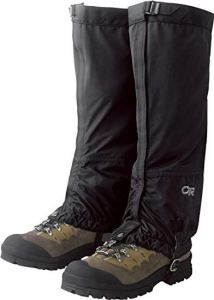 Outdoor Research Crocodile Gaiters, $90
These have been my winter hiking staples. The Crocodile Gaiters are made of Gore-Tex and help keep my legs and feet warm and dry in any rain, wind, snow and/or muddy condition on trail. I use these for hiking, backpacking and snowshoeing.
---
Gifts For Hikers Under $200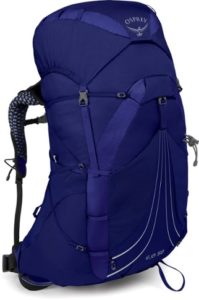 Osprey Packs Eja 48 (Women's)/Osprey Packs Exos 48 (Men's), $200
Got a backpacker in your life who's concerned with reducing their base weight? This Osprey ultralight pack would be a great pack option for them. The Eja 48/Exos 48 is designed to carry up to 40 lbs. Users can save even more weight by removing the floating lid (brain of the pack) and use the built-in flap jacket to close the pack instead. I opted for this option and prefer it for all of my trips. There are so many features I love about this pack. First of all, there's a ton of storage! The front stretch mesh pocket is great for storing items that need to be easily accessed on trail without having to dig through the pack for. The dual access stretch mesh pockets provide quick and easy external storage on both sides of the pack. Another feature I love? For the super sweaty backpackers (like myself), the Airspeed suspension acts as a ventilation system for the back and helps with weight distribution so a lot of the weight is taken off the back and distributed elsewhere, like the hips.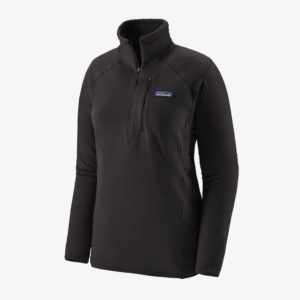 Patagonia RI Pullover Fleece, $129
Probably my most favorite clothing layer I own in all of my hiking and backpacking wardrobe. The R1 is great for those mornings when you want to be bold and start off cold, yet still want to keep a warm layer on AND is light enough to wear when it's warm out and you're sweating. You can layer this fleece under any combination of vests and/or jackets or wear it all on its own. I also like sleeping in it on really cold nights. The quarter zip provides ample amount of ventilation and my favorite feature on this fleece is the chest zip pocket, which I use to store items I wanted super quick access to like a wallet, GoPro, sunglasses and lip balm.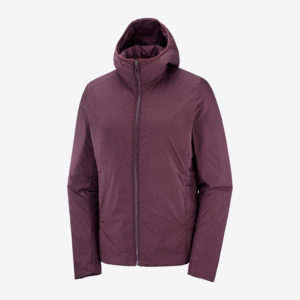 Salomon Outrack Insulated Jacket W, $170
One of the newest additions to my winter hiking apparel collection and I've been loving it! Great for wearing around town and on the mountain. It's lightweight and packs down pretty easily. A great layer to start an outdoor adventure with, put on during breaks and is also fantastic for wearing on the way back to the trailhead when things start getting cold again. Incredibly warm, comfortable, super cute, does well in the snow AND rain and I'm really loving the fun color I got it in, Winetasting – a fun splash of color in my usual all-black wardrobe.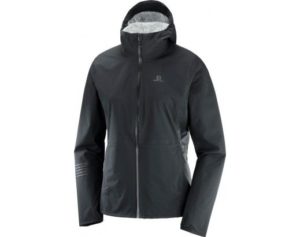 Salomon Women's Lightning WP Jacket, $170
For the hiker or backpacker who's looking for a waterproof rain jacket that's lightweight, fits well when moving on trail, packs down next to nothing and offers breathable protection for cold, wet and windy conditions.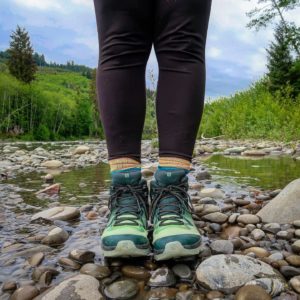 Salomon Vaya Mid Gore-Tex Hiking Boot W, $160
Normally, I hike in trail runners on both day hikes and overnight backpacking trips, but when the conditions are cold, wet, icy and sloppy, I opt for a lightweight hiking boot. These boots come with an out-of-the-box style, which means they're comfortable from the first wear – no breaking in needed! For someone like me who's prone to rolling their ankle on trail, I love the extra ankle support these boots have. I also love the wide toe box, giving my toes plenty of room to spread out evenly when wearing a thicker sock during the winter. These boots are soft, comfortable and waterproof. I've stepped in puddles unknowingly and slipped my feet in the river a couple of times while wearing these boots and my feet have always remained 100% dry. Pair these with the Outdoor Research Crocodile Gaiters and your feet are guaranteed to stay warm and dry in any winter condition you decide to go adventuring in. In addition to these boots being incredibly functional, I also love how cute they are.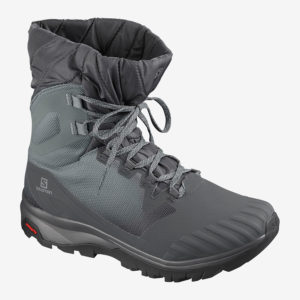 Salomon Vaya Powder Waterproof Boots W, $160
Designed specifically for women, the Vaya Powder Waterproof Boots just might be THE perfect boot to snowshoe in. I'm super excited to check them out this winter season! The Vaya Powders have Salomon's signature Contrigrip on the soles making them grippy in wet and icy conditions. The lightweight 400g Thinsulate insulation is designed to help keep feet warm, whether you're moving or at a standstill. I've only worn my new boots once and so far I love how warm, lightweight and comfortable they are. There's a protective toe tap, which is perfect for someone like me who's also stubbing their toes on rocks and tree roots. I also love the soft down collar, which is designed to help keep the snow and cold air out.

Black Diamond Alpine Carbon Cork Trekking Poles, $180
I used to be a hiker who didn't use trekking poles. Then the week before I left to start my first thru-hike on the PCT, it was recommended to me by a fellow thru-hiker to use trekking poles. I was hesitant and got the lightest pair of trekking poles I could find. It ended up being sound advice – I fell in love with using trekking poles for hiking long distances. Now I can't hike without them. Unfortunately, the super lightweight trekking poles I had bought for my first PCT hike ended up snapping in half after taking my first big fall in the Sierra. For my second PCT thru-hike, I invested in a stronger, hearty pair of trekking poles – the Black Diamond Alpine Carbon Cork Trekking Poles and I LOVE THEM. Here's why: they're easy to adjust, sturdy enough for any river/creek crossing on the PCT, they can take one of my gnarly falls and not snap in half, the cork handles are really comfortable (way more comfortable than the foam grips that were on my previous trekking poles) and I can easily attach powder baskets when I need to use them for snowshoe hikes during the winter. I also opt to purchase the rubber tips for these trekking poles because they give a little extra grip on rocky surfaces.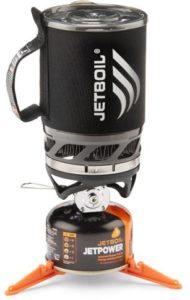 JetBoil MicroMo Cooking System, $145
The JetBoil MicroMo was my cooking system of choice for both of my PCT hikes. The JetBoil comes with an insulated pot, which was enough for me to cook any meal I needed to cook on on trail. I love that the pot is insulated so I never had to worry about burning myself. I didn't have to wait for my pot to cool down before I could eat what was inside. The JetBoil also comes with a small measuring cup that you can use to eat and drink out of along with using it as a measuring cup. The lid can also work as a strainer if you need to drain water from the pot. I've since switched out my cooking system for a lighter option, but my JetBoil MicroMo Cooking System is still my cooking system of choice for winter camping. This thing is a beast with boiling water quickly, even in the coldest of climates.
---
5 Gifts For Hikers Over $200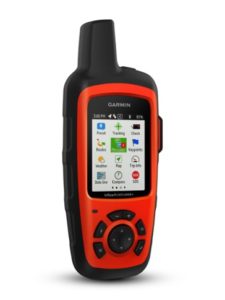 Garmin inReach Explorer+, $400
Probably one of my most new, favorite pieces of gear this year. It's also my mother's most favorite piece of gear I own. The Garmin inReach is a two-way satellite messenger, GPS tracker, navigation tool, weather forecaster and SOS device all-in-one. With a monthly, paid subscription, I have the ability of accessing maps of the area I'm traveling in, lam able to look up the weather forecast and send/receive a certain number of messages per month to friends and family I might need to reach out to from the trail. The Garmin is an expensive purchase to make upfront and requires a monthly subscription for it to be useful, but it's peace of mind when going deep into the backcountry, both for myself and friends and family at home. The more time I spend in the backcountry, the more I learn how things can go sideways in an instant. It's nice to know if anything happens to me or if I come up on anyone who's in distress on trail, I have the ability to get help with the use of my Garmin through the SOS button with a two-way messaging capability.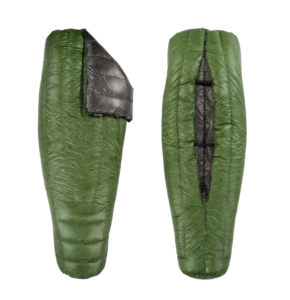 Enlightened Equipment Enigma Custom Quilt, $445
One of the gear changes I wish I would've made much sooner was switching from using a sleeping bag to a quilt. I invested in the Enlightened Equipment Enigma Custom Quilt this summer for two main reasons: I wanted my sleeping system to be warmer for those really cold nights and I wanted try whole sleeping system to be lighter, to help reduce my base weight. I opted to have my quilt customized because I'm a cold, side sleeper. So I invested in extra features like customizing the down fill (950), selecting the temperature rating (10 degrees), selecting a regular size length and a wide width (I'm not tall but I constantly toss and turn throughout the night), having a draft collar added for extra warmth and choosing a custom color selection (purple on the inside and purple on the outside). Since using my Enigma Custom Quilt, I've yet to have a cold, restless night on trail. When I get a good night's sleep, I'm able to hike stronger and longer miles on trail the next day, making this investment worth every penny to me! Total weight for my customized quilt is only 23.85 ounces.
When researching which camera to use for my hiking videos and vlogs, most YouTube vloggers I reached out to told me they use the Canon PowerShot G7X. Before I had my Canon, I used my GoPro Hero5 for all my photos and videos. I've been incredibly pleased with the Canon PowerShot G7X. It's larger than a GoPro, but it's still pretty light and compact and it takes amazing, high quality photos and videos. Some of my favorite features of this camera besides the quality of the photos and videos this camera captures include the compact size, making this camera small enough to fit inside my fanny pack. I love the large touchscreen LCD monitor that has the ability to tilt up 180 degrees and down 45 degrees, making the creative shots I want to get on trail super easy. I also love the easy-to-use time lapse feature as well as a self-timer, which is perfect for capturing all of my selfies when solo hiking. Another feature that I love and has saved me a lot of time is the built-in wireless connectivity, which makes it so I can download the photos from the camera to my phone while on trail without any service. Then I can edit all of my photos from the comfort of my tent while out on trail instead of having to wait until I get into town to do it.
Mountain Hardwear Ghost Whisperer Down Jacket, $300
If there were a PCT thru-hiker standard uniform, the Mountain Hardwear Ghost Whisperer Down Jacket would be a big part of that uniform. This jacket is wildly popular amongst a large majority of thru-hikers and for good reason. This down puffy jacket is incredibly warm, ultralight (weighing 6.9 ounces) and can easily be packed down into the pocket of the jacket or stuffed at the bottom of a pack without taking up a lot of valuable space. This is the first insulating layer I put on as soon as I get into camp for the evening. I went for the jacket without a hood so I can easily layer this underneath my rain jacket. It makes a great extra warmth layer for sleeping on those really cold nights. It's also sleek enough to rock in town, especially on a laundry day!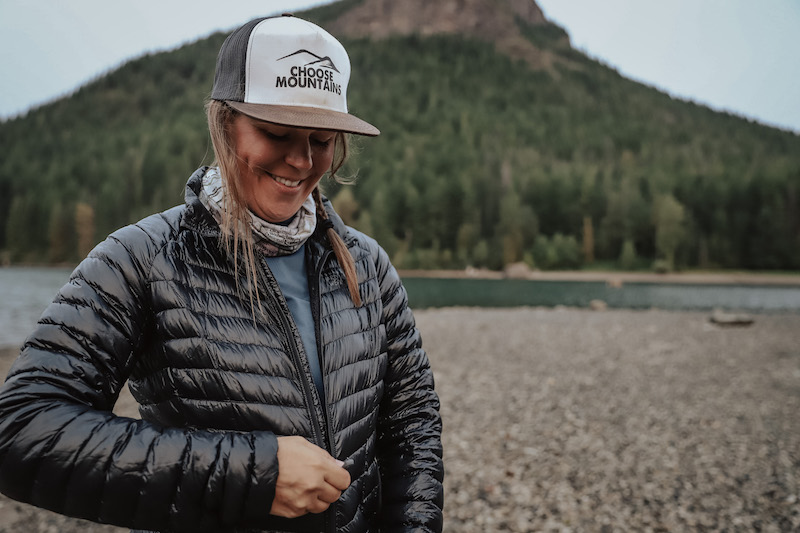 MSR Lightening Ascent Snowshoes, $320
If I could only pick one thing on this list that I absolutely wanted under my Christmas tree this year, it would be a brand-new pair of MSR Lightning Ascent Snowshoes. I've had my eye on these snowshoes over the last couple of years because they're lightweight, deliver an aggressive performance thanks to their beefy bite on the bottom with 360-degree traction frames and durable steel DTX crampons and have heel lifters which are designed to use for those big climbs to help reduce fatigue and increase traction.New to this model are the brand-new Paragon binding system, which has freeze resistant straps and are super easy to use on trail in the snow. These snowshoes are engineered for any type of snow adventure from a meander through the snow-covered forest to an aggressive backcountry trek on the side of a mountain. Either way, these would be my snowshoes of choice and I can't wait to have a pair of my own for the winter season.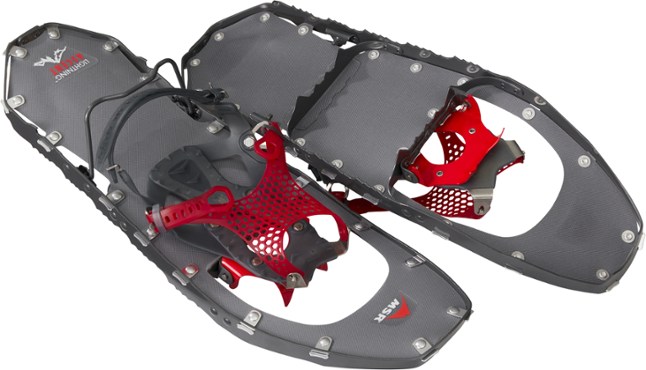 Still undecided on getting gifts for hikers or backpacker in your life? REI gift cards (for gear), Safeway/Vons gift cards, for trail food) and iTunes gift cards (for music, podcasts and apps) also make for excellent gifts for any outdoor enthusiast.
---
Disclaimer: The-Hungry-Hiker.com is a participant in the Amazon Affiliate Links and AvantLink affiliate, advertising programs designed to provide a means for sites to earn advertising fees by advertising and linking to affiliated sites at no cost to you. Please note, I only link to products and services I personally use and trust.
---
Inspired? Pin It!