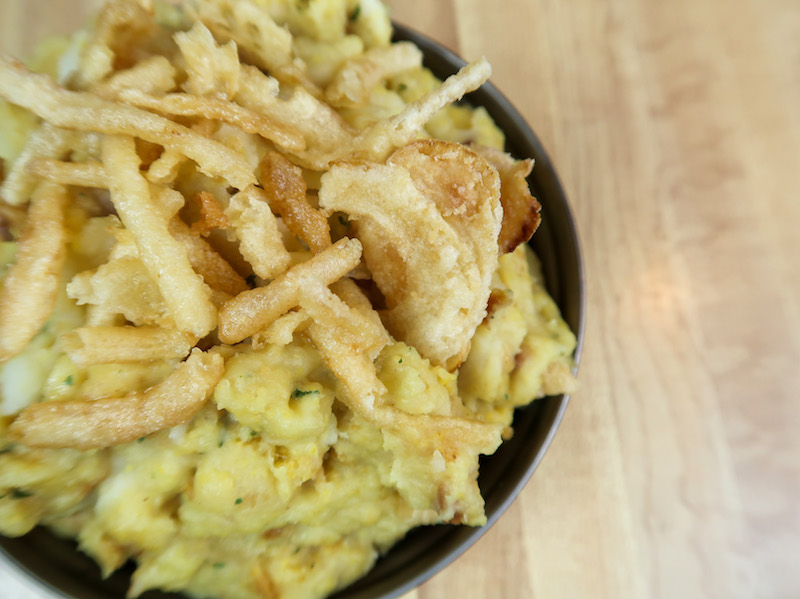 Backpacking food doesn't have to be expensive and complicated. It can be easy and cheap AND found in your local grocery store. One of my favorite grocery store backpacking meals is the cheap and easy One Pot Thanksgiving Dinner. It's easy to make – all of the ingredients can be found at your local grocery store and only boiling water is required for cooking this one. It's cheap – this meal will cost you $6, or $4 if you opt to skip the turkey jerky. It's tasty – all of my favorite holiday dinner flavors are combined into one convenient pot, making this super easy to enjoy while backpacking, camping or hiking.
One Pot Thanksgiving Dinner
Ingredients
1 cup of dry stuffing
½ cup of instant mashed potatoes
1 tbsp of turkey gravy powder
1 packet of coconut oil or butter
1 oz of turkey jerky
2 cups of water
2 tbsp of crispy fried onions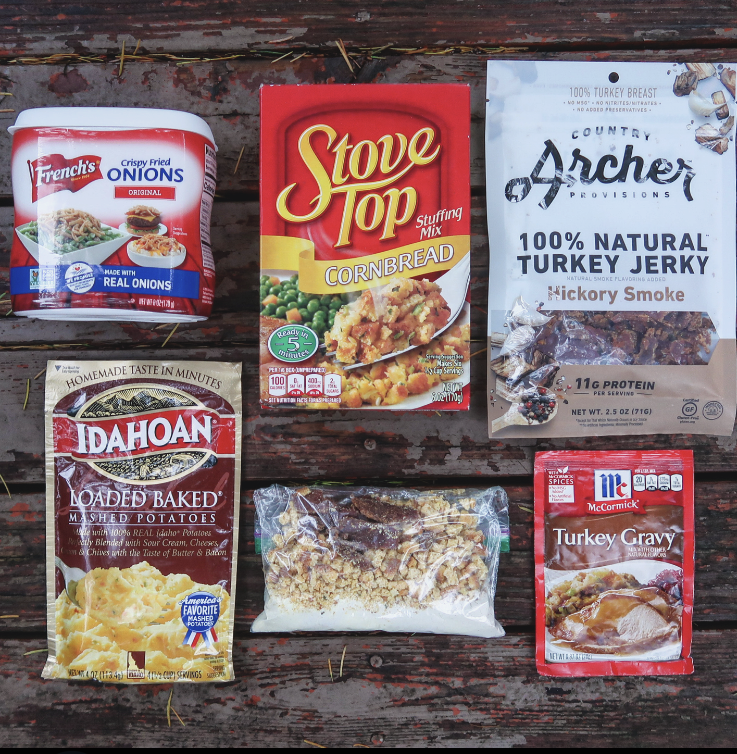 Prepare Ahead of Time
Combine all dry ingredients into a Ziploc bag. Keep water and oil/butter separate.
To Prepare on Trail
Boil 2 cups of water with your backcountry stove
Add stuffing mixture and oil/butter
Stir and remove from heat
Cover (put into a stove cozy if your backcountry pot isn't insulated)
Let sit for 10-15 minutes
Uncover, give it another stir and top with fried onions
Either enjoy directly out of your backcountry pot or put the mixture in a tortilla
Total Calories Per Meal: 538 Calories
Total Cost Per Meal: $4-$6, depends on if you include the turkey jerky or not
Serving Size: Makes 1 "Trail" Serving (A "trail" serving is more like 2 servings off-trail)
Special thanks to Country Archer for gifting me their turkey jerky to check out. It's delicious and I couldn't wait to add it to this recipe. Country Archer Hickory Smoke Turkey Jerky is made with 100% natural turkey breast and with real ingredients. It's high in protein, low in fat, contains NO antibiotics or hormones, no preservatives, no nitrates/nitrites, no MSG, certified keto, certified gluten-free, tender and delicious and is made here in the USA. Visit the Country Archer website for more information on all of their 100% grass-fed beef jerky and meat stick products.
Grocery Store Backpacking Meals: Cheap & Easy One Pot Thanksgiving Dinner
---
Inspired? Pin It!