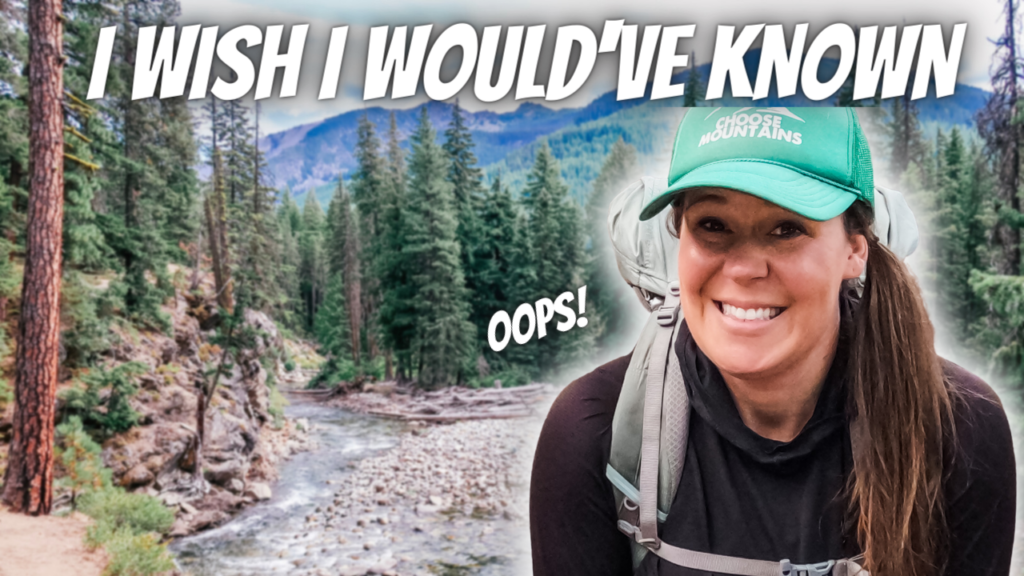 New to backpacking? If you're a beginner backpacker, keep reading and hopefully learn from my mistakes!
I've been backpacking for the last few years and have gone on quite a few really big trips like thru-hiking the Pacific Crest Trail, section hiking all of Washington along the PCT, hiking the Grand Canyon Rim to Rim to Rim Trail multiple times, hiking The Wonderland Trail around the base of Mount Rainier and thru-hiking the John Muir Trail. Over the last few years, I've made A TON of mistakes and have had quite a few learning lessons along the way.
One of the awesome things about backpacking is that there is NO ONE RIGHT WAY to do it. It doesn't matter if you're a beginner backpacker or if you've been backpacking all your life, there's ALWAYS something new to learn. You never really know all there is to know about backpacking because with each trip you go on, you're consistently learning from the last one to make the next trip even better.
Every time I come back from a backpacking trip, I'm constantly fine tuning my trip planning process, the food I bring with me and the backpacking gear I use. Backpacking is a constant work in progress, but with each trip I go on, backpacking just keeps getting better and better.
So instead of overwhelming you with ALL of the beginner backpacker basics like trying to figure out where you're going to go, who you're going to go with, what you need to bring and when to go on your backpacking trip, I'm going to share with you the 10 mistakes I made as a beginner backpacker and wish I would have known when I first got started backpacking.
Trust me, I've made way more than 10 mistakes as a beginner backpacker, but these are the 10 big mistakes I wish I would have known if I were starting backpacking TODAY. Starting with, don't let someone else plan the trip.
Don't Let Someone Else Plan The Trip
As a beginner backpacker, it's easy to leave the trip planning to someone else. The problem is when you don't take part in planning your trip, you're really at the mercy of whoever is planning the trip for you.
When you take an active role in the trip planning process, you have a better chance of getting to go on the backpacking trip you want to go on because you get to help decide where you go, how long the trip will be, when you start and finish, where you start from, how many miles you're going to hike each day and where you get to camp each night.
Helping with the trip planning will also motivate you and remind you to check all of the conditions before your trip including trail and road conditions and the weather forecast. That way, you aren't surprised once you get out on trail and start your trip.
You'll be more likely to pack the right gear for the forecasted conditions, ultimately putting you in a better position to be mentally and physically ready to handle whatever comes your way, instead of having it ruin your trip.
Don't Over Plan Your Trip
The second mistake I made as a beginner backpacker was always trying to over plan my trips. Don't over plan your backpacking trips.
As I was planning my first thru-hike on the Pacific Crest Trail back in 2018, I tried to plan as much of my hike as I could. Mainly because I was scared and figured, the more I planned my hike, the less chance there would be of something going wrong or happening unexpectantly.
The problem was once I got out on trail, all of the hours, days and months I spent planning my thru-hike all went out the window. One of the first lessons I learned thru-hiking the PCT was to be flexible and go with the flow. Have a plan but be willing to adapt the plan as you go.
If I had stuck to the original plan I put together before I got out on the PCT, I would have robbed myself of the whole thru-hiking experience. Some of my most favorite memories of thru-hiking the PCT were all unplanned.
So yes, plan your trip. Absolutely! Trip planning is an essential part in making sure your backpacking trip is successful,  but make sure to leave some room in your itinerary to be flexible so you can stop to have a lake day if you want to, check out cool landmarks or sites you find along the way or camp at a sweet tentsite you discovered while you're out on the trail.
Not Wearing The Right Shoes And Socks (For You)
 The third mistake I made as a beginner backpacker was wearing the wrong shoes and socks for my feet. Take the time to find the right footwear for you, whether it's a pair of trail runners or hiking boots. Try a variety of shoes and styles.
Don't buy shoes that are too small because your feet will most likely swell. Consider getting a half size bigger than your foot size. Especially if you plan on hiking long distances. When I thru-hiked the PCT in 2018, my foot went up a whole shoe size from all of the swelling!
Also, pay attention to the width of your foot. I used to day hike in a pair of trail runners that I loved, but once I started backpacking longer distances, I realized that the trail runners I loved so much were too narrow and that I needed a wider shoe with a bigger toe box for my feet to spread out and have plenty of room to swell.
When choosing your first pair of hiking shoes, consider purchasing them from a real-life salesperson instead of buying them online. This way the person selling you your shoes can measure your foot properly and give you shoe recommendations based off of your proper shoe size and intended usage.
Look for breathable material to help provide good ventilation to help reduce moisture. Also look for durability, support and cost. Don't buy a pair of shoes based on what everyone else is wearing or talking about on the internet. Take the time to find the right shoe that fits your foot best, is comfortable and works for you.
Don't wear your brand-new shoes for the first time when going out for your first backpacking trip either. Break in your shoes or at least wear them a few times before taking them on a big trip.
And socks. Don't forget about socks! Socks are almost as important as the shoes you decide to wear. Don't make the same mistake I did when I first started backpacking and think that expensive socks are unnecessary and a marketing gig. Trust me, it's worth the price to pay for a high-quality pair of socks and I recommend carrying multiple pairs of socks with you for each trip you go on.
A good pair of hiking socks will help cushion your feet, wick away sweat from the skin and help prevent friction from building up in your shoe. Friction and excessive sweat will most likely result in blisters.
When choosing a good hiking sock, consider the height of the sock, which helps protect your foot from rubbing against your shoe, the amount of cushioning for comfort and warmth, the fit (you want your socks to fit snug, but not overly snug) and look for a blend of fabrics like merino wool, polyester, nylon, silk and spandex.
Avoid cotton. Cotton is rotten because it's a heavy material, doesn't insulate the skin once it gets wet and doesn't dry quickly, which means if your feet get wet, they will stay wet for a long time. Wearing cotton socks when hiking can often times lead to blisters.
Don't Pack Your Fears
Another mistake I made as a beginner backpacker was that I always packed my fears. I was always afraid of running out of food and water. And when it came to gear, I had a hard time deciding what I really needed and didn't need.
So I did what most beginner backpackers do and I packed my fears. I tried to carry as much food and water as I could possibly carry. And with gear, if I couldn't decide on if I really needed it or not, I'd just stuff it in my pack anyways, just in case. While this might seem good in theory, it's not because packing all of these extra things can be extremely heavy. During my first few backpacking trips, I often cried halfway up the trail because my pack was so heavy.
With food, make sure you only bring enough food you'll need for time you plan on being out on trail, plus one day's worth of extra food. You'll want to figure out how many calories you'll need to eat each day and only pack the food you love. Otherwise, you won't eat it.
Keep in mind, you might not be as hungry as you think you might be. You might not even be hungry at all. Don't just throw snacks and meals in your food bag just because. Keep track of the food you bring and note how much food you come back home with. After your trip, see what worked, what you would bring more of or less of and then adjust your food and meal plan for your next trip.
When packing your food, take your food out of the original packaging, get rid of all the extra packaging and repack your food in smaller bags or containers to help save space, weight and the trash you carry in your pack.
A mistake I made over and over again as a beginner backpacker was packing too much water. I was always afraid of running out of water so I'd carry a three-liter water reservoir, but I would barely be halfway through the water I had in my pack by the time I'd make it to the next water source.
A liter of water weighs 2.2 pounds. This means I would carry over 6 pounds of water, plus all of the food and gear I had in my pack!
Part of your trip planning process should be to make sure you pack a water filtration system so you can treat drinking water throughout your trip and look ahead on the trail map and see where nearby water sources are. Try to carry only the water you need in order to get you to the next water source. Don't carry more water than you need to, especially if there are plenty of water sources along the trail
Once I get to a water source, I start by "cameling up", which means I drink a liter of water at the water source. Then I filter however much water I think I'll need to get me to the next water source. The only time I carry extra water is if I know I'm staying at a dry camp that night, which is a tentsite that doesn't have a water source nearby.
When it comes to packing gear, as a beginner backpacker, I was notorious for overpacking clothes. I would pack multiple outfits to hike in just in case my clothes got dirty.
Spoiler Alert: Clothes are heavy, and you will get dirty so you might as well save the weight and wear dirty clothes when you're out hiking. The only clothes I carry in multiples are underwear and socks. I have one outfit I hike in, an outfit I sleep in, a couple mid layers like a fleece and a lightweight puffy jacket to insulate me if I get cold and a lightweight rain jacket, just in case it rains, or I need to use it for extra bug protection.
Take the time to figure out what gear you'll really need for your backpacking trip and only pack what you really need.
Always Pack the 10 Essentials
 Another mistake I made as a beginner backpacker was not knowing what 10 Essentials were and not having them with me for either my day hikes or overnight backpacking trips.
Always pack the 10 essentials. This one is not only for beginner backpackers, but ALL hikers and backpackers, no matter what your experience level may be or what time of the year it is.
When I first started hiking and backpacking, I had no idea what the 10 Essentials were. The first day hike I ever went on, I had no idea how unprepared I was until I found myself in a dire situation on my way back to the trailhead.
The only food I had packed, I ate during our lunch break.
As for the water I brought, I only had one bottle of water, which I finished before we even made it to our hiking destination. On the way back to the trailhead, a fellow hiker took pity on my friends and I and filtered water for us to drink using their water filter.
Also, on the way back to the trailhead, we ended up having to hike the last section in the dark because none of us had headlamps. The whole experience of running out of food, running out of water and having to hike back in the dark was really scary.
Before heading out for a day hike or overnight backpacking trip, always make sure you pack the 10 Essentials. The 10 Essentials include: navigation, illumination, shelter, extra clothing, extra water, extra food, sun protection, fire, knife and gear repair and a first aid kit.
Want to learn more about what the 10 Essentials are and to see examples of what each of the 10 Essentials can be? Click here to read my blog post, "What are the 10 Essentials?"
It's not enough to make sure you pack each of the 10 Essentials, but it's also equally as important to know how to use each of these items. Otherwise, they are just deadweight in your pack.
For Example: If you bring a printed map and compass, know how to read your map and use your compass properly.
If you're packing a preassembled, bulky first aid kit, like I used to do when I first started backpacking, take the time to go through the first aid kit before your trip so you know what items are in the kit and know how to use each item in the event of an emergency. Otherwise, you're just carrying a bunch of extra stuff you don't know how to use and its deadweight in your pack.
Want to learn more about how to create your own backpacking first aid kit? Click here to read my blog post, "How to Create A Backpacking First Aid Kit."
When it comes to navigation and backcountry first aid, I highly recommend taking a wilderness navigation class AND a wilderness first aid class. These types of classes will help you start building up a strong skillset of valuable backcountry skills you'll want to have when backpacking in remote areas.
Try Before You Buy
The sixth mistake I made as a beginner backpacker was not trying out backpacking gear before I bought it.
I bought so much backpacking gear I thought I needed and never used and the first two packs I bought myself weren't even the right size for my torso and were way too big for what I needed them for.
If you're just getting into backpacking, you don't need to have the nicest, newest, lightest, most expensive backpacking gear right away. In fact, you really don't have to buy anything at all. Start with using what you have and add on new gear as you get more backpacking experience.
If you don't have anything, try out gear before you buy it. Borrow gear from friends. Find a local gear library to rent or borrow gear from. Rent gear from an outdoor retailer. Really make sure you're going to love this backpacking thing before committing to spending a bunch of money on expensive, fancy backpacking gear.
Before buying anything, do your research. Figure out what you already have and then determine what you really need. The right backpacking gear for you will depend on the types of trips you'll be going on, your trip objective, where you'll be going, what time of the year you'll be backpacking, the type of terrain and climate you'll be hiking in, how often you'll be backpacking and how long you plan on being out on trail for any given trip.
Check out other backpackers' gear lists for the trips they go on to see what backpacking gear they use. Read blog posts, Watch YouTube videos. Join backpacking-specific Facebook Groups. Read guidebooks and backpacking books.
Most importantly, before buying a bunch of backpacking gear you might not need or use, go on a few short, low risk overnight backpacking trips to test out the gear you have. See what works and figure out what you'll really need for your next trip.
Need help trying to decide what backpacking gear you'd need to bring with you for your next overnight backpacking trip? I've created a free backpacking gear packing list that you can download and use when planning your next trip. Click here to download my free Backpacking Packing List.
This packing list is comprehensive, so you won't need to take ALL of these items with you on each trip, but it will give you a good idea on the type of gear you might want to bring, depending on the type of backpacking trip you're planning for.
Once you figure out what backpacking gear you'll need, look into cost effective gear options. This can include online resale websites and Facebook Groups like Craigslist, OfferUp or Facebook Marketplace.
Consider buying last season's model or colors through outdoor retailer discount sites or shop for gear in opposite seasons. Look into gear trades and consignment shops. Watch for end-of-season, annual or anniversary sales at outdoor retailers. Shop clearance racks.
Shop at outdoor retailers who offer generous return policies like REI. This way if you purchase a piece of gear that doesn't work for you once you've had a chance to try it out, you're not stuck with it and can return or exchange it for something that will work for you.
When you're ready to invest in backpacking gear, consider investing in the Big 4: your pack, Shelter System, Sleep System and your footwear. Everything else, you can look for a cheaper option.
There are a couple pieces of backpacking gear I wish I had boughten sooner. One was a satellite messenger with two-way messaging. I have the Garmin inReach Explorer+ and it's the one piece of gear I wish I would have had when I first started solo backpacking.
When I thru-hiked the PCT in 2018, I had a PLB, or a Personal Locator Beacon, which, in the event of an emergency, would send an emergency signal to a local Search and Rescue team who could then hopefully come find me.
I opted for the PLB because it was cheaper than a satellite messenger, but it didn't have two-way messaging. This means I had no way to communicate the nature of my emergency to first responders or reach out to family and friends if I was running a day or two behind when I was out on trail by myself in remote areas where there was no cell or WiFi service.
There was a time when I was hiking through the Sierra section of the PCT by myself during my thru-hike and I was running a couple days behind. I had no way to let my mom know that I was okay. By the time I made it into town and was able to contact her to let her know I was okay, she told me she was close to calling Search and Rescue to have them come find me.
Having a satellite messenger is a big investment, not only in the device itself, but also the monthly subscription that's required to use the device when out in the backcountry. It has provided so much peace of mind, not only by helping to ease some of my own fears when I'm out backpacking solo, but also for my friends and family at home who worry about me when I'm out on trail by myself. If anyone at home is worried about me, they can track me on the map I share with them before my hike to see where I'm at and also send me a message when I'm out on trail to see how I'm doing out there.
Also, when I first start backpacking, I couldn't believe I thought I could get away with not needing an inflatable sleeping pad. Luckily my friend who I went on my first backpacking trip with insisted I bring one and had me borrow hers. I completely underestimated the importance of needing a warm and insulating sleep system. I was really thankful I had that inflatable pad with me on that trip because it ended up being really windy and it snowed on us while we were out there. I can't imagine how cold I would have been without that sleeping pad.
Another rookie move I made with backpacking gear was thinking I needed a two-person tent when I first started going on solo backpacking trips. I thought I needed the extra space to keep all of my gear inside and to spread out if I needed to. What I didn't realize was the bigger the tent, the more space that needed to be warmed up on those really cold nights.
I've been using a freestanding one-person tent for the last couple of years, and it has more than enough room for me, and to keep all of my gear inside if I want to and there's less space inside to warm up, so I stay warmer in my tent on those really cold nights.
Don't Sleep With Your Food
Another mistake I made as a beginner backpacker and continued to make even as an experienced backpacker was sleeping with my food at night. Internet don't come after me. Trust me, I've learned my lesson. Don't sleep with your food!
Something a lot of PCT thru-hikers won't tell you is that many hikers sleep with their food at night instead of storing their food outside and away from their tent in a proper fashion. I used to be one of those hikers, mainly because I didn't know better.
That is until the one time I had a bad run in with some mice in the middle of the night at a tentsite. At the time, I had my food stored in a bear-proof, rodent-proof food bag and kept it just outside my tent. What I didn't realize was that I had forgotten about a couple of small snacks I had left inside my tent. I woke up to, not 1, but 2 mice running through my hair as I was sleeping inside my tent that night. They had chewed their way through the mesh of my tent and were scurrying around, trying to get to the snacks I had forgotten about.
The feeling of having two mice run through my hair is something I still, to this day will never forget and it will forever haunt me.
Here it was, 1 in the morning and pitch-black dark out. I had to stumble around in the dark to find my headlamp and then threw everything that was inside of my tent out, just to get these stupid mice out of my tent. I found the snacks the mice had been after, put them in my Ursack and threw my Ursack as far away from my tent as I could. Then I grabbed some tenacious tape and closed up the hole the mice had chewed their way through.
This was also the night where I had to get up at 4 in the morning in order to get to my intended destination the next day. I ended up not being able to get back to sleep that night,
Since that incident, I now make sure ALL of my food and scented items are always either stored away in my Ursack or in a hard-side bear canister, whatever I'm using to store my food in for that trip, and then place my food bag or canister at least 100 feet or more away from where I'm sleeping and then keep my food there overnight.
All it takes in one horrible incident for you to realize why proper food storage out on trail and at camp is so incredibly important. If I ever do forget, I can always look at the tenacious tape on my tent and I'm quickly reminded why. Never again.
Learn from my mistake. NEVER SLEEP WITH FOOD IN YOUR TENT. EVER.
Don't Wait For Someone To Go With You
Something else I wish I would have known as a beginner backpacker is that I didn't need to wait for someone else to go backpacking with me. Had I realized that solo backpacking was an option, I might not have wasted so much time waiting for someone to go with me and had started going backpacking on my own a whole lot sooner.
The idea of going backpacking solo never really occurred to me until I decided to go thru-hike the PCT back in 2018. I knew that none of my friends or family wanted to or were willing to go with me so if this is something I wanted to do, I'd have to do it on my own.
Cue the nerves!! Not only did I have to deal with my own fears of being out there solo, but I also had to deal with the fears of all my family and friends of me going backpacking for five months by myself.
Spoiler Alert: I made it. It was awesome and now here I am almost five years later and solo backpacking is actually my preferred method of travel out in the backcountry.
I'm here to tell you, whether you're a beginner or a well-seasoned backpacker, if you have any sort of desire to try backpacking alone, do what you can to get out of your own way and give it a try.
It wasn't easy and it took me a lot of backpacking trips and plenty of miles before I felt comfortable sleeping out on trail alone, but I can't even begin to tell you the incredible confidence boost solo backpacking has given me over the years.
There's no reason why you have to wait for someone else to go backpacking with you. If you want to go and don't want to work around someone else's schedule, then plan your trip yourself and go.
Stop Wasting Your Time Trying to Figure it Out on Your Own
I spent way too much time learning the hard way and making countless mistakes, going down the rabbit hole of watching a bunch of YouTube videos, reading blog posts and digging through various backpacking and guidebooks trying to figure all of this stuff out on my own to see what would actually work for me.
When I first started getting into backpacking, I wish I had one place online where I could log into to get all of my questions answered and a place to go where I could build up my confidence with planning and preparing for my upcoming backpacking trips.
I wish there had been one resource that would help me get all of my backpacking gear sorted out instead of wasting money buying things I thought I needed and ended up not using.
I even craved finding a community of likeminded women who were just as excited about hiking and backpacking as I was and would talk to me and answer questions I had about hiking and backpacking because, honestly, my friends and family were sick of hearing me talk about this stuff all the time.
Also, how cool would it be to have a community of likeminded women to be inspired by and even meet in-person to go hiking and backpacking with when my friends couldn't go with me?
This is why I created The Confident Solo Female Backpacker System.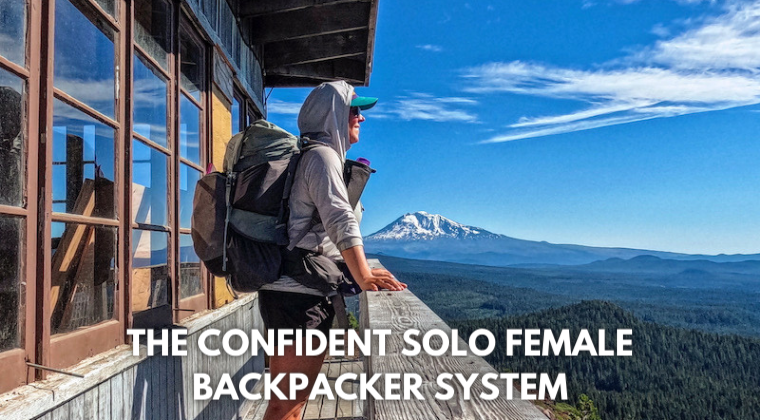 The Confident Solo Female Backpacker System is a comprehensive, self-paced, online backpacking program for women, designed to help you go from feeling scared and intimidated about backpacking to feeling comfortable with planning your own backpacking trips.
Whether you're a beginner or well-seasoned female backpacker, this program will walk you through, step-by-step, everything you need to know in order to plan, prepare and build up your confidence to comfortably go out for either your first or next backpacking trip.
I've taken everything I wish I'd known when I first started backpacking along with my own experiences of hiking and backpacking out on trail for 100s and 1,000s of miles and created the backpacking program I wish I had access to when I first started backpacking.
In addition to the actual program, students have access to live, weekly group coaching calls and a private online community made up of other likeminded female hikers and backpackers to help support, inspire, create accountability as they go through the program together and meet friends to plan future trips with.
Students of The Confident Solo Female Backpacker System also have the opportunity to join me for various group day hikes and overnight backpacking trips throughout the year.
Ready to turn your backpacking goals into a reality this year? If this is something you're interested in and you're serious about crushing your backpacking goals this year, click here to schedule a one-on-one Zoom call with me where we'll talk about your backpacking goals. If you're a good fit for the program, you'll have the opportunity to enroll into The Confident Solo Female Backpacker System during our call.
And finally, the last thing I want to mention here is that if I could, I would go back and tell my beginner backpacker self to…
Don't Be Afraid to Ask Questions
Seriously, there's no such thing as a stupid question, especially when it comes to hiking and backpacking.
If you're a beginner backpacker who's just getting started and has questions about backpacking, type them down in the comments below so I can help you out. Who knows, your question might even inspire me to write a future blog post or create a future video for my YouTube Channel!
Remember, we ALL started out as a beginner backpacker at one point. Even as an experienced backpacker, I'm still constantly learning new things about backpacking with every trip I go on. The only way you're going to build up your confidence to go out for your first or next trip is to hopefully learn from my mistakes AND ask questions you have that come up along the way. How else are you going to learn this stuff?
I hope by sharing with you what I wish I'd known when I first started backpacking, you won't have to make these same mistakes AND are now more inspired than ever to want to start planning your next backpacking trip.
---
Disclaimer: The-Hungry-Hiker.com is a participant in the Amazon Affiliate Links and AvantlInks Program, affiliate advertising programs designed to provide a means for sites to earn advertising fees by advertising and linking to Amazon.com and other affiliated sites at no cost to you. Please note, I only link to products and services I personally use and trust.
---