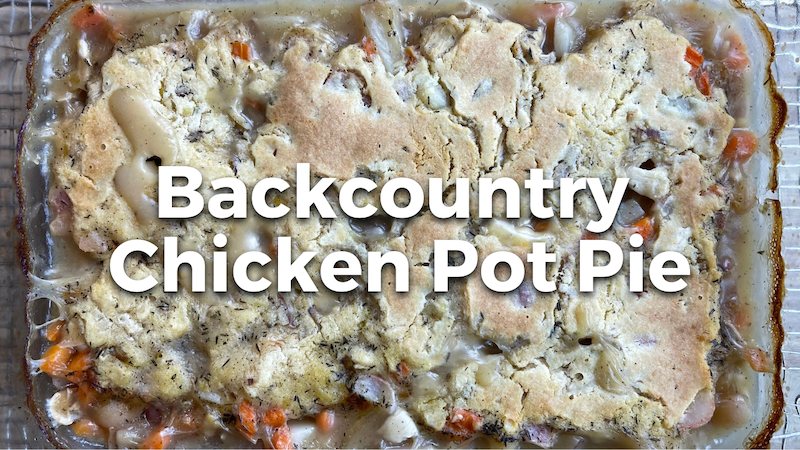 Looking for a new dehydrated backpacking meal recipe to try for your next hiking or backpacking trip? Backcountry Chicken Pot Pie is an easy, comfort food recipe you can make at home and also turn into a dehydrated backpacking meal for your next trip.
The whole process of how to dehydrate your own food might sound intimidating and time consuming, but I promise you – dehydrating your own backpacking food is super easy AND it's cost effective. Not only will you save money on being able to extend the shelf life of some of your favorite leftovers, but you'll also save money by not having to purchase those super expensive backpacking freeze dried meals.
I'll not only share with you how to make my Backcountry Chicken Pot Pie recipe, but I'll also share with you how to dehydrate this into a backpacking meal using a food dehydrator and how to rehydrate this meal in less than 15 minutes, using only boiling water and a freezer Ziplock Bag.
I love being able to turn some of my most favorite comfort food recipes into delicious backpacking meals!
Backcountry Chicken Pot Pie Recipe
Ingredients
 Pot Pie Filling:
4 cups chicken broth
2 bay leaves
1 lbs chicken breasts (boneless & skinless)
1 tbsp olive oil
1 cup leeks (finely sliced)
1 cup carrots (diced)
1 cup red potatoes (diced)
1 cup radishes (quartered)
1 ½ tsp dried thyme
2 tbsp fresh lemon juice
2 tbsp cornstarch (mixed with ¼ cup water)
Cornmeal Batter Topping:
1 ¼ cup Bisquick
1/3 cup yellow cornmeal
1 tbsp olive oil
1 tsp salt
1 cup buttermilk or milk
Cooking Instructions For Pot Pie Filling:
Bring broth and bay leaves to a boil
Add chicken and return to boil
Simmer for 12 minutes (or until chicken is cooked all the way through)
Remove chicken and place on plate to cool (shred chicken once cooled)
Reserve broth and remove bay leaves
Heat oven to 425 degrees F
Heat olive oil over medium heat
Add leeks
Cover and cook for 5 minutes, until leeks are soft
Add carrots
Add potatoes
Add radishes
Add thyme
Add reserved chicken broth
Bring to a boil
Lower heat and simmer for 10 minutes
Add lemon juice
Add cornstarch mixture
Cook and stir until filling is slightly thickened
Add chicken
Season with salt and pepper
Add filling to baking dish
Instructions For Cornmeal Batter Topping:
In a mixing bowl:
Add Bisquick
Add cornmeal
Add olive oil
Add salt
Add milk
Whisk together
Spoon over pie filling
Bake for 25 to 30 minutes
Dehydrating Instructions
Prep food dehydrator by lining each tray with parchment paper or Non-Stick, Reusable Teflon sheets
Spread 1 1/2 cups of pot pie in a thin layer on each tray
One serving = 1 1/2 cups; one serving = one tray in the dehydrator
Turn in dehydrator to medium (135 degrees)
Rotate trays one an hour to ensure that each tray gets dehydrated evenly
Dehydrate for 8-10 hours, or until pot pie is fully dehydrated
Once dehydrated, remove each tray and allow to cool completely
Break up each tray of pot pie in a mixing bowl
Add broken up pot pie into a Ziplock Freezer Bag/storage bag/container or vacuumed sealed bag
Store in a sealed bag/container in a cool, dry place
Shelf life for pot pie is anywhere from 6 months to 1 year, depending on how it's stored
Rehydrating in the Backcountry
Boil 2 cups of water in a backcountry stove
Add boiling water to pot pie in a Ziplock freezer bag (quart size)
Stir food and seal bag
Add food bag to a DIY meal cozy or something similar and let sit for 12-15 minutes
Remove food from meal cozy, stir food and enjoy
My Backcountry Chicken Pot Pie recipe is not only a delicious, easy to make, home cooked meal, but it also makes the perfect, delicious backpacking meal you can enjoy for dinner on your next hiking or backpacking trip.
Learn how to make your own backpacking meals with some of my favorite recipes:
---
DISCLAIMER: This post and video contain affiliate links, which means that if you click on one of the product links, I'll receive a small commission at no extra cost to you. This helps support my blog, The Hungry Hiker and allows me to continue to create content for you free of charge. Thank you for your support!
---
Inspired? Pin It!