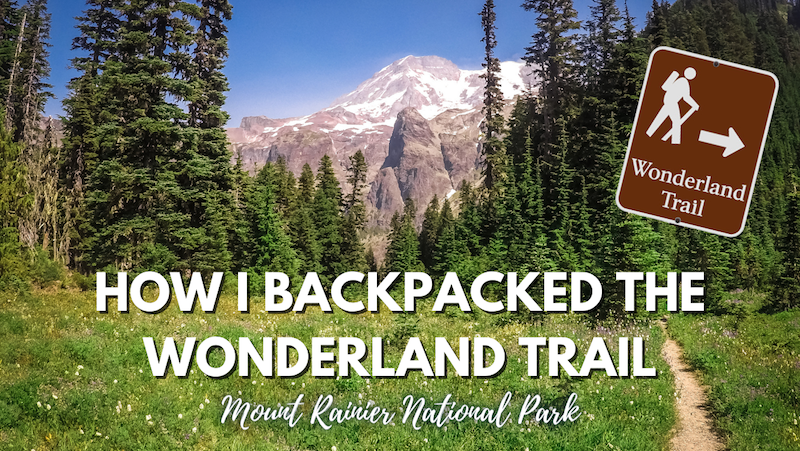 Is backpacking the Wonderland Trail in Mount Rainier National Park on your must-hike list? I know it was on my bucket list for quite sometime. Then this year, I scored the Wonderland lottery and was able to put together my dream itinerary for 10 days of hiking 93 miles all around this majestic volcano.
If you're like me, you probably have a lot of questions about what the Wonderland Trail is and how to plan for a backpacking trip like this.
In this blog post, I'll share with you the entire process of how I backpacked the Wonderland Trail in Mount Rainier National Park. Everything from getting the permits and putting together our itinerary to our trip logistics, the food and gear I brought with me, how I mentally and physically prepared for this trip and what our "On Trail Life" was like out on the Wonderland Trail for 10 days.
For 10 days, my friends and I hiked all 93 miles around the base of Mount Rainier here in Washington. Starting from the Sunrise parking lot, we slept at 9 different tentsites along the trail, experienced Mount Rainier from every angle, hiked up and down over 22,000 cumulative feet along the way, crossed several bridges, picked up two food caches, met a ton of really friendly park rangers, saw amazing views, dipped in several lakes, ate a ton of food, had a bunch of laughs, created countless memories and really had the time of our lives out there.
We started our trip on Sunday, August 1, 2021 from the Sunrise parking lot and completed our trip on Tuesday, August 10, 2021.
Trail Family
I hiked with my friends Clarkia and Raquel, whom you may remember from my 4-day hike along the Northern Loop off of the Wonderland Trail last year up at Mount Rainier National Park, during the first week of July.
We also had our friend, UHaul join us for this trip, whom you might remember from my backpacking trip to Spectacle Lake last year along with my day hike to Sheep Lake and Sourdough Gap via Chinook Pass along the PCT.
Fun Fact: Clarkia, Raquel and I actually met U-Haul originally on our last day of our Northern Loop trip. He was heading in the opposite direction while hiking the Wonderland Trail.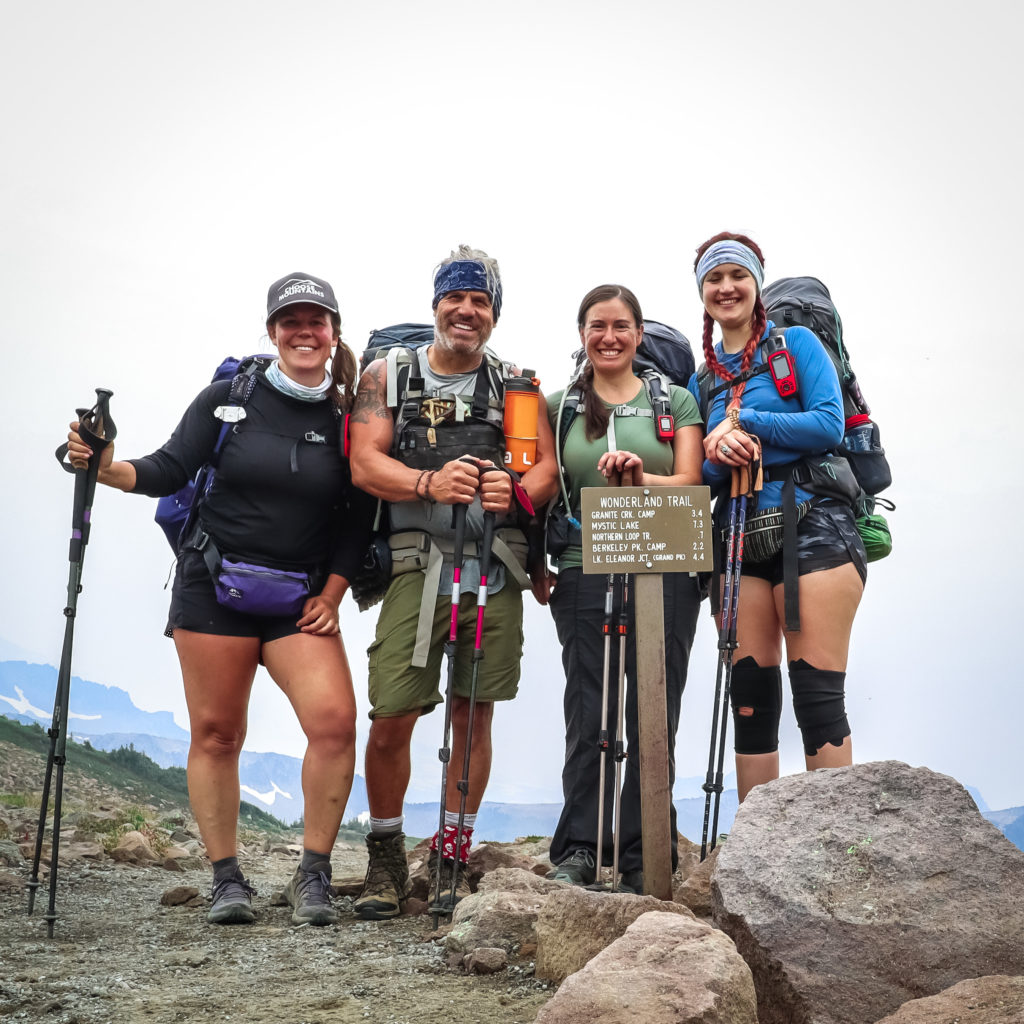 Permits & Lottery for The Wonderland Trail
This isn't one of those types of backpacking trips where you can just show up for and camp wherever. In order to camp overnight anywhere in Mount Rainier National Park, you need a Wilderness Camping Permit, which is issued by any one of the Wilderness Information Centers located inside the park.
A Wilderness Camping Permit can be obtained in one of two ways: enter the Early Access Lottery in March and win an early access time slot to make a reservation for your trip itinerary before they open to the general public OR visit the Wilderness Information Center the day prior or day of your intended trip and take a chance at scoring a walk-up permit from one of the rangers. The walk-up permits are only available on a first-come, first-served basis.
70% of the permits are available through the Early Access Lottery and the remaining 30% are available for the first-come, first-served walk-up permits. Wilderness Camping permits are highly sought after because there's only so many tentsites you can camp at within the park, along the Wonderland Trail. For our trip, we stayed at a total of 9 tentsites along the trail and most of these spots only had 3-4 tentsites each and even fewer of these tentsites had a group tentsite available.  A group tentsite is for parties of 6 or more. We were a party of 4 so we didn't get to stay in any of the group tentsites.
Trip Dates & Itinerary
For our trip, I scored the Early Access Lottery and was able to make a reservation for my dream Wonderland hike itinerary the day after reservations opened up for Early Access. Our trip itinerary was as follows:
Starting from Sunrise on Sunday, August 1st, we headed in the counter-clockwise direction and stayed at the following tentsites:
Day 1: Mystic Lake
Day 2: Mowich Lake Camp
Day 3: Golden Lakes Camp
Day 4: Klapatche Park Camp
Day 5: Devil's Dream Camp
Day 6: Paradise River Camp
Day 7: Nickel Creek Camp
Day 8: Indian Bar Camp
Day 9: Summerland Camp
Day 10, Tuesday, August 10th, was our last day on trail so we all got to sleep in our own beds at home that night.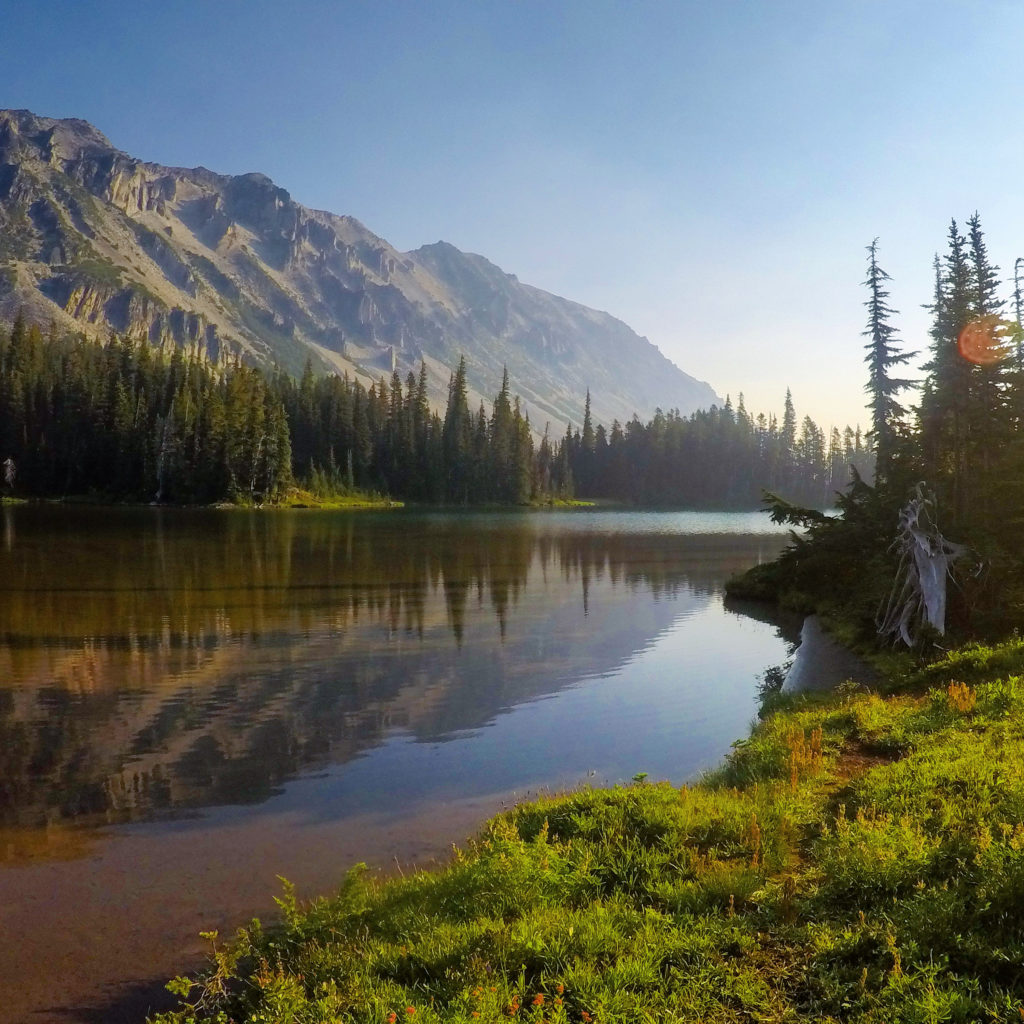 The nice thing about the permit system for the Wonderland Trail is that it restricts the number of people out on trail and staying at the various tentsites. We were able to enjoy our days full of hiking without needing to rush to find a place to camp. There also wasn't a whole lot of other people out on trail unless we were relatively close to a trailhead at some point during the day.
Throughout our trip, we saw several rangers during the day, each day we were out on trail. The rangers were some of the nicest and most helpful people I've ever met. The park rangers are a wealth of knowledge about the area and the park and they do check permits so don't try backpacking this trail without one.
Trail Rules
When accepting the Mount Rainier National Park Wilderness Permit, there are a few rules you have to agree to in order for your permit to be valid.
First and foremost, the permit is only valid for the dates and specific tentsites listed on the permit. The permit itself has to be attached to the outside of the trip leader's pack while hiking on trail and attached to the outside of the trip leader's tent when set up in camp.
To protect yourself and the wilderness resources, the park recommends:
Boiling, treating or filtering water
Carry the "10 Essentials" and know how to use them
Let others (people who aren't on the trip with you) know of your plans so they can reach out to park rangers if you don't return when you're supposed to
Understand and practice Leave No Trace or LNT principles when out on trail
There are a few things that are prohibited everywhere in the park, which include:
Fires (stoves are okay)
Improper food storage. Hikers must use bear poles to hang their food or use bear canisters
Weapons No bows/arrows, BB guns, slingshots or use of firearms. Knives are okay because they're part of your 10 essentials.
Pets, unless they're leashed on the Pacific Crest Trail
Cutting switchbacks on trail
Mountain bikes or any other wheeled devices
Camping within 100 feet of water
Camping along trails, other than the designated camps
Using any kind of soap in any water source
Feeding, approaching and/or disturbing wildlife
Leaving trash in toilets or elsewhere. Pack it out! Toilet paper is okay, but baby wipes and feminine products must be packed out. If you want to be a good steward, you'd pack out the TP too.
A violation of any of these conditions could result in the cancellation of your permit and a termination of your trip and can even make you subject to a citation.
Trip Logistics
Preparations for our trip started long before we got on trail. First thing we had to do was pick up the permit from the Wilderness Information Center and then figure out how we were all going to get to and from the trailhead.
The day before starting our trip, I met U-Haul at the White River WIC where I met with a ranger and picked up our official Wilderness Permit. From here, we dropped one of our cars off in the parking lot at Sunrise and then drove together to drop off our two food caches – one at the Carbon River Ranger Station (where they were gracious enough to drive it up to Mowich Lake for us) and the other one at the Longmire WIC.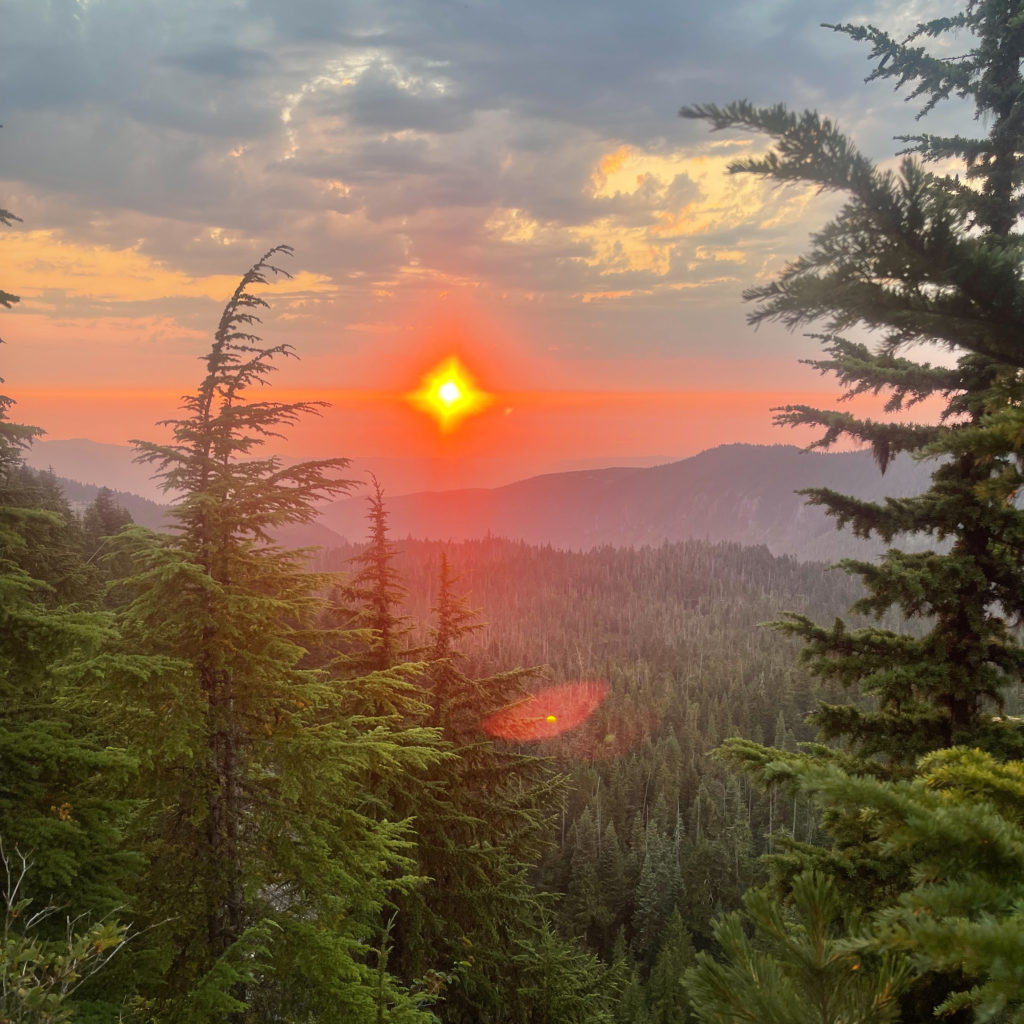 Originally, we were going to try and car camp in the parking lot up at Sunrise, but the rangers patrolling the parking lot kicked us out and sent us down the road to some epic dispersed camping, just outside of the park entrance, right off the highway and right along the river. It was not only a legal spot for car camping, but it was a WAY better option than sleeping in a parking lot overnight.
In the morning, we drove both of our cars back up to the Sunrise parking lot and met up with Clarkia and Raquel to start our trip.
Food Caching on the Wonderland Trail
Instead of having to carry all of our food for 10 days, we decided to cache our food in two different spots. One food cache was up at Mowich Lake, which we picked up on Day Two. This made it so we only needed to hike out with a day and a half's worth of food on our first day. We picked up our second food cache at Longmire, which was half way through Day 6.
For food caching, you have to pack everything in a hard-sided bucket, to prevent rodents and critters from getting inside. Each bucket has to be labeled with your name, permit number and the date you anticipate on picking up your food cache.
In my food cache, I not only put in my food for that particular section of the trail, but I also packed a couple extra goodies to enjoy when picking up my cache like a can of root beer and a bag of potato chips.
One thing you can't include in your food cache is a fuel canister. These can only be left with the ranger at either the Longmire WIC or the White River WIC. For this trip, I used a full, medium sized, 8-ounce fuel canister and ended up coming home with almost half of a fuel canister. The size of fuel canister you decide on bringing for your trip will depend on how much you plan on cooking while out on trail.
For 10 days, I found the 8-ounce fuel canister to be more than enough fuel for my trip and that was with cooking at least twice a day out on trail. No one in my trail family ran out of fuel during our trip.
As for the food I brought with me for this trip, I tried a new backpacking food service called Right On Trek, which put together my food for each day for five days, everything from breakfast, lunch and dinner to all the snacks I'd need throughout the day.
Interested in checking out Right On Trek for your next backpacking adventure? Use code "hungryhiker50" to get a 50% discount off of your first order!
In addition to my five days of food from Right On Trek, I also put together my food for the remaining five days with meals I created on my own like my backcountry spaghetti, Holy Mole Breakfast Bars and White Bean and Sausage Soup. I decided to add a few extra snacks for each day's food bag along with electrolytes and Kencko's powdered smoothies that I'd have in addition to my breakfast each day.
I kept all of my food stored inside my pack during the day in an Ursack, which was the 20-liter AllMitey Grizzly Bear and Critter Sack and then at night, would hang my food bag on the tentsite's bear pole.
Normally I overpack food for most of my trips, but since I had overpacked a few snacks, I was able to share with U-Haul since he didn't pack enough snacks for the trip. I ended up only coming back from the trip with a small bag of leftover snacks. I had perfectly portioned out all of my meals for the trip!
I'll be putting together a whole post and video going over all of the food (in detail) I brought for this trip.
Backpacking Gear for the Wonderland Trail
Just like with food, I'll be putting together a whole separate post and video going over all of the gear (in detail) I brought for my Wonderland hike and why.
For this trip, I made sure to bring along the following for my Big 3 (my pack, tent and sleeping system):
My Pack was the Osprey Eja 48, minus the brain (the top of the pack). I take the brain off of my pack because if I have extra space in my pack, I tend to fill it. The more I fill, the heavier my pack gets. The total weight for my pack on the first day, when leaving Sunrise was 26-ish pounds and that was with food and water. Not too shabby.
My Shelter System was the Big Agnes Copper Spur 1-person tent with the matching footprint. I love this freestanding tent because it's light, has ample headroom inside, gives me the ability to set it up anywhere and it's small enough to fit into the tiniest tentsites, which happened to be most of the tentsites we stayed at along the Wonderland Trail.
For my Sleep System, I brought my beloved Enlightened Equipment Enigma Custom Purple 10-degree quilt that is super warm and only weighs 24 ounces.
For a sleeping pad, I had my ThermaRest NeoAir Xtherm inflatable sleeping pad with an R-value of 6.9, which means this one is plenty insulated and made for a warm night of sleep out on trail. I also had with me my Cocoon Camp Inflatable Pillow, Cocoon Mummy Silk Sleeping Liner and a pair of Enlightened Equipment Sidekicks which are synthetic camp booties for sleeping in since I get cold feet. All of this, minus the sleeping pad was stuffed inside a Sea to Summit eVAC 13L dry sack.
On Trail Life
From the first day we stepped on trail, we quickly got into our "On Trail Life" routine. We'd all get up at 6am, have breakfast, pack up camp and head out on trail by 8am. Throughout the day, we'd hike to our next destination while taking in all of the sights. Along the way, we'd stop for Second Breakfast, Lunch and various water breaks throughout the day, depending on the section.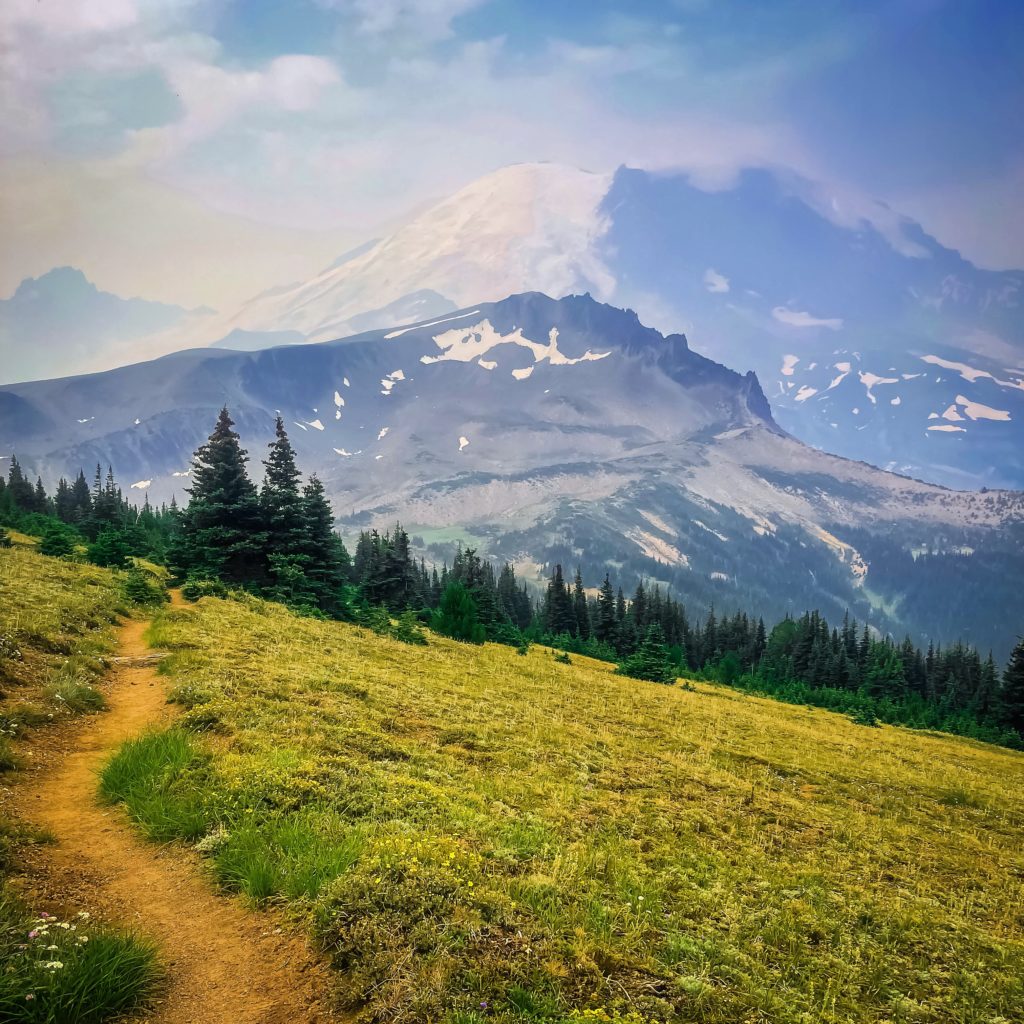 As soon as we'd reach the tentsite for the day, we'd set up camp. If there was a lake nearby, we'd get in it to soak our feet and/or rinse off our sweaty bodies. Then we'd all prepare and have dinner together, pack up our food for the next day, hang the food bags on the nearby bear pole, watch the sunset and go to sleep. In the morning, it was repeat all over again until we got to the next tentsite.
I tried to catch as many sunrises and sunsets on this trip as I could and I never passed up the opportunity to hop in any of the lakes along the trail.
Training for the Wonderland Trail
I always say with thru-hiking and/or long-distance hiking, it's 10% physical and 90% mental. Yes, it's quite a physical feat hiking up and down steep ascents and descents for 93 miles over 10 days and it can definitely take a toll on your body if you're not prepared for it.
For me, I find that the biggest challenge for trips like this is being able to mentally stay in the game. Not every day is going to be warm, sunny and filled with views. Sometimes you'll have cold, wet days where all you see are wet bushes, tree cover and fog. Learning how to embrace the suck on the not-so-ideal days out on trail is just as important as being able to physically hike the trail. You never want to quit on a bad day so having a few coping mechanisms in your back pocket for those less-than-ideal days on trail is super important.
For me, some "Embrace The Suck" coping mechanisms include always remembering why I'm out there in the first place, having good music or a podcast to listen to and packing my favorite meals and snacks so I always have something to look forward to eating on my next break.
As for physical training, I've found the best way to train for hiking is to hike. Earlier this season. I did a number of training hikes throughout the Pacific Northwest to help me warm up my hiking legs and get me ready for the backpacking season. Here are some of my most favorite training hikes in the PNW I did earlier this year:
Rattlesnake Ledge
Mount Si
Mailbox Peak
Mount Washington
So that's how I planned for and backpacked the Wonderland Trail in Mount Rainier National Park this year. If you have questions about how to prepare for a long hike like this that I didn't cover in this post, leave me a comment down below.
Video: How I Backpacked the Wonderland Trail } Mount Rainier 2021 | The Intro
---
Inspired? Pin It!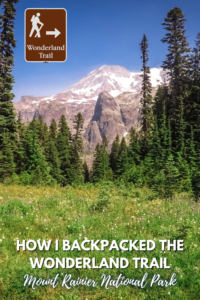 ---
Disclaimer: The-Hungry-Hiker.com is a participant in the Amazon Affiliate Links and AvantLinks Program, affiliate advertising programs designed to provide a means for sites to earn advertising fees by advertising and linking to Amazon.com and other affiliated sites at no cost to you. Please note, I only link to products and services I personally use and trust.
---