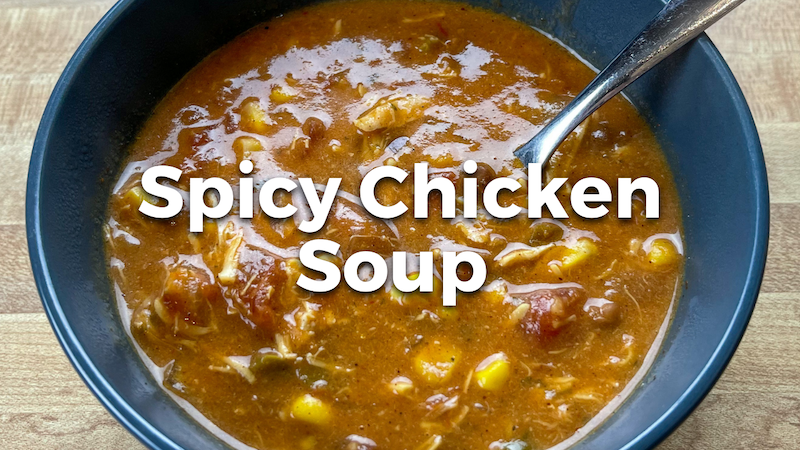 Are you new to dehydrating food? Soups like my Spicy Chicken Soup backpacking recipe are pretty easy to make at home AND are also surprisingly easy to dehydrate and make into perfect dehydrated backpacking food meals you can rehydrate out on trail for a hearty lunch or dinner on your next hiking or backpacking trip.
Not only does dehydrating food help extend the life of food leftovers, but it's also surprisingly easy and adds a wide variety to the backpacking meals I bring with me when out on trail.
I'll not only share with you how to make my spicy chicken soup backpacking recipe, but I'll also show you how to dehydrate this backpacking meal using a food dehydrator and then rehydrate it in less than 15 minutes using boiling water and a freezer Ziplock Bag.
I love turning some of my most favorite food recipes I make at home into delicious, dehydrated backpacking food meals I can bring with me on my trips out in the backcountry.
Spicy Chicken Soup Backpacking Recipe
Ingredients
8 cups water
2 lb boneless and skinless chicken breasts
½ tsp salt
1 tsp ground pepper
1 tsp garlic powder
2 tbsp dried parsley
1 tbsp onion powder
5 cubes chicken bouillon
1 tbsp olive oil
1 onion (chopped)
3 cloves garlic (chopped)
16-ounce jar of chunky salsa
2 – 14.5-ounce cans of peeled and diced tomatoes
1-14.5 ounce can of whole peeled tomatoes
1-10.75 ounce can condensed tomato soup
3 tbsp chili powder
1-15 ounce can of whole kernel corn (drained)
2-16 ounce cans of chili beans (undrained)
1-8 ounce sour cream
Cooking Instructions
In a large pot, over medium heat, combine water with chicken, salt, pepper, garlic powder, parsley, onion powder and bouillon cubes.
Bring to a boil. Reduce heat. Simmer for 1 hour.
Remove chicken and place on a plate to cool. Set broth aside. Once cooled, shred chicken.
In a large pot, over medium heat, add olive oil. Cook onion and garlic until slightly browned. Stir in salsa, diced tomatoes, whole tomatoes, tomato soup, chili powder, corn, chili beans, sour cream, shredded chicken and 5 cups of broth. Simmer for 30 minutes.
Dehydrating Instructions
Spoon 1-2 cups of soup on a food dehydrator tray
Spread out in a thin layer
1 tray = 1 serving
Turn food dehydrator on to medium (130-140 degrees F)
Leave for 8-10 hours
Remove from dehydrator 1 tray at a time
Add 1 tray of food into 1 Ziplock freezer bag
Seal and store in a dark, cool place
Rehydrating in the Backcountry
Boil 2 cups of water
Add boiling water to food bag and fill until food is covered
Stir and seal the food bag
Add food bag to food cozy
Let food rehydrate for 10-12 minutes
Remove from food cozy and stir
Serve and enjoy!
Learn how to make your own backpacking meals with some of my favorite recipes:
Backcountry Chicken Pot Pie
White Bean & Sausage Soup
Gluten Free Keto Bread
Cheap & Easy One Pot Thanksgiving Dinner
Holy Molé Breakfast Bars
Coconut Cashew Curry with Couscous
Dehydrated Pasta Penne Alfredo
Dehydrated Backcountry Spaghetti
Sweet & Spicy Homemade Trail Mix
---
DISCLAIMER: This post and video contain affiliate links, which means that if you click on one of the product links, I'll receive a small commission at no extra cost to you. This helps support my blog, The Hungry Hiker and allows me to continue to create content for you free of charge. Thank you for your support!
---
 Inspired? Pin It!